The guitar is a beautiful instrument. It can deliver a wide range of emotions through its soothing or fast-paced melodies.
Learning to play it can be a bit scary at first. However, even at times when giving up can seem like the best thing to do, do not give up!
Just think about your favourite musicians and the skill they possess. Even they had to start somewhere, as they were a beginner just like you at one point.
Trust me, practicing the guitar pays off, as the feeling of playing your favourite songs, or even creating your own can't be easily described.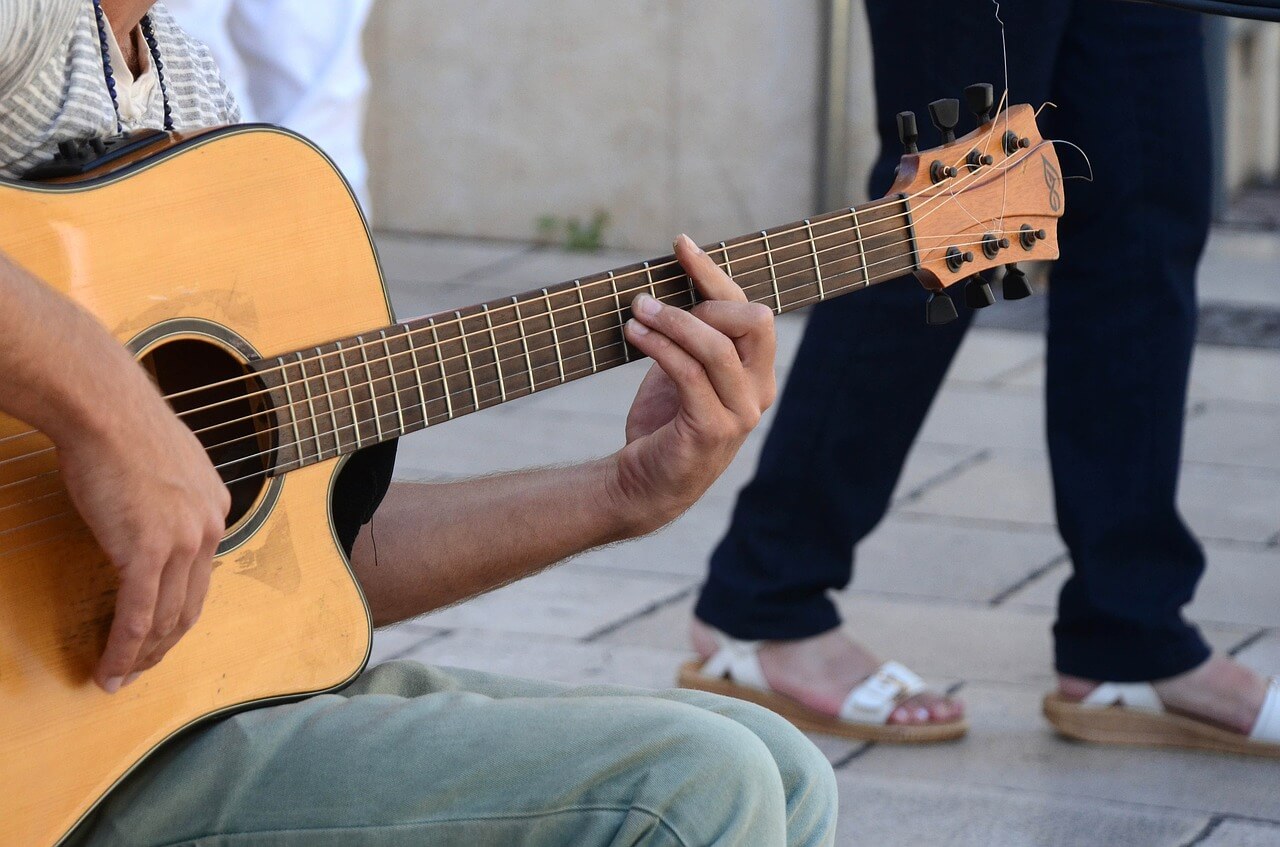 As it is with any skill, there are some great tips and tricks when it comes to playing the guitar.
Here you'll learn about some of the basic, yet very important ones, that should, if done correctly and persistently, greatly improve your playing, as well as keep you motivated.
Practice, practice, practice!
If you want to progress, you will have to devote a certain amount of time to practice. An hour a day is a good starting point, and if you have more time to spare, even better!
Don't think of practicing as a chore, it should be something that you are looking forward to doing every day.
Sure, sometimes it can be a little frustrating, especially when you can't seem to play a certain song or fret a chord. In that case, take a short break, and then get back to it.
Also, keep in mind that practicing regularly is better than the amount of time spent on a single session.
If you're buried in schoolwork or work in general, try to devote at least 20 minutes or so daily instead of practicing for hours on the weekend, and you will most definitely see an improvement.
Even the hardest songs, riffs or chords become amazingly simple just after a few days of regular practice.
Find a pace you're comfortable with
Remember, you have all the time in this world. Nothing worth having comes over night. Sure, you would really like to learn that super cool song, but don't force it.
Focus, play slowly, even if that means playing at 50% of the song's tempo and looping that part over and over again. Slow and steady wins the race.
At any point, you shouldn't feel rushed. Focus on one goal instead of many different ones, and build up your skill level one step at a time.
After all, you can't possibly play a crazy fast arpeggio without even knowing where all the notes are!
A great start beside getting to know where all the notes are would be picking a couple of chords. Your best choice would most definitely be E, B, C# and A.
You've probably seen that video where a couple of guys play over 70 famous songs using only these chords. Practice these chords and you will automatically be able to play a variety of popular songs in no time!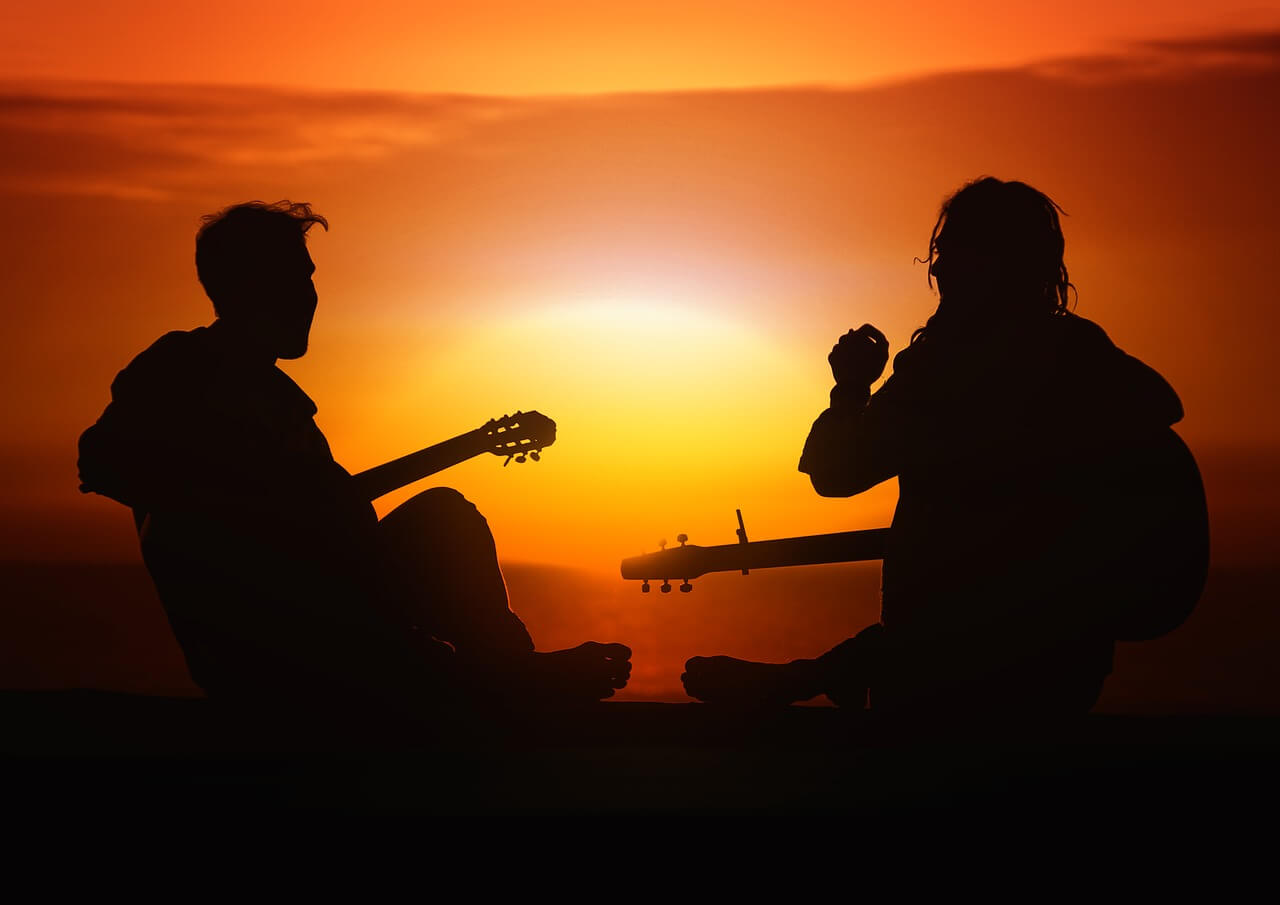 Not only is that great for further guitar playing, but it also feels great being able to play that many songs in such a short period, and it's perfect for boosting your self-confidence.
After you master the basics, you will soon notice that everything else starts falling into place much quicker and easier.
Know your limitations, but at the same time do not be scared to try and play something more complex each time you feel comfortable with the techniques you've already grasped.
Balance practicing both the theoretical and practical
As you may already know, playing the guitar requires decent levels of both technique and theoretical knowledge.
In the beginning, it's probably best to focus on these aspects separately, and mix them in gradually, as you start becoming more comfortable with the concept.
Just how and why both theory and practice are important is fairly simple, as you will see as we continue this text.
Practical
Simply put, moving and exercising your fingers. From the basic moves, such as fingering a certain chord, to more advanced ones like sweep picking, hybrid picking and even slapping!
As your body tends to learn new moves by simply repeating them over and over again, this type of practice is core.
You can even exercise your moves, or, better said, rhythm without a guitar. When in school, or other not- really- fun place, you can always tap your fingers on the table and try to keep a steady rhythm.
Alternate between fingers, and try different tempos, as it is a great and easy way to learn to keep a solid sense of rhythm.
Theory
Focusing on the general idea of music and the core mechanics in which it operates, and is written down, theory gives you the background knowledge needed to play the guitar with understanding and ease.
Sometimes it can be a bit boring to spend time analyzing chord diagrams and different progressions, but once you've mastered even the basics, you will find this type of knowledge to be of the essence.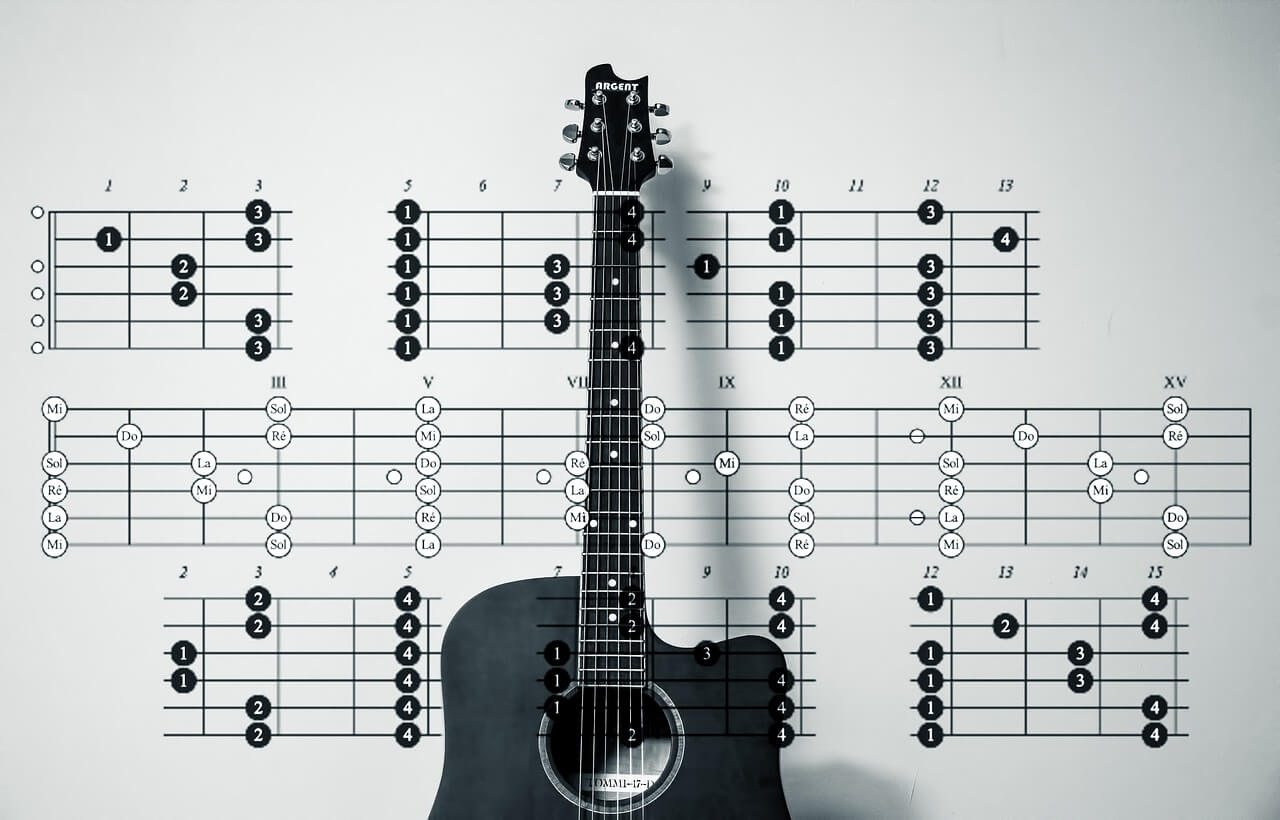 An optimal schedule would be kind of like this; once you have covered a decent area, in theory, look for ways to implement that in your playing.
The most obvious routine would, of course, be, trying out those new chords, scales, progressions etc.
The sole feeling of applying something that you've just learned is very rewarding and gives you a great boost to move on with even more optimism.
A great thing to do is also practicing with a drummer and/ or bassist. This can be very useful especially when it comes to exploring new time signatures and rhythms.
It's amazing how many interesting and funky combinations you can come up with once you've grasped the concept of time in music, and managed to implement that in your playing.
Play around on your guitar!
As crucial as practicing both playing and theory are, it is also very beneficial to simply play around on your instrument.
Don't get me wrong, practice time is practice time, but messing around, trying out something new is important as well.
At first, it may not be that productive, but simply feeling your way around the guitar is a good beginning.
After improving your technique and overall knowledge, you will definitely find yourself understanding more and more and maybe even coming up with a tune of yours just by trying out certain chord combinations or riffs you haven't come across so far.
Grab your guitar any time you can. While watching a movie, chilling out and listening to music, it doesn't matter.
A great way to improve your sense of musicality is also to try and play any tunes or simple songs you may hear.
First, you can try and simplify the tune by singing it or whistling it out, and then try and find the corresponding notes on your guitar.
You'd be amazed how fast you can improve your guitar playing skills just by doing so!
The whole deal with playing around with your instrument in your free time, besides the mentioned benefits, is to have a positive mindset.
Playing an instrument should never feel like something that you have to do.
The whole point of music, apart from having fun, is the ability to express yourself in a rather beautiful way.
Never feel defeated
Sure, it's probably easier said than done, but try not to feel frustrated when you hit an obstacle. This mostly depends on what kind of person you generally are, but try to keep positive.
As we've previously mentioned, all of the great musicians you worship were once beginners and amateurs like you.
Keep your cool, slow down, or even consider trying something a bit more simple first.
Sometime you will set a goal for yourself that might be too optimistic without even noticing.
It's key to learn every new technique a step at a time, in order to progress more naturally and avoid being frustrated. It's you who is setting the deadlines, so try not giving yourself a hard time.
If you still manage to feel defeated, just take a step back and look at how much you've progressed up to that point. It's a safe way of keeping yourself motivated.
Keep an open mind to different styles and genres
Chances are that you already have a favorite genre of music. With different genres come different styles of playing as well as approaches to the music itself.
The best way of broadening your knowledge of music is by listening to as many different genres as you can.
Every type of music has something different to offer. From the occult and technical sounds of death metal to soothing and psychedelic ones jazz offers, it's truly amazing what different people can come up with with the same instrument.
Exploring more genres allows you to broaden your horizons, as you can learn a lot from just listening.
Try not to let yourself focus just on one type of techniques. A good guitarist has a lot of versatility, and can easily adjust his/her playing to any occasion.
Always remember to have fun
We just can't stress this enough, the moment guitar playing becomes a chore for you, you're doing it wrong.
No matter how desperate you may feel when not being able to play a certain riff or solo, just relax, go back a bit, and try again. Never, and I mean, never give up. Ultimately, every effort pays off!
That concludes our list of useful guitar tips for beginners. If you keep all of them in mind, your skill level is definitely going to improve.
Stay patient, practice regularly, have fun and listen to as many different bands you can. In no time, you're gonna see amazing results!