Roland is one of the world leaders when it comes to musical instruments and music software. Founded in the 1970s in Japan, Roland has built a solid reputation for creating some legendary instruments such as the Juno-106 synthesizer and the range of TR-808 and TR-909 drum machines.
When it comes to electronic drum sets, Roland has always been at the cutting edge of innovation. In this review we will look at their TD-1K model of drum set which is an entry-level electronic drum kit. It usually retails for in or around the $500 mark so let's take a look at what you get for that.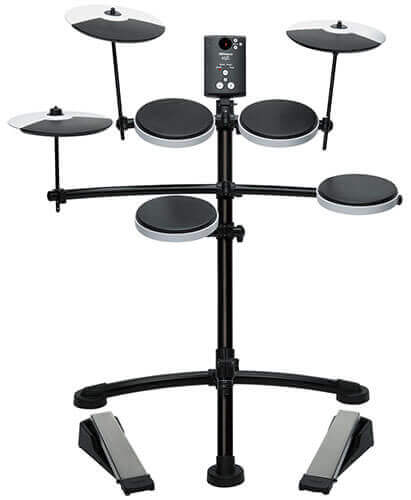 Image credit: Roland
Check Price on Sweetwater
Setup
The first thing you'll notice about an assembled TD-1K drum set is the strikingly minimalistic design. This drum kit has obviously been manufactured to cater towards space-saving and portability. It's a similar design to the older TD-4KP model, also by Roland, which was branded as one of the most portable electronic drum sets around.
Assembling the TD-1K is quite straightforward. The whole drum set sits upon a lightweight and symmetrical frame. Everything can be placed within reach for most players, regardless of size.
This drum set also comes with free-floating pedals which are very versatile when it comes to your playing position. Each pad is mounted to the rack and can be angled to suit your playing preference. It's also possible to raise or lower the supporting poles in order to set the height of the pads.
Features
This drum set is on the smaller side, which you might expect for the price. With that said, it can cater to adults and children alike, as it is extremely versatile. There are 5 drums and 3 cymbals with the TD-1K. You get a snare, three toms and a bass drum, along with a hi-hat, crash and ride cymbal. The cymbal pads are mounted to the rack with basic cymbal arms.
The pads themselves are all finished with a rubber-type playing surface. This is quite a low-volume surface material but not as silent to play on as your average mesh head. The cymbals have the same type of triggering and are quite lightweight, which does lead to a little movement when playing high tempo patterns.
Rubber is not the ideal material to play on if you want a realistic cymbal feel, but unless you're willing to fork out in the high-end price range, it will have to do for now with most beginner electronic drum sets.
The Roland TD-1K has dual-zone cymbals which means there is more than one trigger built into each pad. The crash cymbal can be choked to allow for staccato cymbal hits. The ride too is chokable but also has two zones for the bow and the bell.
The hi-hat is surprisingly easy to play and also has the ability to respond to heel splashes. The pedal controller is free-floating so you can position it practically anywhere that suits without needing to move the hi-hat pad. All in all, the cymbals are small but responsive.
Module
Next we'll review the module which comes with the TD-1K electronic drum set. This module has been designed with a simple interface. It has 4 functions which you can navigate through using the select button. First up is the 'Drums' section which lets you choose between any of the inbuilt 15 drum sound banks.
Next is the 'Tempo' section which allows for controlling the speed of the metronome and also choosing your desired subdivision. For example, you could opt to play along to simple quarter notes or a clave pattern. There are also options for odd time signatures too.
The third section is labelled 'Coach'. This feature is all about training and improving your skills on the drums. There are tempo challenges and coordination exercises. It's easy to while away the hours just working on the coach functions. Finally we have the 'Song' mode which is where we can access any of the 15 backing tracks onboard the TD-1K module.
Sound
When it comes to kit sounds, there are 15 to choose from. These range from a variety of acoustic drum sets to percussion to digital kits which are more suited to EDM and drum and bass. The triggering on the TD-1K as a whole is quite impressive. The pads respond to touch so you can get a range of dynamics out of the instrument. This helps to enhance the realism greatly.
The pads are all rubber, which is very different to playing on a Mylar drum head, although it is possible to play musically and dynamically on them.
MIDI
The TD-1K connects to PC and Mac by way of USB MIDI. This is 'plug-and-play' with most operating systems so you won't have to worry about driver installation. Once connected you can use the TD-1K as a controller kit for VST instruments. It's easy to track in MIDI with this kit and you also can avail of all the VST drum plugins that are available to purchase and download.
Alternative Drum Sets
In this price range there are a few notable contenders which are worth considering. Alesis have a competitively priced electronic drum set in their Nitro Mesh kit. This drum set has the added benefit of having mesh drum heads which are nice to play on and much more realistic than the rubber variety with the TD-1K.
The Alesis Nitro Mesh kit also comes with a bass drum tower and bass drum pedal, so no free-floating bass drum pedals here. If you value the realism that a bass pedal provides then you may want to consider this drum set. For more information, check out our full Alesis Nitro Mesh kit review.
Next we have the Yamaha DTX402K which is usually priced around the same as the Roland TD-1K. This is a similar setup as the Roland, with rubber pads and cymbals. It's a bigger kit so the rack is not as lightweight as the TD-1K. Like the TD-1K, it comes with free-floating pedals.
There are over 400 sounds on the Yamaha module which are split into 10 different drum sets. You can also rearrange and edit sounds to your liking. For more in-depth look, check this Yamaha DTX402K review.
Conclusion
The TD-1K is a good little drum kit which has lots of top features. It has impressive sounds and a neat and portable design which is sure to appeal to many. We hope that you've enjoyed this review and now have a better idea of the TD-1K's capabilities.
Lightweight and portable (25 lbs).
Includes cymbal chokes.
Has USB-MIDI.
Rubber pads only.
Free-floating hi-hat and bass drum pedals.