Yamaha is a widely known name in the music industry for producing quality musical instruments and equipment. The company has been involved with making music products for well over a century. This is reflected in the Yamaha logo which consists of 3 interlocking tuning forks.
When it comes to electronic drums, Yamaha have long been one of the main players on the market. They're widely considered by many to be up there with Roland in terms of quality. In this review, we'll take a look and listen to one of their more popular entry-level drum sets – the DTX402K.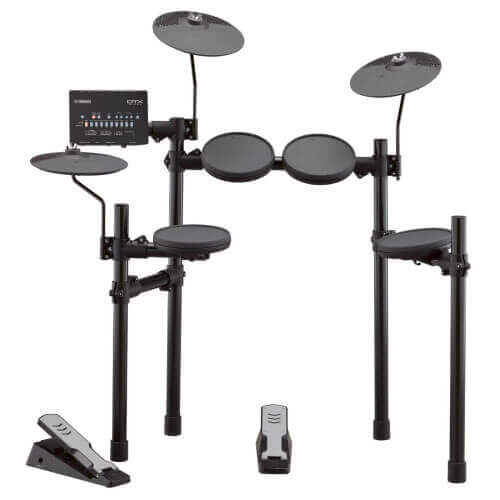 Image credit: Yamaha
Check Price on Sweetwater
Features
The DTX402K is aimed at those who are new to drums or simply looking for a budget electronic drum set. The kit is a 5-piece with 3 cymbal pads. There is a snare, 3 toms, a bass drum, hi-hat, ride cymbal and crash.
Also included is the DTX drum module which connects to each pad and provides the sounds. Within the module are 10 built-in drum kit sounds to choose from of varying styles. These drum sound banks can be accessed easily on the module's menu.
The DTX402K has an accompanying app which can be downloaded to your smartphone. This app has a number of features such as access to tutorials. You can also use the app to video record your own playing and automatically sync the audio directly from the drum module. This is a neat feature which will appeal to any budding YouTube stars.
Yamaha have also included some handy coaching features to help with playing technique, tempo and musicality. We'll get into that later, but first let's look in greater detail at the DTX402K.
Setup
This 5-piece electronic drum set is housed upon an 4-post rack stand. The rack is easily assembled and holds all drums, cymbals and the module. Each pad and cymbal connects to the DTX drum module by way of a cable. The snare and 3 toms are all 8-inch rubber pads, while each cymbal is 10 inches in diameter. All pads are made from a rubber-gum type of material which provides stick bounce without much noise. The consistency is close to an average rubber practice pad.
There are two controller pedals for the feet, namely for hi-hat and bass drum playing. These pedals are of the free-standing sort and are not securely fastened to the rest of the drum set. This allows them to be positioned wherever may suit the individual playing the drum set. All drums and cymbals can be adjusted in height and angle.
Module
Onboard the DTX module there are a total of 415 sounds, from acoustic drum kit sounds to cymbal packs to digital samples and keyboard sounds. These sample sounds have been categorized into 10 different drum kits. Each kit has a relevant title to match the style of sound. There are rock kits and jazz kits as well as a few alternative selections such as techno and world percussion.
There 10 play-along songs which you can use in conjunction with the different kit styles. These backing tracks are fun to play along with and a great way to showcase your playing chops as you develop them. You have full control over the tracks and can adjust tempo and voices where you desire.
Yamaha's coaching feature of the DTX402K is a great addition. In this section you can choose from 10 different functions which are all aimed at improving your skills on the drum set.
There's a tempo check which will give you instant feedback on how well you can keep time. In this exercise you must test yourself against the consistency of the metronome. It's a great way of improving your inner clock.
Another feature is for improving your stick stroke speed. This function maps the amount of strokes you can play in any given timeframe. Set your best record and work towards breaking it – a sure way to get faster.
There's also a coaching function for building chops and even learning how to read drum notation. The latter in particular is a great skill to have nowadays as it opens up new worlds of possibilities to learn from great drummers and instructors.
Alternative Drum Sets
Some other drum sets worth checking out at this price point are the Alesis Nitro Mesh kit and the Roland TD-1K.
The TD-1K is a neat little electronic drum set with pretty much the same setup as the DTX-402K. It's a 5-piece set with 3 cymbals and two free-floating pedals. The sounds on the Roland TD-1K give the Yamaha DTX402K a run for their money. They pad response is impressive with some nice triggering built into each drum.
This drum set is small and is more compact than the DTX402K so if that sounds like a boon to you, then definitely check it out. It has similar coaching features on the module and is around the same price too. Check out our detailed TD-1K drum set review for more info.
The Alesis Nitro Mesh kit stands out among many other beginner electronic drum kits for a few reasons. It has mesh drum heads, on the snare and the three toms.
It also has a dual-zone snare, which means there are triggers in both the drum head and the drum rim. This is a neat feature and means that you can easily switch between regular snare strokes and rim clicks without much hassle. You can also reassign the triggers to other sounds should you wish to do so.
As well as superior feeling drum heads, the Alesis Nitro Mesh kit also comes with a bass drum tower and bass drum pedal included. This will be music to the ears of drummers who like the feel of an actual bass drum pedal over the free-floating variety. For more details, check our full Alesis Nitro Mesh kit review.
Conclusion
This review outlines a few of the important selling features of the Yamaha DTX402K. We've looked at the design, sound, playability, features and value of this drum set as well as comparing it to other competitors in this price range. Thanks for taking the time to read up on the Yamaha DTX402K and be sure to check out our other electronic drum set reviews.
Includes the DTX402 Touch App.
Customize drum kits.
USB MIDI.
Rubber pads.
No bass drum tower.