In this review, we will look at some of the best cheap and beginner-friendly electronic drum sets that can be bought for under $500 in 2023, both online and in stores.
There are a lot of options for budding drummers when considering a drum set. You could opt for a smaller table-top set, or a real life-size acoustic kit, but there are many benefits to a standard electronic drum set.
Firstly, you get the playable experience of a full drum kit with many pads and cymbals. Secondly, electronic drum sets typically come with many different drum sounds to choose from, so variety is always an option. And lastly, electronic drum sets are practically silent to play on, which is great for practicing at home without disturbing housemates or neighbors.
Most of the electronic drums on our list are fully compatible with MIDI, which means you can use them alongside DAWs such as Logic, Pro Tools or Cubase. Let's dive into the article and weigh up some of the best options.
Here are the best cheap electronic drum sets for beginners:
1. Alesis Surge – Best Electronic Drum Kit for Money
The best beginner kit for around $500
The Alesis Surge drum kit is an electronic drum set which retails for around the $500 price range. This is one of the Alesis' most advanced entry-level drum sets and it comes with some nice features which are sure to appeal to many drummers.
The module that ships with this drum set is similar to the module with the Alesis Nitro kit. There are 60 play-along tracks built-in along with 385 sounds to choose from. These sounds are arranged into 24 preset drum kits which are labeled accordingly. There are modern acoustic sounding kits, retro jazz, and funk kits, and EDM-style kits to choose from, as well as lots of world percussion and SFX sounds. There's also room for 16 of your own preset drum kit configurations which makes a total of 40 drum kits.
The Alesis Surge kit comes with a standalone bass drum tower which is equipped with a mesh head. Like the mesh heads on the toms and snare drum, these can be adjusted for tension. All you need is a standard drum key and each drum head can be altered to your preference.
The 3 tom pads and the bass drum pad are all 8 inches in diameter. The snare, on the other hand is a more advanced iteration. This is a 10-inch drum with dual-zone triggering. Dual-zone triggering can be used to play rim clicks or other sounds with a minimum of fuss.
There are 3 cymbals with the Alesis Surge mesh kit. These are ride, hi-hat and crash. The crash is chokable, which means you can mute the sound instantly simply by grabbing the outer edge of the cymbal with your hand.
This is a very good kit for around the $500 price point. It has a couple of elements that make it one to go for. The mesh bass drum pad makes for extra-silent practice, while the larger snare makes for added realism and extra triggering. The whole kit is very portable and can fold into a small space when not in use. All in all, this is a great budget package.
2. Yamaha DTX402K – Drum Kit with Good Software for Beginners
The best rubber pad kit
Yamaha are well known for manufacturing quality musical instruments. When it comes to electronic drums they usually cater to the mid to high-end of the market. With that said, they do have some kits which fall within the price range of entry-level or beginner. One such drum kit is their DTX402K. This electronic drum set retails at around the $500 mark.
So what do you get for the cash outlay? Well, you get a standard 5-piece drum set (5 drums, 3 cymbals) with a module, rack and pedals. The pedals are of the free-floating variety, which means no bass drum tower or hi-hat stand. This can be beneficial when it comes to noise maintenance as these pedals usually are pretty quiet to play on. They do tend to favor heel-down playing though, which is not for everyone.
The pads themselves are all of the rubber variety, so no mesh here then. The response is quite good and the pads feel sturdy to play on. These rubber pads generate a bit more noise than mesh heads, but they still feel good to play on.
The whole kit plays well with little vibration or movement. The rack holds all the drums and cymbals, as well as the module. The module has 415 sounds along with access to the official DTX402 Touch app. This app contains lots of cool features, such as timing exercises and access to play-along tracks. You can even compete to see how accurately you can read notation and play in time.
Image credit: Yamaha Check Price on Sweetwater

Good build quality.
Versatile drum module.
Compatible with the Yamaha app.
Good coaching functions.

Rubber pads can be slightly noisier.
The Yamaha DTX402K is a solid drum kit. It's true, it does lack when it comes to certain aspects such as bass drum towers and mesh drum heads. But apart from that, this kit feels good to play on. The pad response is pretty good and won't be a huge issue for most.
Where the DTX402K excels is with the module and accompanying app. Yamaha have provided countless hours of drumming exercises to keep you occupied and improving.
3. Roland TD-1K – Best Option from Beginners to Professionals
The best compact electronic drum set
Roland are one of the most popular manufacturers in the world of electronic drums. They produce drum kits for all levels of players from beginner to professional. With the TD-1K, Roland have created an entry-level, lightweight drum set which is aimed at both starters and experienced drummers on a budget.
First impressions of this drum kit are largely about how compact it appears. Roland have clearly gone with a beginner-friendly minimalist approach for this drum set. Everything about it has space saving in mind.
The rack is one of the smallest on our list. Each pad and cymbal rests upon the rack which has more of a central cross design as opposed to the traditional 4-post design. The module sits in the middle, for easy access while the two free-floating foot pedals can be positioned at the base of the rack. This kit can be set up for either a right-handed or left-handed player easily.
The Roland TD-1K comes with an impressive little drum module. On board this module is a total of 15 drum kit presets. Roland have packed in some useful coaching features too which you can use to fine-tune your technique and timing.
This drum set will appeal to drummers on the go or anyone with not a lot of space to work with. It's lightweight and ideal for carrying to and from rehearsal, when you don't need a full kit to play on. It's no surprise that the TD-1K always proves to be one of the top-rated and best-selling electronic drum sets year after year.
4. Alesis Turbo – Most Versatile Drum Pads for Beginners
The Turbo mesh drum kit from Alesis represents great value. It comes with 5 drum pads and 3 cymbal pads. All drum pads have the added benefit of being of the mesh variety. Mesh heads make for silent playing and also provide a nice and natural bounce for the drumstick. Each drum pad is 8 inches in diameter while the cymbal pads are 10 inches. The cymbal pads are made from rubber gel-type of material.
There are no multi-zone pads included with the Turbo drum kit. This means that each pad, drums and cymbals, has just the one set of triggering. Some advanced kits sometimes feature dual-zoned snares which allow for sound triggering on the head and also on the rim. This feature can also be applied to cymbal pads, allowing for multiple sound options such as cymbal bow and cymbal bell strokes.
The Alesis module is loaded with over 100 sounds for you to play around with. There are also 10 ready-to-play drum kit presets on board the module. These kits range from classic to modern and also a few alternative selections. For additional practice you'll find 30 play-along tracks which make for an ideal accompaniment as you develop your drum chops.
Alesis have also included a coach function on the module which is designed to help improve timing and creativity. The Alesis Turbo mesh kit sits upon a sturdy rack which can fold away for storage purposes.
Image credit: Alesis Check Price on Sweetwater

Mesh heads for added realism.
Great value.
Sticks included.

Has no hi-hat stand or bass drum tower, just pedals.
Single-zone pads.
The Alesis Turbo is a very good drum kit for the money. And definitely one the best cheap electronic drum sets available. It's priced below many of its competitors and offers many features that others cannot.
Apart from mesh heads, this drum set also comes with two free-floating pedals for the bass drum and hi-hat. While free-floating pedals do offer a low-noise solution and are quite portable, they sometimes lack that realism that comes with bass drum towers and hi-hat stands. If this is something that matters to you, then be sure to bear it in mind.
5. Alesis Nitro (Mesh) – Advanced Drum Kit for Beginners
The Nitro mesh kit is sort of like the older brother to the Alesis Turbo kit. This kit features a few upgrades that the Turbo mesh kit was lacking. First up this kit is a similar 5-piece setup with 3 cymbal pads. The drum sizes are 8 inches while the cymbal pads are 10 inches.
One stand-out feature of the drum set is the snare drum. It contains dual-zone technology, so you can get more than one sound depending on where you strike the drum. Both the rim and the drum head have separate triggering which effectively increases your arsenal of sounds available to you. It's easy to assign an auxiliary percussion instrument to the rim, such as a cowbell or a wood block, and it also means you don't need to fork out for additional pads.
In comparison to the Alesis Turbo kit, there are many similarities. The rack looks identical and the free-floating hi-hat pedal is the same. The bass drum, however, is much improved upon. Here, Alesis have provided a tower which will fit any standard single or double bass drum pedal. On top of this, they've also thrown in one of their own single bass drum pedals for good measure.
Image credit: Alesis Check Price on Sweetwater

Comes with a bass drum tower and bass drum pedal.
Has 385 sounds and 60 play-along tracks.
Dual-zone snare included.
In total there are 385 sounds on the Nitro module. These sounds are split up into 40 drum kit preset soundbanks. There's also a collection of 60 play-along songs and some coaching features on the module too. This is a great electronic drum set which will give you plenty of change from $500.
6. Behringer XD8USB – Large Pads Drum Set for Beginners
Behringer guys are widely known in the music industry for making audio equipment such as microphones and mixers. The XD8USB is an entry-level electronic drum set with 5 drums and 3 cymbals. It comes with a drum rack, a module and pedals for hi-hat and kick drum.
Behringer have included an upright bass drum tower along with a single pedal. This will be music to the ears of drummers who prefer the feel of a real pedal over the free-floating style.
The pads on the Behringer XD8USB are larger in weight than both the Yamaha DTX402K and the Roland TD-1K. This gives the kit a solid feel, but means more weight to be carrying around should you find yourself on the move. Like most electronic drum sets, the Behringer module is fully MIDI compatible, meaning that you can use this drum set as a controller kit with VSTs and DAWs.
7. Behringer XD80USB – Hi-Tech Drum Set for Beginners
If you like the look and sound of the Behringer XD8USB drum set, you might also like the XD80USB. This drum set has an improved drum module which ships with more sounds than the XD8USB. In total there are 175 drum sounds in contrast with the XD8USB's 123 sounds.
The amount of drum sets on this module is limited to 15, which consists of 10 preset kits and 5 custom user kits. The kit comes with a bass drum tower and pedal, a free-floating hi-hat pedal, a rack and 5 drum pads and 3 cymbals.
There's about a $50 difference in price between the Behringer XD8USB and the XD80USB. Both modules have MIDI capabilities, but differ when it comes to the amount of sounds on board.
8. Donner DED-200 – Electric Drum Kit with Most Module Sound Options
The best value electronic set for beginners
Donner may not be a household brand name, but with the DED-200 electronic drum set they've created an impressive and great value drum kit.
This 5-piece kit features mesh heads across the snare, 3 toms and the bass drum. Each head can be individually tensioned to suit your preferences. The Donner DED-200 features a mesh bass drum tower with an included bass drum pedal.
There are 225 sounds on the Donner module as well as 30 play-along songs. You can also plug any auxiliary sound devices in through the module for playing along. This is an inexpensive electronic drum set and the low price is proving popular.
Image credit: Donner Check Price on Amazon

All mesh drum pads.
12-inch crash and ride cymbals.
Drum throne included.
Bass pedal, headphones and sticks included.
While the pads are the crowning glory of this kit, it's also worth mentioning the cymbals. The ride and crash are bigger than most cymbal pads in a kit under $500 – and this kit is well below $500. It usually retails for under $400 online. That's great value considering you get a fully mesh drum set with a throne, sticks and even a drum key.
It doesn't have the prestige of the bigger brands such as Yamaha and Roland, but it certainly punches above its weight when it comes to value.
9. Carlsbro CSD130 – Cheap Electric Drum Set With Real Bass Pedal
The best shoestring budget kit
If you're looking for a low-priced electronic drum set on a budget then the Carlsbro CSD130 might be the one for you. This drum kit retails at around $300 and is pretty good value all-around.
It's a 5-piece drum kit with 3 cymbal pads and a compact setup. The rack here is quite small and easily folds down. This makes it very portable and easy to move around should you struggle for space.
The nice thing about this drum set is that it features a real bass drum pedal and pad. The design of this pedal is not the typical upright design. This pedal is angled to strike downwards onto the pad. The thinking behind this design is that it will minimize the amount of vibration and movement and so leads to a more comfortable and stable playing experience.
There are 250 sounds on the Carlsbro drum module, consisting of 20 preset drum kits. There are also inputs and outputs which you can use to play along with MP3 players as well as monitor your playing. If you prefer playing with headphones, then there is also a designated output for that too.
Image credit: Carlsbro Check Price on Amazon

Very price friendly.
Dual-zone snare.
Chokable ride and crash.
Bass pedal included.
Compact.

Rubber pads lack the quietness of mesh.
The Carlsbro CSD130 packs quite a punch for such a modest price tag. It has MIDI capabilities, so can be used as a controller kit with any home recording setup. There are 20 play-along songs as well as a recording feature. This is very useful for soundchecking at gigs. You can use the recording to capture your playing and then hop out front during playback to monitor how you sound.
The CSD130 from Carlsbro represents great value for money and is one of the best and cheapest beginner electronic drum sets around.
10. HXW SD61-5 – Cheap Electrical Drum Kit With Various Options
The HXW SD61-5 is a mesh drum kit with 5 pads and 3 cymbals. The toms and snare are mesh while the bass drum is a rubber pad. The snare has dual-zone technology for extra triggering options.
There are 227 sounds in total on the drum module which are divided between 15 drum kits. You can also save up to 25 of your own kit configurations in the preset banks.
For playing along you'll find 15 tracks of a variety of styles, from rock to pop to blues and funk. The module accepts auxiliary inputs such as MP3 players and also has full USB MIDI connectivity.
Image credit: HXW Check Price on Amazon

Mesh heads on snare and toms.
Bass drum pedal included.
Dual-zone snare.

Bass drum tower is prone to movement.
This is a nice little kit with a lot going for it. It's up there with the Donner DED-200 and there's only a few dollars in the price difference.
What to look for when purchasing?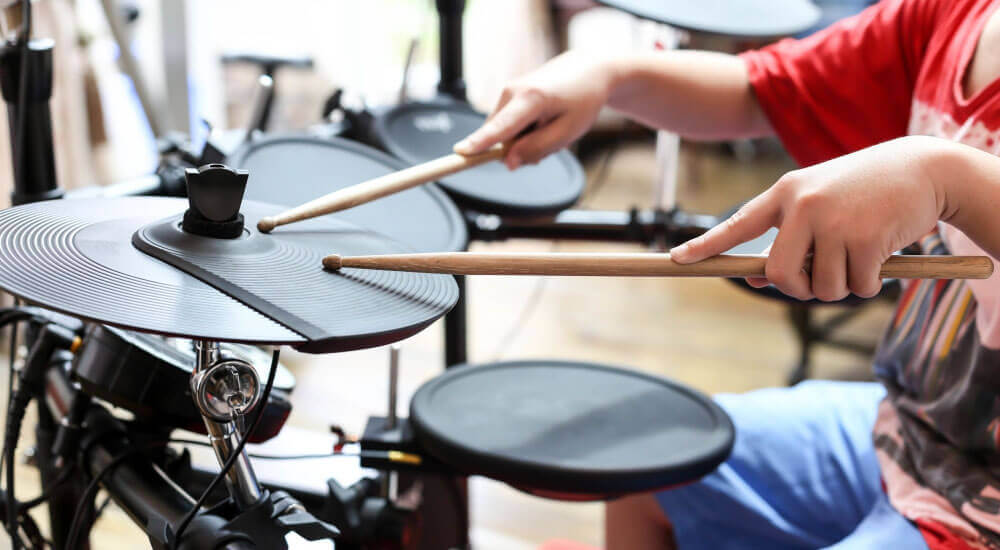 Space
Depending on your experience you'll want to look at several factors when purchasing an electronic drum set. Consider if this kit will be placed in just the one location or will it need to be transported often. If the latter is the case, then you'll want to look for portability. Many electronic drum sets excel when it comes to folding away into small spaces while others are not designed in such a way.
Volume
Another factor to consider when buying cheap electronic drum sets is volume. Do you need mesh heads? Mesh heads will reduce the volume in comparison to rubber pads but they're not totally silent. Free-floating pedals are usually the quieter option when it comes to room noise but they lack the realism that comes with real stand-alone pedals.
Module functions
A module can make or break an electronic drum set. It's a good idea to read all about the features of the drum module you are interested in. Some modules allow you to do advanced stuff like import your own samples. Certain modules have really cool coaching functions which help improve timing and musicality.
On the other hand, some modules are quite basic and ship only with drum sounds and some backing tracks, so make sure you read all about the features on-board before making the purchase.
Computer compatibility
Most electronic drum sets are fully USB MIDI compatible nowadays, but some are not. This may or may not be an issue with you, depending on your intentions. MIDI allows the user to connect the drum kit to a computer for use with DAWs (Digital Audio Workstations). A connection like this allows for easy and convenient recording as well as Virtual Instrument use (VST).
It would be a shame to make a purchase and then realize that your kit is lacking in these features, so make sure to do your homework here.
User age and size
It might sound obvious but it's important that you purchase an appropriate kit for whoever will be playing it. Most electronic drum sets can be setup to accommodate players of all sizes from children to adults, but others are not so flexible.
Also pay attention to the usability of the module. If you're purchasing for a 6-year old kid, can they navigate the menu easily? These are the type of questions you should consider asking before making your purchase.
Conclusion
And that brings us to the end of our list of the best cheap beginner electronic drum sets under $500. We hope that you've enjoyed reading about all the range of features involved with kits at this price level.
All of the products that made our list are relatively affordable electronic drum kits with the limitations that you would expect at this beginner price range. For example, none of the kits on our list come with hi-hat stands. This is one feature which is typically reserved for more expensive kits. But with that said, there are some real gems on this list, some hidden and some not so hidden, and we're sure you find the right kit for you.