Alesis have been manufacturing electronic drum sets for generations now. They have a solid reputation in the music industry for building quality products at a competitive price. Their Surge Mesh kit is a low-budget electronic drum set with a few notable features which are not always available in this price range.
This review will take an in-depth look at what the Alesis Surge mesh kit brings to the table, both in terms of build and sound quality. We'll also contrast and compare it to some other electronic drum kits available on the market for a similar budget. So, on with the review.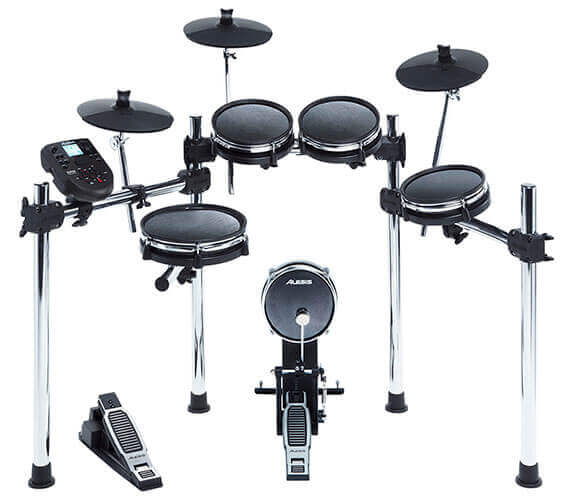 Image credit: Alesis
Check Price on Sweetwater
Overview
The Alesis Surge Mesh kit is a 5-piece setup with 3 cymbals, a drum module, a hi-hat pedal plus a bass drum tower with an included kick pedal. Most of these components can be mounted to the impressive looking 4-post chrome rack which is included.
The icing on the cake with this drum set is the design and capabilities of the drum pads. Alesis has opted to offer upgraded drums all round with this drum set over the cheaper Nitro Mesh kit (click to check our review). Each of the five pads, snare, toms and bass drum, come complete with fully tensionable and low volume mesh drum heads.
Benefits of mesh are multiple. Mesh heads offer low-noise and a realistic head response. Each head can be tuned or tightened just like a regular drum head. There are 4 lugs on each drum which can be tightened or loosened with a standard drum key. This makes replacing heads easy to do and is reassuring if you are worried about any damage caused from hard hitting.
Unlike the Nitro Mesh kit, this drum set features mesh on the bass drum pad also. This is a welcome addition as the feel is far superior to a standard rubber pad.
The tower is big enough to accommodate either single or double pedals. Pedals can clip to the base of the tower in a similar fashion to a bass drum hoop and it also has two adjustable spikes which can be used to grip surfaces such as floor carpets and mats. Alesis have been kind enough to include a bass drum pedal in the deal too.
The hi-hat is free-floating and connects directly to the Alesis Surge drum module. Like the bass drum tower, there are adjustable spikes on the footboard too to keep it in place during performances.
The hi-hat pad is 10 inches in size which is the same as the ride and the crash cymbal. The ride and crash are both chokable so you can kill the sound by gripping the outer edge of the pad. The hi-hat can be controlled by the foot pedal. There are several different open and closed positions for the hi-hat which ads a little realism to the playing experience.
The snare is the largest drum pad of the lot. It's 10 inches in diameter and has dual-zone triggering. The head and the rim of the drum can be assigned to different sample sources. Each of the 3 toms are 8 inches in diameter and also have this dual-zone design. Extra triggering is a huge plus with a kit like this. It increases the amount of sounds you have at your disposal.
On top of the regular snare and 3 toms you could for example assign a rim click, cow bell, splash cymbal and wood block to each of the 4 drum rims, increasing your musical options instantly.
Sound
The Alesis Surge drum module contains 385 sounds in total. It also comes with 60 tracks and other accessories such as a fully functioning metronome. There are 40 kit sound banks in total on the Surge module. 24 of these drum kits are default factory kits and 16 are empty user banks which can be customized personally. The 60 backing tracks are perfect for playing along with and come in a range of styles from rock and blues to jazz, funk and more.
Surge drum module features
The Alesis Surge module allows you to easily record your own playing. This is a useful feature when brainstorming ideas or improvising. There's an onboard metronome which you can use to improve your timing or for when tracking drums.
The AUX-in can be used along with any audio source, such as a laptop or phone, and lets you play along to your own selection of music. Fans of home recording can avail of the USB MIDI which the Surge module offers. This drum set can function as a MIDI controller with your own digital audio workstation.
Alternatives
For a smaller price you can get the Alesis Nitro Mesh kit. This drum set is a 5-piece with 3 cymbals and mesh drum heads. It lacks a few of the features of the Surge kit such as mesh bass drum head and dual-zone toms. For more in-depth comparison, check out our full review of the Nitro Mesh kit.
Yamaha DTX402K is another drum kit in the same price range as the Alesis Surge Mesh kit. It has no mesh heads and instead comes with rubber pads. Both foot pedals are free-floating which, while lower on noise and more portable, makes for a less realistic playing experience. As you will see from our DTX402K review, it comes with an accompanying app which in itself has some cool additional features.
Roland TD-1K too has free-floating pedals along with rubber pads across the snare and toms. Like the Yamaha DTX402K, there are some useful coaching features onboard the drum module. The sounds on the TD-1K are quite impressive although if mesh is your thing, like the Yamaha, you won't find it here.
Both kits offer great value for the money, but we encourage you to read our full review of the TD-1K for more in-depth look. Also, make sure to check out our article on the best beginner electronic drums under $500.
Conclusion
The Alesis Surge Mesh kit is great value for the money. It gives all competing brands a serious headache with the multitude of features it offers. There are many aspects of this drum kit that you might usually only find on top-end electronic drum sets, and that makes it definitely one to consider.
All mesh drum pads.
Dual-zone triggering on snare and toms.
Kick pedal included.
Chokable cymbals.