Alesis is an American-based company which specializes in manufacturing a wide range of electronic musical products. While Alesis offer a wide range of electronic drum sets, they also cater to other musicians with the likes of amplifiers, effects units, audio mixers and audio processors.
In this review we will look at the Alesis Nitro Mesh kit. This electronic drum kit is keenly priced at the entry-level end of the market. In the review we'll discuss some of the finer points of this drum set and see how it weighs up in both quality and value compared to its competitors.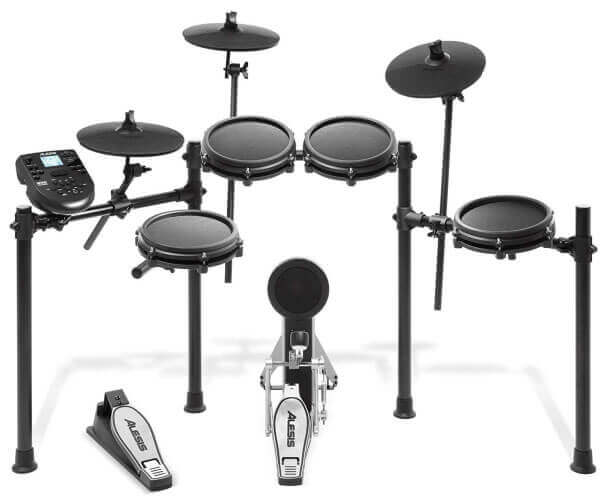 Image credit: Alesis
Check Price on Sweetwater
Features
The Nitro Mesh is a 5-piece drum set with 3 cymbal pads. As the name suggests, the main selling point is the inclusion of mesh drum heads on four out of five drum pads. These mesh heads are tunable which means that you can adjust the tension of the head in order to customize the drum feel. Pad sizes are all 8 inches in diameter with the snare being dual-zoned. Dual-zone here refers to the active triggering which responds to playing on both the drum head and the rim.
The cymbal pads are all 10-inch and come with a playable rubber-type surface. The crash cymbal is chokable, which means you can cut short crash strikes by gripping the outer edge of the pad. This is particularly useful with song endings and staccato musical segments.
The hi-hat pad connects to a free-floating controller pedal. This pedal can be placed practically anywhere that suits as this is not the typical hi-hat and clutch setup. The bass drum consists of a tower which is compatible with a typical bass drum pedal. Thankfully, Alesis have included one of their own brand pedals in the deal.
The Alesis Nitro Mesh kit is built on a sturdy drum rack. This rack consists of seven aluminium posts and is quite light in weight which makes it fairly portable. The snare and the three tom pads can be mounted to the rack and adjusted for both height and angle. The three cymbal pads also mount to the rack by way of adjustable cymbal arms.
Sound
The Alesis Nitro is the drum brain for this kit. Typically the module is positioned beside the hi-hat cymbal pad for ease of use and within arm's reach. The Nitro module is the source for sounds and all connectivity with this drum set.
This kit module is equipped with a host of different drum and percussion samples. There are a total of 365 sounds aboard the Nitro module. These sample sounds range from acoustic drum sets and cymbals to digital kits to world percussion and FX sounds.
Alesis have sorted the sound collection into 40 different preset drum kits. Kits can be selected by using the controls on the face of the Nitro module. If you want you can mix and match by swapping out sounds from preset kits with other samples.
There are 60 play-along backing tracks built into the Nitro module. These range in style much like the preset drum kit sound banks. There is a selection of different backing tracks in styles from rock and pop to Latin, jazz, blues and more. This is a perfect aid for beginner drummers and advanced drummers alike.
Software
The Nitro module comes with a few additional features too. You can record takes of your playing for future reference. This is a convenient way of storing beat and fill ideas that you may come up with while playing. There's also a tempo button which controls the metronome and adjusts the speed of backing tracks. If you need more than the 60 backing tracks and would like to play along with external audio, you can use the handy AUX input which is built into the module.
The Nitro module has a backlit LCD screen which makes it easy to navigate through menus and sound banks. If you're a fan of home recording you'll most likely want to avail of the Alesis Nitro's USB MIDI connectivity. You can connect the module up to any Mac or PC for use as a controller kit along with your favorite DAW.
Popular VST plugins such as EZ Drummer and Superior Drummer are comprehensive collections of drum samples and loops. Such plugins effectively supply the user with a whole host of new and high-quality drum sounds and samples. Once you have connected the module to your computer you simply need to activate the kit as the controller and choose from the native plugin sounds.
Alternative Drum Sets
There are a few options if you're looking to shop around at this price range (under $500). First up is the Roland TD-1K. This entry-level drum set is basic and lightweight. If you're stuck for space you'll love the setup of the TD-1K. It comes with 15 preset drum kit sound banks and the usual USB MIDI connectivity.
On the down side it is slightly more expensive than the Nitro Mesh kit. It also has a free-floating bass drum pedal instead of a tower. Finally there are no mesh heads with the TD-1K. All pads are the rubber type. For more information, check out our in-depth Roland TD-1K review.
The DTX402K is a competitively priced drum set from Yamaha. This drum set looks and plays a lot like the Roland TD-1K. It has a similar setup with rubber pads and free-floating pedals although it's slightly more robust. It can be purchased for around the same cost as a Roland TD-1K too. Read this DTX402K drum set review for more information.
Conclusion
In this Alesis Nitro Mesh kit review, we've tried to focus on what makes this drum set worth considering. And there are many features. As far as value for money goes, it's hard to beat the Nitro. The crowning glory is without doubt the mesh drum heads, which used to be only reserved for higher budget electronic drum sets. We think this drum set will appeal to many drummers out there.
Tunable mesh heads.
Dual-zone snare.
385 sounds, 40 drum kits and 60 backing tracks.
AUX input.
Free-floating hi-hat pedal lacks realism.
Small pads.
No mesh on the bass drum tower.