Violinists – we're all sizes and shapes and thankfully, violins come in a good range of different sizes so that all of us can find the right instrument to play according to our own unique body proportions.
Violins sizes range from a 1/32 to a 4/4 and come in 9 different sizes to accommodate the youngest of players all the way to adult players, and even adult players with small hands and arms.
Each Size at a Glance
1/32 Violins
The smallest fiddle in the family is the 1/32 size, and is for the youngest students ages 1-3.
Children can actually start playing with a violin as young as age 1, and will often begin with a cardboard violin, just to get their hands and body used to the position one is in when playing.
Then they will move to a "real" violin, and this would be the size violin that they would start playing on.
This size violin measures 13 ½ inches in total length and best suit arm lengths of 14 inches.
1/16 Violins
The next size is young students ages 3-5. This is the 1/16th size fiddle.
They are about an inch longer than the smallest size, and most beginning students at this age will start with this size rather than the 1/32 size violin.
These violins measure 14 ½ inches in total length and best suit arm lengths of 14 inches.
1/10 Violins
Now we move up to the 1/10th size violins that are really just about an inch longer than the 1/16th violins.
These violins are best suited for children ages 4-5. They measure 16 inches in total length and best fit arm lengths of 15 inches.
1/8 Violins
Following this, we have the 1/8 size violin which is again, about an inch longer than the previous size. These violins are most played by students age 4-6 years old.
They measure 17 inches in total length and fit arm lengths up to 16 ½ inches.
1/4 Violins
Students ages 5-7 most often play on our next size, which is a 1/4 size violin. These violins are about 2 inches longer than the 1/8 size fiddles.
They measure a total length of 18 ½ – 19 inches and fit arm lengths of 18 – 18 ½ inches.
1/2 Violins
1/2 size violins are our next size. They fit best with students ages 7-9.
These violins measure 20 ½ inches in total length and are about 2 inches longer than the 1/8 sizes. They fit arm lengths 20 inches.
3/4 Violins
Now we come to 3/4 size violins. 9-12 year olds most often play this size violin. These instruments measure 21 inches long and fit arm lengths of 21 ½ – 22 inches.
7/8 Violins
The 7/8 size violins are not that commonly played, but are perfect for smaller teens, adults, or anyone with smaller than average hands.
These violins measure up to 22 ½ inches in total length and fit arm lengths of 22 inches.
These violins are not always easy to find, but if you ask your favorite violin shop to keep an eye out for one, most times they gladly will.
4/4 Violins
Finally we get to the 4/4, or full size violin. These violins are played by tall teens or adults, and measure 23 – 23 ½ inches in total length. They fit arm lengths of 23 inches or larger.
As a general rule, most students and adults that are at least 5 feet tall can play a full size violin.
Exceptions occur when the person has very small hands or arms, and would benefit on remaining on a smaller instrument for easier playing.
How Do You Measure Up
It's fairly easy to figure out what size you need. Have either your violin teacher or the shop that you're renting or buying your instrument from measure your arm length from the neck down to your wrist.
The total length of the violin (including the neck) should allow the wrist to curve up and wrap around the scroll, if it is the right fit.
If you or your child is in between sizes, it's best to go smaller than larger, and then you can move up in size comfortably when the time is right.
If the left arm cannot bend in playing position, then the violin is too large. The arm should always be able to bend comfortably at the elbow as the fingers are placed on the fingerboard next to the scroll.
Make sure to get students playing any size under a full size measured each year to account for any growth spurts.
It's even possible for students to change sizes in one year if they happen to be in a big growing year, and this can happen at any age in childhood, not just the teenage years.
Not everyone that is the same age will play on the same size violin
If you have 2 children both aged 5 and they are starting violin, don't assume that they will both play the same size instrument.
There are several physical features to consider with each individual to get the right sized instrument:
length and size of left hand fingers;
width of left hand palm;
length of neck;
shape of jaw.
Also Consider…
When the violin is placed under the student's chin in playing position, look at the length of the violin compared to the height of the student. Does the length of the violin look out of proportion to the student's body? If it does, it's probably too big even if the student can bend their left arm when in playing position. Re-measure to make sure.
Have the student (unless they are a beginner) hold the violin under their chin without using their left arm to help support it. Can they do this comfortably? If so, you are good to go. If not, the violin is probably too big.
Be careful about sizing a student's violin without measuring carefully. Don't buy a certain size based on age or height alone.
If you are buying a violin online and can't figure out what size to buy since you can't measure the instrument in person, it might be best to get your child's private teacher to do the measurements, or go by your local music store and have them measure your child beforehand, so you can test out which size will work best.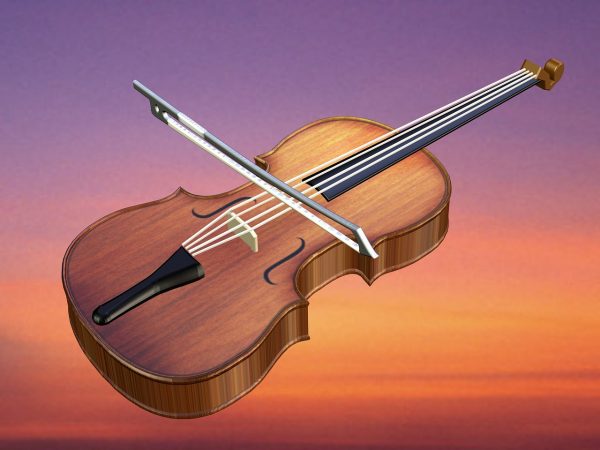 Adult students will almost always purchase a 4/4 or full size violin, unless they are very small framed, and then they would want to look at a 7/8 size violin.
Everything needs to measure up
It's not just your violin that you need to correctly size. Other items that need to be sized along with your violin are:
Bow
Case
Shoulder Rest
Strings
Many times you can get a whole "package" when renting or purchasing a new violin. A "package" usually comes with a violin, rosin, case, and bow.
If you are getting a package to rent or buy, the bow, case, and strings will be included.
If you are purchasing a violin without a bow and case with it, you'll need to make sure that both items are the same size as the violin, when you do buy them.
Tell the store exactly what size violin you have and that you need a bow and case to fit.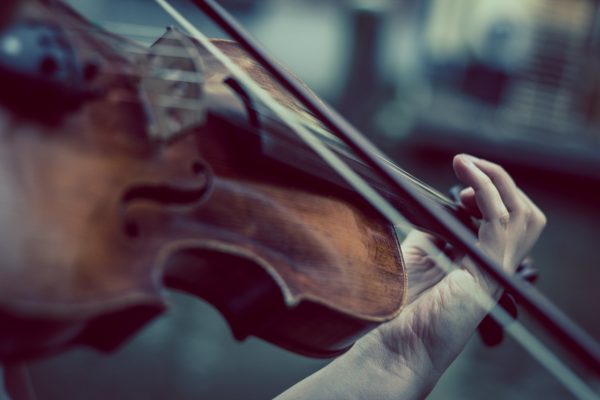 Beginning students will not always start with a shoulder rest, but they will want to use one in most cases at some point in the first year.
Shoulder rests come in different sizes as well to match the size of you or your child's violin.
Shoulder rests typically do not come as part of a violin package and will need to be ordered separately. They fit violins sizes 1/16 – 4/4.
For violins smaller than 1/16, often times teachers will use sponges as an introductory shoulder rest, moving into a standard model as the player gets a little bigger and more comfortable on the violin.
Strings always come on a violin, whether you rent or buy it. Sometimes strings break, or just wear out after being played for about 6 months.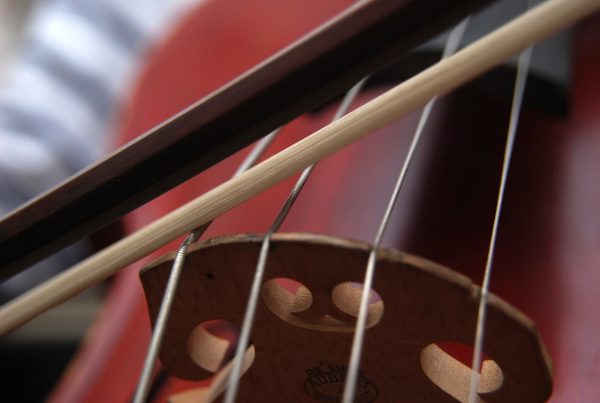 When it's time to buy new strings, you'll need to make sure you select ones that fit your violin.
Make note of whether you need strings that fit a fine tuner, or ones that will be tuned using your pegs. E strings always attach to a fine tuner.
There's One for Everyone
No matter your age, height or weight, there's a violin for everyone!
Playing on the right size violin is like slipping on your favorite pair of shoes.
Get proper measurements so the violin won't be too large or too small to play on comfortably.
Realize that anyone playing on a violin smaller than a full size, will be growing, and should be measured at least every year, or more often if there is a large growth spurt happening.
Keeping yourself or your young violinist in the right fit, will ensure a pleasant experience and allow for the greatest growth.