Since 2004, Yamaha YPG-535 has continued to be one of the most popular 88-key digital keyboards in the $500 range.
The keyboard is a slight upgrade of the YPG-235 and has some more additional features that make it even better.
It features many components that are distinctive to that of a grand piano that helps to define it and make it stand out among many other keyboards in the price range.
However, like any other instrument, the YPG-535 has its weakness making it not perfect for all.
Readout through the Yamaha YPG-535 review to find everything you need to know about it.
Yamaha YPG-535 Review: Specifications
Design
The YPG-535 is a portable keyboard that comes with a matching stand and built-in speakers.
It is excellent for people with limited space because of its small size of 52.75'' x 16.6'' x 5.6''.
The keyboard comes with a sturdy stand that holds it in place and keeps it from wiggling around.
You can easily assemble it where it takes just 15-20 minute with the right tools to fasten.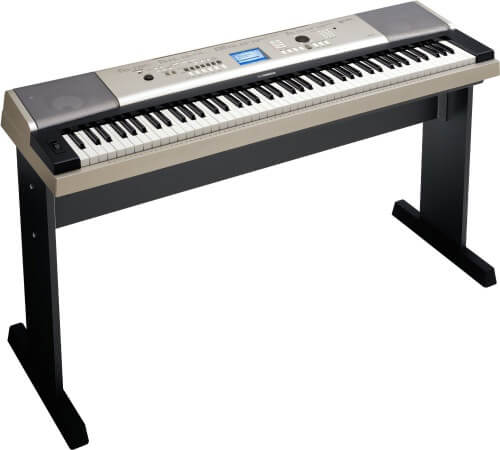 For people who want the keyboard for gigs, which requires moving around more often, it is good to buy an X-stand that you can easily move and does not need tools to assemble (like a screwdriver).
With its 88 keys, the YPG-535 weighs only 24 lbs. This might seem heavy for some people, but it's quite good to many and can be carried along even by one person.
The Control Panel of the YPG 535 is a little bit overwhelming with over 40 buttons and additional control elements.
These, however, are easy to master and can assist you when playing where each is dedicated to the playing function of the piano.
The buttons do not only make the navigation much more accessible but also helps you to get full advantage of education features that you can easily find on the keyboard.
The keyboard is available in one color – gold Champaign. It also has black lining around it which brings a nice contrast to the key bed.
Besides, finger marks and the dust aren't as noticeable as the black finish.
Key Action and Realism
When coming up with the YPG-535 88-key keyboard review, we can focus on nothing less than the outstanding specification.
The YPG-535 comes with 88 keys that are of the same size to that of an acoustic piano.
Its mechanism features graded soft touch action keyboard that does not replicate the weighted keys of an acoustic.
The keyboard has a semi-weighted action whereby the keys have springs mechanisms underneath that adds resistance when pressed.
This action feels better than that of a cheap entry-level keyboard but doesn't feel authentic and heavy as the acoustics.
The YPG-535 keys have some few qualities though, that makes it mimic the acoustic piano action.
These include the graded-key action where the low-end feels heavier than the high end.
It is also touch-sensitive meaning that the harder you press the keys, the louder it produces the sound.
You can also adjust the level of the touch sensitivity by choosing on the three available presets.
The keys, however, does not have too much control like a fully weighted one.
The keys are made of plastic and do not offer the ivory and ebony key tops like high-end models.
They also make a clicking noise when playing at a low and medium volume.
Even though every piano produces the noise when stricken, the YPG-535 keys are noisier compared to their competitors.
They also do not light up as some other entry-level keyboards.
Sounds
Yamaha YPG-535 has an AWM Stereo Sampling technology like the one used in the Yamaha P-45.
The sound is that of a real acoustic piano that is recorded at different volume layers.
This helps to produce a distinctive sound when you hit the keys with a diverse force.
The piano instrument sounds are pretty good. They total up to 500 sounds including the eight piano, nine electric piano, ten guitars, fourteen Organs, eight Bass Guitar, nine trumpets, thirteen strings, thirteen saxophones, and four choirs.
It feels incredible to have all these sound in one instrument.
In addition to that, you can create other sounds by layering the existing ones as well as customize the sounds by adding the different effects available.
The YPG-535 also has an equalizer and pitch bend wheel where you can adjust the notes sounded.
This helps in producing different effects like the choking, guitar vibrato and so on.
The equalizer settings allow you to alter the sounds generated depending on the system you are using.
Polyphony
Yamaha YPG-535 has 32-note polyphony. This is one of its main drawback especially with its many offered features; you can have a lot of limitations in the music making.
A good example is when you are layering two sounds, you might run out of memory, and the earlier played notes will be lost.
Even though the notes can be enough for a beginner, more advanced players need at least 64-note or 128-notes polyphony for the advanced classical playing.
Speakers
The YPG-535 is equipped with a two-way speaker system which divides the sound spectrum into two parts assisting it to produce a clear treble and powerful bass.
Their front face design also gives a clearer and open sound. They provide a quality sound in both low and high register.
Each speaker has 6 watts giving a total output of 12 watts loud enough for a small room performance.
You can adjust this by connecting to an external amplifier to get a more powerful performance.
Features
Modes
The YPG-535 has a dual mode that allows the sounding of two different instruments to layer when the keys are pressed.
Considering it has 500 instruments sounds, the YPG-535 can give an exciting sound combination that can come from this mode.
There is also split keyboard mode whereby you can divide the piano into two parts and play a different instrument in each section.
You can also change the split parts from the standard #F2 to another key.
Learning Features
Yamaha YPG-535 has 30 in-built songs and over 70 on a CD-ROM that you can playback when practicing.
You can also see the score and lyrics of the songs making the playing easier.
The keyboard has Yamaha Education Suit that helps the player to practice using the internal or the external song on the right-hand left-hand or both hands lesson.
The Education performance Suit offers three types of lessons, which includes the Waiting, Your Tempo, and minus one.
There is also the performance assistant that helps to fix the wrong notes that you can make during the performance.
Recording and Playback
Yamaha YPG-535 has a MIDI recorder that allows you to record and store songs in a flash memory of the instrument.
You can convert and save them to a USB flash drive latter.
It allows you to record up to 6 recording and play them as a single song.
This is a significant effect especially when you are creating a multi-layered recording.
You can also listen to your previous recording when creating a new one.
Because this is not an audio recording, you can change its tempo, add effects and even correct the notes.
Connectivity
Yamaha YPG-535 has five ports that are located in a rear panel, which helps you to connect to different devices. This includes:
USB to the device – in this port you plug-in your USB flash drive to the piano directly to save the recorded MIDI files. You can also load the downloaded songs which assist you in practice and performances.
USB to host – this port is used to transfer the recorded MIDI files to a computer using an A to B USB cable.
Sustain Jack – this port is used to connect the sustain pedal to the piano.
Phone Jack – the ¼'' jack is used for plugging in the headphone sets. When you connect the jack, the internal speakers shut off.
This is a useful feature especially if you are practicing in a room that you don't want to disturb others.
The output is also used to connect to an amplifier or external speakers for a better and louder voice.
Accessories
We cannot have a complete YPG-535 review if we don't mention at least some of the accessories that come with the keyboard after purchase.
Here are some of them that you can find in the box with the keyboard:
Owner's Manual
Matching Stand
Sustain Pedal
AC power adapter
CD- ROM with Software and Drivers
The Pros and Cons of the Yamaha YPG-535
Portable
Easy to use
Responsive/Good action
Touch sensitive keys
Educational Component
Over 500 sounds
Full range 88 keys
32-notes polyphony
Small screen
No hammer action keys
Conclusion
Before you decide to buy this piano, you should consider the few disadvantages of the keyboard (its keys are semi-weighted and have 32 notes polyphony).
For everyone looking the touch of a real piano or need to create a multi-track recording or classical pieces, the Yamaha YPG-535 is not right for you.
If none of the above bothers you, then it is certain that you will love the piano.

Considering its price and its features, Yamaha YPG-535 is an excellent fit for anyone who wants to spend less for a good quality features.
Despite some of the Yamaha YPG-535 reviews out there that suggests otherwise, I think Yamaha YPG-535 is an excellent keyboard for a beginner.
With all the learning features, the players can't get bored and can perfect their skills using it despite lacking the touch and feel of an acoustic piano.