Concert ukuleles, even though they're not the most common uke type, are in high demand as they offer superb flexibility and a rich, well-balanced tone.
Simply put, Concert ukes are smaller than tenor and baritone, but they're larger than soprano ukuleles – there are fine lines which separate these types, and we're going to talk about the best concert ukulele models after which we'll discuss the most important aspects of one in the sections below.
Without any further ado, let's get straight to it.
What Is A Concert Ukulele?
Basically, a "concert" ukulele is one of the most common uke types. Even though there are people who think that concert ukuleles are "meant for concerts", that's not what they're all about (even though they are good for concerts, to be perfectly fair).
Concert ukuleles are tuned in the standard ukulele tuning (G-C-E-A), and they're outfitted with the same features all other ukes come supplied with.
The scale length, fingerboard's length, and overall dimensions are different with concert ukuleles, but we'll talk more about it in the section below.
What Size Is A Concert Ukulele?
Concert ukuleles are sometimes called "super soprano" ukes, which points out the fact that they're "the same as soprano ukes, but larger".
The typical length of a concert ukulele is 23 inches (58 centimetres), the standard scale length measures 15 inches (38 centimetres), and the standard number of frets of a concert ukulele spans between 15 and 18.
Our Top Picks For The Best Concert Ukuleles
Concert Ukulele Reviews
We've compiled a list of some of the finest ukuleles that money can buy – some of which are best suited for beginners, some are ideal for people on a budget, but we didn't neglect those musicians who're looking to score the best concert uke for the buck.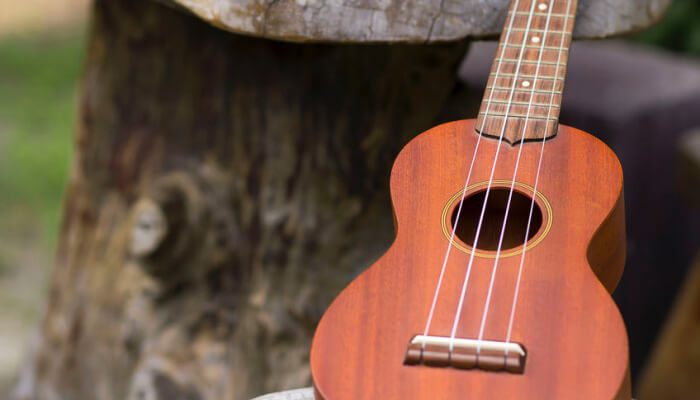 Make sure to check out the "how we picked" section to find more details about the criteria regarding this roundup.
Best in Show:

Best Concert Ukulele For The Money
The "top" ukulele "overall" has quite some ring to it – these attributes imply that there are simply no models that could possibly go toe to toe with this one, and rest assured, we've searched far and wide to no avail.
Our top pick excels in all spheres of performance, it comes from one of the best ukulele brands, and it offers you the chance to amplify and enhance your experience with ukuleles, taking your game to a whole new level. It's Kala's 1KOA-C Elite Concert Ukulele.
Kala 1KOA-C Elite Concert Ukulele
Every ukulele enthusiast has heard a word or two about Kala's ukuleles.
Under the enthralling leadership of Mike Upton, the big guys at Kala Brand Music Corporation have graced the market with hundreds, if not thousands of premium-quality ukuleles.
However, even their stock of the finest ukes can't even begin to compare to the 1KOA-C Elite.
This is, by far, the single most beautiful ukulele, the best sounding one, the most flexible, playable, and durable ukulele, as well as Kala's #1 best-value ukulele.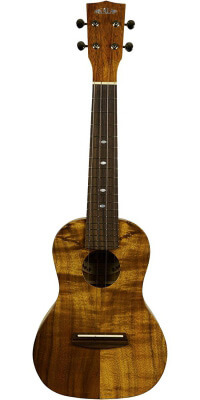 It features a traditional Koa top, back, and sides, a beautiful, wide neck made of Honduran mahogany, and UV-cured satin body finish.
You won't need too long to notice the exquisiteness of 1KOA-C's outward appearance.
The reason why this particular uke is so playable is due to Kala's custom premium-quality tuners – it will remain in tune for weeks, if not months.
As for the sound, it's pretty clear that the combination of such quality tonewoods is responsible for nothing short of perfection.
On top of that, this ukulele comes pre-strung with Fluorocarbon strings which resonate and reverberate with pleasure.
Furthermore, it doesn't lack sustain, as it excels in both volume and depth.
All things accounted for, it should be obvious why Kala's 1KOA-C Elite Concert ukulele is our top pick overall.
If you want, we implore you to search (and research) it thoroughly for a flaw, as we failed to find a single one – some people will, however, point out that this ukulele isn't exactly affordable, but such things are only normal with high-end ukes.
Superb quality build
Outstanding sound and performance
Custom Fluorocarbon strings
Steep price
Peculiar outward appearance which may not appeal to some
Best Ukulele For The Money – Runner Up Concert Uke
Following up after the 1KOA-C Elite is not a small task. What's more, taking on Kala is challenging and bold in its own right.
However, there are some brands that were courageous, and if we might add, successful in such a venture, hence it's time to reveal our runner-up concert ukulele – Martin's C1K concert ukulele.
Martin C1K Concert Ukulele
Coated with flair and extravaganza, Martin's C1K Concert ukulele is one of those instruments that you'll never regret keeping.
When it's not a nearly-perfect ukulele, it's a beautiful work of art which demands attention and respect.
If you're asking "what's so special about it?", the answer is "its simplicity".
Namely, this ukulele is made of some of the most traditional tonewoods, including the top, back, as well as the sides made of Solid Koa, hardwood neck, and dovetail neck.
Best of all, it brims with excellence due to its ravishingly beautiful satin lacquer finish.
Don't feel surprised if you see this model on display if you ever happen upon any quality ukulele showcase.
The intonation of Martin's C1K is impeccable and flawless – it features a set of nickel plated open-geared tuning machines which easily shrug off the tension built up by the medium action during the strumming.
The sound C1K produces can be characterized as breath-taking, and that would be putting it mildly.
This ukulele comes strung with Martin M600 strings which are as durable as they are playable.
Fortunately, the select tonewoods provide a superb platform for reverbs and sustain, and one might ponder over whether it was intentional – you'll notice the difference in sound between this ukulele and any other at the very moment you strum the first note.
High-quality select tonewoods
Exquisite satin finish
Great reverb and sound
Good intonation, but some problems with machine heads are possible
Best Sounding Concert Ukulele – Top Rated Uke
There's a good reason why there can only be one "best" ukulele for this or that, but that never dissuaded us from searching for the top rated concert uke.
The difference between this model and the ones we've reviewed in the sections above is quite plain, but obvious and notable enough so that it can't be neglected.
Namely, our best sounding concert ukulele features a flaw or two, whereas Martin's C1K and Kala's 1KOA-C Elite can easily pass on for "flawless concert ukes".
Now, never you mind that, as these flaws are far from being deal breakers – Cordoba's 15CM uke packs quite a punch, and we hope you'll like it as much as we did.
Cordoba 15CM Concert Ukulele
Essentially, Cordoba's ukuleles are extremely popular, and it's no wonder that our top rated pick is one of their fine instruments.
The 15CM uke might be plain at first sight, but there are very special, if not obvious reasons why this ukulele is loved by so many people.
First of all, let's begin with the tonewoods – the top is made of quality mahogany, and the same goes for both back and sides.
The rosette features Abalone materials while bridge, saddle, and fingerboard are made of composite materials.
Overall, this one's pretty sturdy, and it's supposed to last for at least several years before it shows the first signs of age.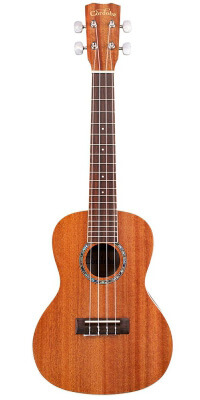 Cordoba is pretty famous for outfitting their ukuleles with Aquila Nylgut strings, and the 15CM is not an exception – it comes with the latest 7U edition of these strings which are very durable and produce mellow, rich sounds.
The setup, however, leaves certain things to be desired. Namely, some people find the action of Cordoba's 15CM as too high, making it just a bit less "playable" than similar ukuleles with moderate (and low) action.
There's nothing to fret, though – this problem is easily solved, and if you can't do it yourself, a proper setup (including every little bit you want done) won't cost you more than $25-$50.
High action has its benefits, if you're able to look past the small flaws along the way.
We're talking about enhanced intonation – it's practically a rule that all stringed instruments with higher action fall out of tune less often, so you can rest assured that your 15CA will continue to sing true for weeks and months to come.
Outstanding sound
Plain design
Very affordable
High-action
Moderate playability
Best Concert Ukulele For Beginners – Good For Newbies And Kids
We didn't want to leave out ukulele players in the making, so we've decided to search for the best concert ukulele for newbies and children.
This ukulele had to be playable above all else, but the sound and overall performance shouldn't be neglected too.
With this in mind, our journey led us to Washburn's Schmidt OU5 concert ukulele.
Washburn Schmidt OU5 Concert Ukulele
Washburn is one of the world class leaders in guitar industry, but they're also making decent beginner ukuleles – the Schmidt OU5 is a fine example of what a well-balanced, beginner-friendly ukulele is, and even though it looks pretty ordinary to an untrained eye, it hides quite a few surprises.
First of all, Washburn's Schmidt OU5 features a traditional Koa body & top material.
The binding and rosette are made of Abalone, the neck of Nyatoh wood, while the fingerboard and the bridge feature rosewood materials.
All things considered, the tonewoods selected for this ukulele provide a great balance between durability and sound.
Speaking of which, the sound is pretty great – the OU5 comes outfitted with Aquila Nylgut strings and is characterized with mellower tones when compared to standard ukes.
Why would this be beneficial for beginners?
For one, newbies yearn for playability and need to get accustomed to the sound of uke, and overly pronounced highs or mids aren't exactly the thing that would help in any way.
People tend to point out that the playability of this ukulele is majorly influenced by the Washburn's factory setup. It's well done, and that is putting it mildly.
The action tends to be just slightly higher than average, but acceptable nevertheless.
As for the price, it's one of the main reasons why Washburn's Schmidt OU5 is one of the best affordable concert ukuleles on the market.
It belongs to the bottom bracket of the medium price point category, and even though it costs slightly more than an average budget uke, it does a major bang for the buck.
Lifetime warranty
Select exotic tonewoods
Excels in aesthetics with a high-gloss finish
Great sound
Action slightly higher than average
Unconventional materials might affect how you perceive the sound at first
How We Picked Our Top Concert Ukulele Models
We wanted our review of the best concert ukulele models to have something from everyone – people who are low on cash should be content with our budget picks, newbies should look out for beginner concert ukulele models while those who are really searching for the best concert uke for the buck should not miss out our top overall pick and its runner up.
The Search
In essence, we started out by scrounging the market. There are several brands that are currently dominating it (Kmise, Kala, Martin, Luna, etc), so that's where we started.
Most top ukulele manufacturers offer a wide variety of models, so it's only normal that Kala, for example, earned a place in both budget and top pick categories.
Culling The Herd
After eliminating mediocre ukuleles, we wanted to further narrow down our selection to the best of the best.
The competition was stiff, in truth, as top models need to outshine every other model in the division.
Our top picks proved to be true to our impressions, so we went on to testing.
It's important to note that we've raised the bar of expectations as we moved throughout the price point categories.
For example, Kmise's UK-24 can be treated as one of the best affordable concert ukulele models, but it would appear as mediocre when compared to high-end models such as Cordoba 15CM.
Durability
Our performance tests were rigorous, though. The first thing we checked for were any obvious physical flaws.
After that we proceeded to testing out the durability of each ukulele – knocks and taps on the body, test strums, we tightened the strings high and low.
Rest assured, our top picks are, indeed, sturdy without any exceptions.
Sound
Each ukulele will sound differently when the strings are replaced/upgraded, so note that the information regarding the sound quality you read in the reviews regards the factory strings.
You'll notice that most models come pre-strung with a variation of "Aquila Nylgut" strings.
These strings are, by far, the most popular ukulele strings made by a prominent Italian company.
Setup
Beginners aren't too familiar with the issue of how to set up a ukulele while veterans usually don't want to bother with it.
That's why ukulele models should be setup properly prior to delivery.
High-action hinders the playability while low-action presents us with problems with intonation.
Not all models passed this test flawlessly, but all did pass in the end.
---
Best Concert Ukulele Under $100 – Best Affordable Concert Ukulele
Let's start from the very beginning. We've stated our top picks in the sections above, so it's time for the round 2 – picking the best concert ukuleles with the price as the main criterion.
Ukuleles in the range below 100 bucks are usually called "budget ukes".
There are a lot of differences between ukuleles that cost $30 and those models that cost $50, but essentially, most models lack a thing or two which explains the low price.
We did, however, manage to find a uke which sticks out from the rest.
Kmise UK-24 Solid Spruce Ukulele
Kmise's ukuleles are absolutely ideal for kids, beginners, and people who are simply curious about this particular line of instruments.
The UK-24 is one of the rare semi-electric ukes in the budget price point category, but its flair can be seen through its durability, beauty, and the sound it emits.
You'll be able to get Kmise's UK-24 in several styles, although all of the variations feature a natural finish.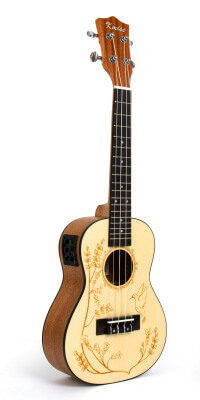 The options at your disposal differ from each other in terms of the graphics around the sound hole – the UK-24 has a beautiful flowery graphic, the 24B is a bit more plain with just a neat little ring (around the hole as well), 24C has the same design as the original 24 but a bit smaller and less transparent while the 24D is more edgy, although quite beautiful too.
As for the tonewoods, Kmise's UK-24 features all-wood construction. The solid spruce materials provide superb sound resonance and sustain while the tone remains bright and full at all times.
Playability is quite great, knowing that this is actually a budget ukulele – our remarks are mild, mainly revolving around the action and setup.
Lastly, Kmise's UK-24 comes pre-strung with Aquila Nylgut strings which are somewhat capable of reducing the negative effects of the high action.
It's more than worth the buck, especially if we take into account that it's among the best budget options you'll find in your search.
Very affordable
Available in different style variations
High-quality materials
Decently good sound
Mediocre performance when compared to medium and high-end ukuleles
Moderately durable
Best Concert Ukulele Under $200 – Another Great Budget Pick
We're kicking it up a notch with a review of a decent budget pick which comes at a slightly higher price when compared to Kmise's UK-24.
We're talking about a very special uke from Luna's Artistic series, of course.
This remarkable ukulele is ideal for both beginners and people who are low on cash, so if you found yourself in one of the aforementioned, feel free to check it out.
Luna Artistic Series Concert Ukulele
One of the most notable highlights of Luna's Artistic Series concert uke is its extraordinary outward appearance.
It looks plainly breathtaking, and it's one of the most aesthetical ukes ever built.
It has the "Great Wave of Kanagawa" graphic made by a famous Japanese artist named Hokusai, but it got quite a lot to show apart from just looks.
You'll be more than satisfied with its sound, as it features premium-quality selected tonewoods.

The entire construction is comprised of Mahogany materials which boast superb levels of durability and sturdiness.
It doesn't, however, excel in as many fields of performance as, let's say Luna's Fauna Series concert uke, but it's worth the buck nevertheless.
Just like most quality ukuleles, this particular model comes with Aquila Nylgut strings, as well as a set of exceptionally robust tuning gears.
The setup is plainly awesome, although you might need to tweak around with the action a bit if you want to get the most from this uke.
Let's summarize – Luna's Great Wave concert uke is durable beyond average, sounds quite great, holds the tune decently well, and holds a great value for the buck.
There are several minor flaws which put it in the budget section, but it's perfect for everyone who doesn't want to spend a fortune and still get a good quality ukulele.
One of the best looking ukes out there
Awesome sound and playability
Great intonation and setup
Best Concert Ukulele Under $300 – If You're Feeling Generous
We're moving up through the price ranges and it's time to show you what "medium" price point category has to offer.
Know that this category houses a plethora of quality guitars – in fact, most models are way beyond average and offer more benefits than several budget ukes combined.
With that in mind, let's proceed to Kala'z Ziricote concert ukulele.
Kala Ziricote Concert Ukulele
If there's one thing that makes Kala'z Ziricote special, it's the exotic build its construction is comprised of.
Namely, it got named after "Ziricote" material, which is a supremely sturdy tree commonly cultured in Central America.
Fun fact – this particular wood type is "responsible" for this uke's amazing outlook, superb sound, and astonishing acoustics.
Together with a classy gloss finish, this ukulele is absolutely a must have.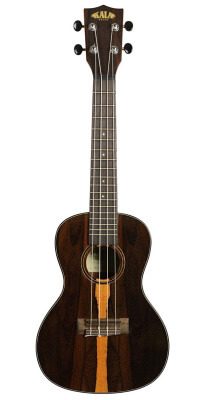 Now, the neck of Kala'z Ziricote concert ukulele is made of high-quality mahogany – this is a rather common material which simply provides the uke with the much-needed durability.
The fingerboard is made of exquisite rosewood, so don't be surprised when you notice a significant difference in playability if you intend to compare this model to any uke you played on before.
The sound is impeccable, if not unparalleled due to exotic materials – it can be described as full, rich, and warm.
Although Kala used their standard headstock, the black tuning gears on it are sturdy and hold the tone quite well.
Setup is excellent, the intonation great, and action well-balanced – even though this does not exactly contribute to Kala's Ziricote extravaganza, you could always upgrade any segment of the setup if you feel like it's necessary.
The only problem people seem to have with this uke is that the strings reverb in a rather peculiar way when strummed.
That might require some getting used to, but after a while you'll notice that this resounding phenomenon is something which is better than what most ukes can offer you.
Exquisite outward appearance
Exotic Ziricote materials
Flawless sound quality
Plenty of reverb might not appeal to everyone
Best Concert Ukulele Under $500 – If You're Prepared To Pay Top Dollar
This is the part when we pull out the big guns. The $500 range is practically reserved for the most dedicated ukulele enthusiasts, instrument-o-philes, and people who genuinely pay little heed to the cost if it means that they'll get the best uke for the buck.
Our final pick in this review puts Luna's concert uke from the Fauna Series on the pedestal, and you're entitled to the right to expect all the best from it – you can trust us on this one, it will deliver on the promise of quality.
Luna Fauna Series Dolphin Quilted Concert Ukulele
We did save the best for the last, and we hope you enjoyed our selection of the finest concert ukuleles on the market so far, since they're going to pale in comparison with what's coming your way.
Luna's Fauna Series concert uke excels in virtually every single field of performance, and it's the best concert ukulele you could find on the market for under $500.

First of all, it features mahogany back and sides. These are durable, but plain and quite ordinary – the spruce top is there to raise the bar.
You'll notice the high-gloss finish which makes this uke exceptionally beautiful, as well as the single-cutaway guitar-like design.
It's not just for show, though – guitar-style ukuleles are much easier to play on, especially if you have some experience with regular guitars.
The premium-quality Italian Aquila hybrid strings are outfitted to this concert ukulele, but sadly, the tuning gears need to be re-tightened every once in a while.
That's not a big deal, though, as superb playability compromises for this little flaw.
Moreover, you can't help but notice the outstanding outward appearance of the Fauna.
There's hardly a better-looking ukulele in the price range, and those that are in fact available on the market cost at least twice, or thrice as much.
Lastly, we can't neglect this uke's durability. As far as we take its build materials into consideration, we can safely conclude that it was built to outlast its owner – the supremely durable rosewood mixed with mahogany and spruce are tough as concrete, and you can rest assured that this uke will withstand anything and everything.
Premium-quality hybrid Aquila strings
Superb durability
Outstanding tone and sound quality
Looks amazing
Costs a bit more than an average ukulele
Not so good for beginners
Conclusion
Concert ukuleles are, and will be every uke player's favorite. They're not as flimsy as soprano ukes, and they're not as heavy as tenor and baritone types.
Finding out the right model might appear easy at first, but you'll easily get lost in the maze of countless ukes that grace the market.
Rest easy, though – we've compiled a list of the best concert ukulele models for your convenience, so that all you need to do is simply take your pick and enjoy your stay.