Once you've ventured into the world of guitar pedals, you can hardly go back.
With so many different utility and effects pedals out there, finding the right one for your needs can be a real hassle.
Delay pedals offer unique and interesting possibilities when it comes to experimenting with your guitar sound. But choosing the best delay pedal isn't that simple.
This article will focus on different types of delay pedals, their features, as well as delay pedal reviews.
Let's get started!
Digital vs. Analog – Which One Is Better?
First of all, it's important to note that there are two main types of pedals in general. Digital and analog.
While different musicians prefer one over the other, there are a couple of main differences when it comes to performance and overall feel when you use digital and analog pedals.
Analog Pedals
Analog pedals take the signal that's coming from your guitar and modify it via various electrical components.
This means the signal that eventually comes out of the pedal, and into the amp is altered, but still retains certain traits that make it sound very natural.
The bottom line with analog pedals is that they tend to offer a more organic sound, but are limited when it comes to versatility and the range of the actual effect being applied.
They function in a simpler fashion and can convey the original sound of the instrument more easily.
Digital Pedals
Digital pedals, like the name suggests, transform the analog signal of your guitar into a digital signal, alter it, and then switch it back into analog mode in order for your amp to understand it.
While this gives the circuitry more room for modulation, it also means that the signal loses its original features.
Cheaper digital pedals tend to sound artificial, while more expensive ones can mimic the sound of an analog one, but only to a certain point.
So, if you're looking for a wide range of features, or simply more parameters you can play around with, digital pedals are your best bet.
Just keep in mind that the actual sound you're going to get may stray from the original signal you're feeding into the pedal itself.
At the end of the day, it's really up to you, and your preferences, style of playing, and the rest of your pedalboard.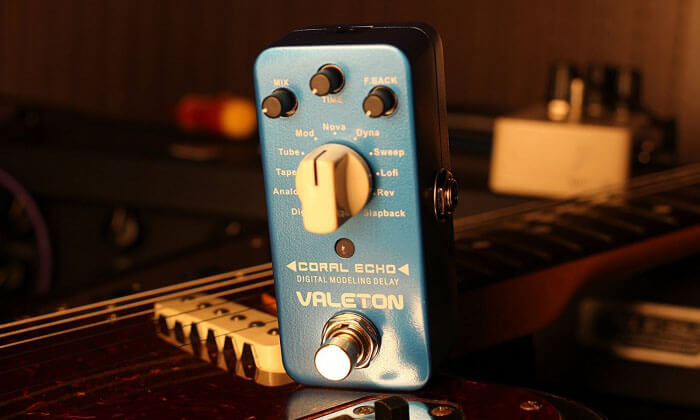 If you're seeking a certain type of delay, and don't really need much more than that, going for an analog model is your best bet.
They tend to focus on one type and give you the ability to shape your sound to great detail.
However, if you want to experiment with different types of delay, and don't want to get a separate pedal for each one, a digital model will do the job just fine.
What About Tape and Modeling Delay Pedals?
Besides analog and digital delay pedals as the main two categories when it comes to this effect, there are also two other types that we need to talk about.
Tape and modeling delays may seem as too specific and probably not worth the hassle for some guitarists out there.
However, if you really want to play around and customize your sound, you should definitely consider getting one of these two, and here's why:
Tape Delay Pedals
Tape delay pedals were first made in the late '50s and early '60s. As the name suggests, they work by actually recording and playing back bits of the signal on and off a magnetic tape.
This not only created a unique sound, both in terms of the actual signal and the mechanism itself, but it also gave the guitarist more room for actually fine-tuning the effect.
It's all about being able to accurately adjust and fine-tune the delay times. The delay/echo reproduction quality is quite higher than in most other pedal types as well.
If you are old enough to actually know how audio tapes sounded, you know what I'm talking about.
The "wow" and "flutter" effects that are unique for this type of mechanism give the sound an old school vibe.
Though there are a couple of tape delay pedals out there that still utilize the original mechanics, they tend to be pretty expensive and hard to maintain.
If you're not that enthusiastic, going for a digital version is definitely an easy way of achieving more or less a similar effect.
Modeling Delay Pedals
Modeling delay pedals can be considered as a separate category, but actually, these are fully digital pedals.
What sets them apart from other types of delay pedals are the features that they provide.
Much like modeling amps, they offer the ability to replicate various different types of delay pedals and models from other manufacturers.
Different models come with various numbers of available presets and vary in quality of the actual reproduction.
So why not just go with a modeling pedal and have it all in one place?
Well, even though having multiple choices in one place is very handy, the overall feel and end result can rarely be of high quality.
Accuracy, dynamics, and intensity all tend to suffer in most modeling delay pedals.
It can range from details which only the pedal enthusiasts will notice, to more noticeable ones, which kind of define certain types of delays.
However, that doesn't mean that modeling delay pedals are a bad investment.
The versatility and wide range of possibilities they offer can't be matched by any other type of delay pedal.
Just keep in mind that the actual result will vary to a certain degree when compared to standalone pedals, focused on just one type of effect.
Controls and Parameters
Most delay pedals on the market share a relatively similar layout when it comes to controls.
Since you're dealing with time and duration when you're using a delay pedal, controls go along the lines of: Effect level – Feedback – Duration time.
Of course, different manufacturers name these parameters differently, and the level of detail you can achieve and set is also a variable.
In order to use the full potential of delay pedals, and integrate them into your sound, you need to understand what's actually happening with the signal.
Effect level is pretty straightforward. Think of it as the parameter which simply allows you to modify how much the pedal is involved in altering the signal. It blends the dry, unaltered signal with the delay effect in the mix.
Feedback adjusts the quantity of the feedback or the repeating signal. In other words, how long the note you're playing is going to be repeated.
Delay time/level is, once again, straightforward. By adjusting it you alter the duration of time which passes from the point of you playing a note, to it being repeated by the pedal.
If this still sounds too abstract, just search for a video on YouTube that explains how to operate delay pedals, and it will make much more sense.
These are the basic parameters when it comes to delay pedals.
As we've mentioned, more advanced models offer more room for playing around and adjusting the sound, but understanding these will definitely help you with choosing the right model for your needs.
3 Useful Features To Look For In The Best Delay Pedal
As with any piece of musical equipment, it's important to have a good idea of what different models have to offer, and what makes them unique in comparison to others.
Besides the more or less standard delay parameters, here are a couple of features you may find useful, or even crucial for your needs, that some models include:
1. Tap Tempo
This is one of those things that I had no idea what they are used for, back when I first started tinkering with pedals.
Tap tempo allows you to manually input the tempo in which you are playing.
Though it may not be crucial, as you can simply time the right moment yourself, it's very useful for keeping those rhythmic effects on point.
This feature can be controlled either via a footswitch or a knob.
Going for a pedal which utilizes a footswitch for this function is very practical for musicians who use this pedal for live performances, as it's much easier to use it on stage.
A knob, however, allows you to accurately dial in a specific tempo.
2. Presets
If you find yourself using multiple settings often, maybe even in the same song, being able to save and use multiple presets can be a true lifesaver.
This is especially convenient when it comes to modeling/digital pedals, as they offer more than one type of delay effect from which to choose from.
Some pedals include this feature, but not all, so pay extra attention when buying one.
3. Looper
Sure, you could always get a standalone looper pedal, but having this option built-in a delay pedal is not just great for practice, but can make for some very interesting effects on stage.
Depending on the model and pricing, you can find delay pedals with integrated loopers with just basic controls, up to more advanced ones which offer various parameters in terms of loops.
---
Think about what you really want and need from a delay pedal.
Having all of the mentioned features packed in a pedal sure is handy, but also know that each feature will definitely make the price go up.
Try to find the sweet spot between the features you are bound to use immediately, and the ones you think you may need soon, so you won't have to buy a new pedal in the near future.
4 Cool Sounding Presets to Get You Started
I've decided to include this part as a bonus for when you actually find and buy a delay pedal.
You can also try these out if you're using a program like Amplitube or Guitar Rig!
As playing around with the knobs can get pretty confusing at first, here are some presets you can use, which will make for a good sound, and help you understand the different ways you can utilize this effects pedal.
1. Slapback
The purpose of this preset is to mimic the natural delay between the two heads on old school tape recorders.
You can hear this effect being used by mainly rockabilly and country bands, but it's versatile enough to be used in different genres as well.
It's a quick and sharp echo, intended to add a warm flavor to your dry mix.
Level: at around 12 o clock
Feedback: minimum
Time: around 12 o clock on most pedals (80- 140ms)
2. Double Echo Effect
This effect is mainly used to achieve a rich, more fortified impression.
It sounds like there are two guitars playing at the same time, helping the signal cut through the mix, and adding overall presence.
Level: around 1 o clock
Feedback: minimum
Time: at around 11 o clock (50- 80ms)
3. Reverb Simulation
Why get a separate reverb pedal when you can simply use your delay?
In order to get a more "three- dimensional" sound, simply dial in this preset.
Level: around 12 o clock
Feedback: around 1 o clock
Time: around 12 o clock
4. Dotted Eighth
There are many different presets you can use in order to achieve this effect, but I've found this one to be the most effective.
The sound you get is the same as playing a "dotted eight note" behind the actual note you're playing.
I know, it sounds confusing, but try it out and you'll understand what I'm talking about.
This is a commonly used effect which can really add to the depth and complexity of melodies or solos you're playing.
Level: all the way up
Feedback: minimum
Time: around 2 o clock
---
It goes without saying that the mentioned presets are here to help you start exploring the amazing world of delay pedals.
Feel free to modify the ones mentioned, and you will be able to come up with your own in no time!
Use this pedal as an extension of your creativity and combine it with others to produce interesting and unique sounds.
And now, it's time to take a closer look at our pick of the best delay pedals on the market!
Top 10 Delay Pedal Reviews
Donner Yellow Fall Vintage
The Yellow Fall Vintage analog delay pedal by Donner shows that you can pack quite a punch in an absurdly small form factor!
As probably the best inexpensive delay pedal on the market, with a price under $50, Yellow Fall is a great choice for beginners with a tight budget.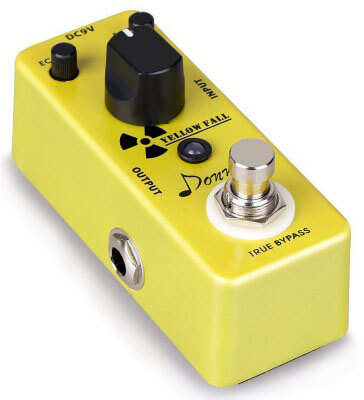 The sleek yellow aluminum body although tiny, houses everything you need from a delay pedal.
The time knob is nice and big, so you can easily find it and use it, even on a poorly lit stage.
Rocking a minimalistic yet effective control layout, Yellow Fall includes two smaller knobs for controlling echo and feedback parameters.
You can rarely find a cheap yet good sounding pedal that offers true bypass as well.
This model outperforms most other competitor pedals and adds a unique flavor to the sound.
Pros
Compact and lightweight
Works with both batteries and an adapter
Best simple delay pedal, great for beginners
Better than average sound and performance
Cons
The echo and feedback knobs are a tad too small
Feels cheap (though it is)
If you don't really care about advanced features, Yellow Fall Vintage by Donner is probably the best delay pedal under $50.
Valeton Coral Echo
A bit more expensive than the previously mentioned Yellow Fall Vintage by Donner, the Coral Echo delay pedal by Valeton offers modeling delay possibilities yet remains very small and practical.
As the best slapback delay pedal for around $50, Coral Echo remains easy to use while boasting a lot more than you would expect from a device this small.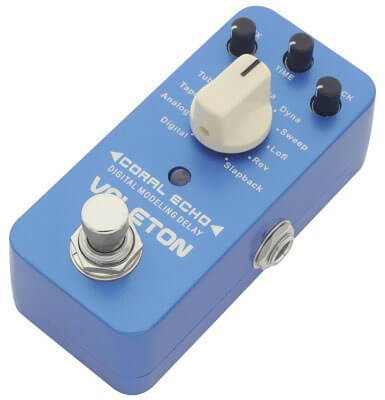 A huge white knob in the middle of the pedal is used for selecting various presets.
Besides the mentioned slapback preset, you can choose from 10 other, including digital, analog, tape, tube and lo-fi emulations, as well as other, unique sounds.
The presets sound surprisingly natural, although they can't really be compared to their analog counterparts.
Three smaller knobs are placed on the upper half of the pedal and are used for adjusting the mix, time and feedback.
Pros
A wide variety of different presets to choose from
A higher level of parameter control than the Yellow Fall
True bypass
Cons
The smaller knobs could be more precise
The writing on the pedal is small and hard to see
As one of the top delay pedals, at least in the category of budget-friendly modeling ones, Valeton Coral Echo is a great first step into the world of modeling pedals.
TC Electronic Flashback Mini
Whenever I talk about guitar pedals, it's hard not to mention TC Electronic models, as they are responsible for some of the best delay pedals currently on the market.
The Flashback Mini is their take on affordable, yet great sounding pedals, which can greatly improve your sound and give you a unique approach to this effect.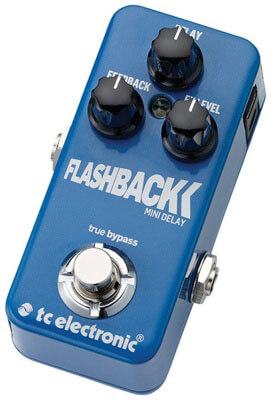 Featuring a 3-knob control layout, with delay, feedback and fx level parameters, this model is very beginner-friendly and easy to use.
But what makes it stand out in the crowd of similar looking delay pedals?
TonePrint technology allows you to transfer new settings to the pedal by simply using your smartphone.
This means you can transfer settings that famous guitarists and bass players found as good sounding and useful, via a USB cable, adding versatility points, to an already great sounding pedal.
Pros
Sounds amazing
Supports TonePrint
True bypass
Best delay pedal with presets for under $100
Cons
Only one TonePrint slot
Doesn't work with batteries
If you're looking for a small, yet versatile delay pedal solution, the Flashback Mini by TC Electronic may just be perfect for you.
Seymour Duncan Vapor Trail
Seymour Duncan may be famous for their high-quality pickups, but the Vapor Trail delay pedal shows that they mean business even in the guitar effects department.
Even though at first glance this pedal may seem as similar to the others we've mentioned, it actually boasts very neat and useful features, making it one of the best value delay pedal options out there.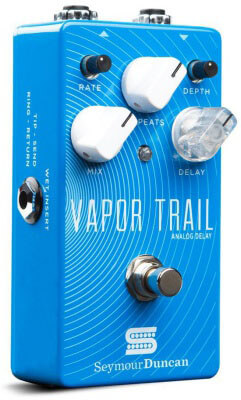 The main controls consist of mix, repeats and delay knobs, for easy effects tuning.
Alongside those controls, rate and depth knobs allow you to customize the sound even more, and experiment with different settings easily.
The actual sound of this pedal is what sets it apart.
It provides a much warmer, more authentic old-school vibe, while simultaneously delivering anything from subtle, to out of this world delay effects.
It also supports natural compression and treble smoothing, making for a more present and clear sound.
Pros
Superb sound quality
Decent parameter controls
Much better build than the previously mentioned models
Best delay pedal under $200
Cons
Adds a hint of reverb, which some musicians may not like
If you're looking for a delay pedal which offers a wide range of modulation but manages to retain that old school vibe and warm tone, the Vapor trail by Seymour Duncan is definitely a model you should consider.
It's probably the best delay pedal for classic rock.
MXR M169 Carbon Copy
When it comes to mid-high delay pedals, the MXR Carbon Copy is what comes to most people's minds.
As one of the top rated delay pedals, what does it have to offer?
The first thing you'll probably notice is the casing. It's clear that MXR invested as much time on the looks as they did in the actual circuitry.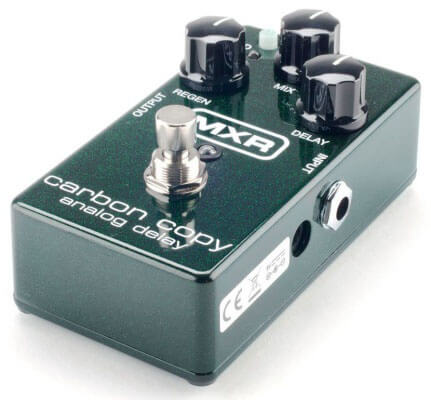 The M169 Carbon Copy simply looks and feels premium.
The controls, while simple, are tuned nicely, so you can really experiment with different settings.
Besides the 3 knobs on the outside, this model also features 2 internal trim pots, which allow the user to adjust the modulation, making extra room for creativity.
Offering delay time from 20 to 600ms, as well as slight pitch shifting (both up and down), this pedal shows that MXR took some time to think about what musicians actually needed from a delay pedal.
Perfect for both clean and distorted signal, the MXR M169 Carbon Copy is probably the best delay pedal for metal and similar, heavier genres.
Pros
Compact and practical
Noticeably higher sound quality than most other models
Added level of sound customization
Cons
Internal pots are way too small
Whatever your style of playing, or preferred genre of music may be, Carbon Copy, as one of the top delay pedals of all time is more than a safe bet.
TC Electronic ND-1 Nova
If the Flashback Mini doesn't quite do the job for you, the ND-1 Nova from TC Electronic will most definitely meet your expectations.
With 5 buttons and 5 knobs, you can truly dial in the perfect delay for just about any need.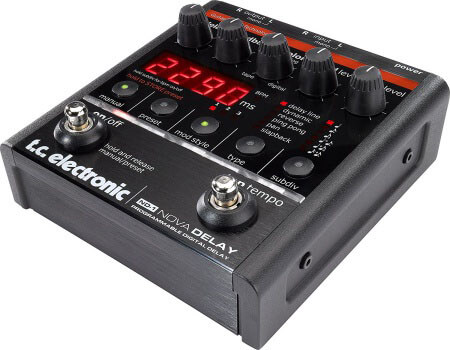 Controls span from delay, feedback, and color, to mod and mix level.
What really sets this pedal apart from others is the presence of tap tempo as well as preset mode, making playing live shows way easier.
You can go as far as 2290ms of delay, and with the subdivision feature, aligning the delay signals with the set time signature is a piece of cake.
Pros
The LCD screen makes using the pedal a very easy task
Great span of available effects (6 delay types)
Supports channel splitting
Best tap tempo delay pedal at this price range
The presets sound amazing
Cons
Accessing presets could be easier on the fly
No battery power option
The ND-1 Nova offers a lot of possibilities at an affordable price.
If you plan on focusing your music around the delay effect, definitely give this model a try.
Behringer Echo Machine EM600
Behringer is one of those companies you either absolutely love, or can't stand.
However, in order to give this pedal an honest and objective review, let's see what exactly it has to offer.
The EM600 Echo Machine is an interesting delay pedal, to say the least.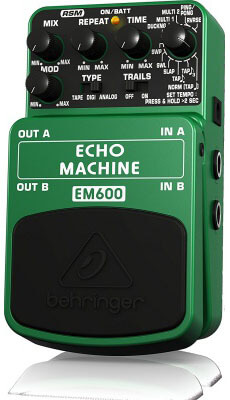 At first glance, it may look like a cheap plastic knockoff of a more expensive model, but it's far from that.
The build quality could definitely be better. However, if you tend to take care of your gear, you shouldn't have to worry too much.
Where it lacks in looks, it compensates in pure performance.
It gives the user a myriad of controls, ranging from mix, repeat, and time knobs, coupled with a multi-select knob which is used for choosing different delay types, including anything from vintage tape-based ones to the more modern, cleaner sounding ones.
Pros
Extensive parameter control
Good sounding presets
Tap tempo ready
Dual input and output options
Cons
Build quality could be better
Somewhat difficult to operate on a stage
The EM600 Echo Machine once again shows that Behringer really knows how to make good delay pedals.
Empress Effects Tape Delay
If you didn't have the chance to explore the world of guitar pedals by now, you probably never heard of Empress Effects.
The Tape Delay is their take at delay pedals and is a great example of the good work this company is known for.
As one of the best tape delay pedal options on the market, this model easily outperforms competitor pedals.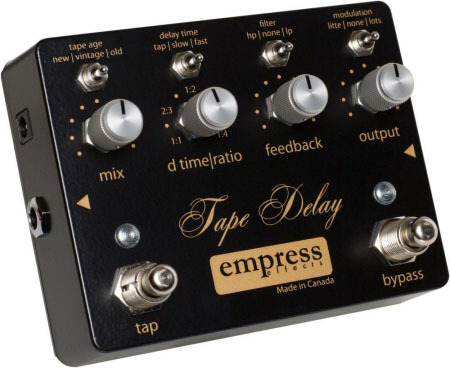 With controls ranging from mix and ratio to feedback and output level, you can find your way around in no time.
Additional features include 4 switches for toggling through various presets, setting the delay time, low/high pass filter, as well as modulation.
With the tap tempo feature included, there's hardly anything else you would need.
Pros
Sleek design
Straightforward and easy to use
Superb sound quality
A good range of controls and toggles
All things considered, the Tape Delay from Empress Effects is a serious investment.
If you are looking for one of the top delay pedals to match the rest of your gear, go for it!
Boss DD-20 Giga Delay
Boss has been established as a well-known pedal manufacturer for quite some time now.
The DD-20 Giga Delay clearly shows why, with a couple of cool additional features as well.
Going with two footswitches makes using this pedal not only way easier, but more fun.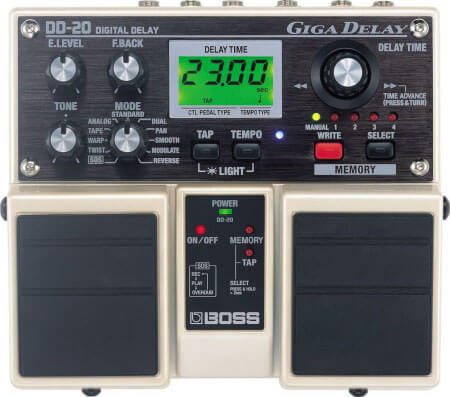 With 11 modes to cycle through, you will definitely find yourself using both switches very often.
With 4 preset banks, tap tempo, and very precise time advance tuning options, you can set everything up just how you like it.
Using the Giga delay on stage is very easy, due to the big switches and the fact that the LCD screen is very bright.
Pros
Very durable and sturdy build
High quality presets
Analog modeling is on point
Easy to use
Best Boss digital delay pedal
Cons
Custom preset storage feels limiting
Not very budget- friendly
The DD-20 is probably the best delay pedal with tap tempo features, due to its accessibility and user-friendly interface.
Though it is expensive, you really do get a lot from it.
Boss DD-500 Digital Delay
And finally, at number ten is the Boss DD-500 digital delay. With a price tag around $350, it better perform like a beast. Does it?
Depending on what exactly you're looking for, you will either find it as useless or crucial.
Shooting for the absolute highest quality, it offers studio-level audio, with 32 bit/96kHz sound processing.
Unlike the DD-20, with only 4 custom presets, this model goes up to 297.
As far as built-in delay modes go, 12 seems to be just enough, as you can always utilize any of them alongside parameter controls and go wild with your own, custom presets.
Being a very serious pedal, the DD-500 features tap tempo, as well as an easy to use looper.
Pros
Superb build quality
User-friendly interface
Tap tempo and looper included
Best delay pedal with presets (297 custom ones!)
Cons
Apart from the price, it can't really be compared with other models
Whether you're a professional musician, or simply a gear enthusiast, the DD-500 by Boss can hardly disappoint you in any way.
Conclusion Time
Delay as an effect covers a broad range of different pedals. We've tried to cover a wide range of various models, both in terms of price and features.
The best cheap delay pedal would have to be Donner Yellow Fall Vintage, with a straightforward design and low price.
Depending on what you're looking for, the other models we've reviewed balance sound and build quality, features, and price in different ways, with each model offering a different approach to the delay pedal idea.
We hope that you found this article informative and helpful.
Thank you for reading and we'll see you in the next one!