One of the downfalls of being a pianist is that it's not a portable instrument you can't just throw it over your shoulder like a guitar. Having something with a realistic feel is vital but finding the best weighted keyboard isn't easy.
There is always a compromise to be made between the feel, sound, and versatility of a keyboard piano. We are going to focus on feel/touch and review some of the best 88-key keyboard pianos with fully-weighted keys.
Here are the best 88-key weighted keyboards 2020:
1.

Studiologic Numa Concert

The Numa Concert features the top of the line Fatar TP40W keyboard action with real wood and ivory feel keys. Fatar key-beds have been used in some of the best keyboards in the world for years and this one is something special.

The combination of the real wood and simulated ivory key-tops makes the Numa Concert feel extremely authentic. Everything from the weight of the keys to the way they grip your fingertips is right on the money.

There are two grand piano sounds, concert grand, and stage grand, both are extremely expressive with the concert grand perhaps being more suited to solo performance. As well as the piano sounds, there are a further 10 sounds included electric pianos, organs, and pads from StudioLogic's TRS (True Sound) sound engine.

The Numa Concert also comes with an onboard EQ section and effects section including chorus, rotary, phaser, and more.

When you take everything into account, the cost, the playing experience, and the piano sound, the Numa Concert is our highest-rated full-size keyboard piano. If you need more than 12 sounds then it's a non-starter but if it's about the piano and feel, please try this out.

The combination of the real wood keys and simulated ivory tops feels authentic and just makes you want to play. It's realistic, expressive, sounds amazing, it's a joy to play, simple.
2.

Korg Grandstage 88

The Korg Grandstage 88 is a big deal, quite literally. It's big, heavy, and expensive but what you get in return is one of the best weighted keyboards you will ever play. Korg's RH3 graded hammer action key-bed was developed in Japan by a small team of expert craftsmen and the results are stunning.

Korg created the Grandstage 88 to be the ultimate stage piano for serious performers. The SGX-2 engine is phenomenal, especially the 6 acoustic piano voices. Overall, there are 500 voices to choose from but the most impressive thing is how easy it is to switch between them quickly.

The layout of the Grandstage 88 has been designed with performance in mind with features like a favorites section to instantly recall your most used voices. Even tweaking your sound is easy to do while performing without any menu-diving with a dedicated EQ and effects section.

One of the best available controls is a dedicated dynamics knob that lets you adjust different parameters of expressivity while playing. Since this keyboard is on the larger side it's worth noting that it comes with a sleek looking yet robust stand that is fully adjustable.
Image credit: Korg

Check Price on Amazon

Simple user interface.
Dedicated dynamics section.
Amazing piano sounds.
Ultra-realistic feel.
Authentic effects.

Best suits a very specific kind of player – jazz.
The Grandstage 88 is an amazing keyboard, there's no doubt it's one of the best full-size keyboard pianos. The only slight criticism is that while there are 500 voices, they are variations of a smaller core group so the range of instruments isn't as wide as you might think. Having said that, if you are buying the Grandstage 88 then you are probably buying it for its piano experience anyway.
It's suitable for any performer but perhaps most suited to a jazz pianist, it just sits better in that area than it does classical or pop.
3.

Roland RD-2000

The Roland RD range is another one that's been around forever it seems. They have always been good keyboards for practice or performance but this particular model, the RD-2000, is geared towards live use.

There are two separate sound engines for acoustic and electric voices, the SuperNatural Piano engine and the V-Piano engine. To be honest, this would have been a great keyboard with just one sound engine like past models but the dedication to getting the best possible tone from acoustic and electric pianos shows.

One of the coolest features for live performance is that the RD-2000 will work as a USB/MIDI interface. So, it will fully integrate with your laptop/DAW setup on stage letting you route synths from your laptop through the RD-2000's processor with zero latency.

It also comes with eight control knobs and nine sliders which are all LED lit for easy use on a dark stage. You can control and tweak multiple parameters of your tone/effects in real-time.
Image credit: Roland

Check Price on Amazon

Very authentic feel.
Extremely versatile in live use.
Integrates well with major DAWs.
Zero-latency processor.

Not as practical for home use or general practice.
I have a soft spot for the Roland RD range having owned several of them and they have never let me down. I also tend to go for keyboards that feel authentic over keyboards with lots of lights and knobs etc. However, this is the best of both worlds, Roland keyboards, especially at this level, always feel great.
The RD-2000 is one of the best-rated keyboards with weighted keys on anyones list or at least it should be.
4.

Yamaha CP88

This is an interesting one, we've had vintage/traditional and modern, the Yamaha CP88 might be the best combination of both.

Starting with traditional, it features the Natural Wood Graded Hammer Action system for supreme expression. Now, this is where old and new meet in Yamaha's Virtual Circuitry Modelling technology. It very accurately re-creates the sound and behavior of vintage effects which transforms your sound.

It's packed with 57 voices in total, a mix of acoustic pianos, electric pianos, and synths. There is a 3-band EQ along with 23 insert effects, 2 delay effects, and reverb. This is another keyboard aimed at the performers.
Image credit: Yamaha

Check Price on Amazon

Natural Wood Graded Hammer Action System.
Virtual Circuitry Modeling.
Unique onboard effects.

It focuses on being different which is great if it's what you want. Not so great if it's not.
This is a difficult choice, it's another great keyboard with fantastic sounds and it feels very realistic. Because of the real wood keys it's one of the top hammer action keyboards on the market.
The question is why should you choose this over other keyboards and I think it comes down to the modeling technology. The amount and type of effects you can create with the CP88 is just different from any other similar keyboard.
Like any 'different' sound, it will either be the reason you buy it or the reason you don't but it's a very well thought out machine.
5.

Kawai MP11

The Kawai MP11 is one of the heaviest and bulkiest keyboards on our list but it still squeezes into the portable category. So, as with all Kawai digital piano keyboards, this feels and sounds luxurious.

The wooden hammer action keys have a genuine pivoting mechanism to truly re-create the weight of a real piano. They also have a key-off feature that simulates key release noise that can be fine-tuned in the Virtual Technician app.

The sound engine features samples of the flagship Shigeru Kawai SK-EX Concert and mid-sized SK-5 Studio grand pianos. It also features a host of effects from a 4-band EQ, switchable amp types, to mic type, and reverb. Kawai has gone all out to create a grand piano experience in a portable keyboard, that about sums it up.
Image credit: Kawai

Check Price on Amazon

Very realistic playing experience.
Detailed EQ and amp types.
Virtual technician app.
Stunning Kawai SK-EX concert grand sound.
Real wood keys.

There is better value for money available.
This is one of the best playing experiences on the entire list when you combine the sound and feel. It's just missing that X-Factor to get it to the top of the list but there are no real complaints with this keyboard.
The extra size could put you off but it's not so awkward that you can't get it to gigs or rehearsals. Most good 88-key keyboards don't have real wood keys so that's something the MP11 has in its favour!
The electric pianos are lovely and the acoustic pianos are just out of this world impeccable. If you have the budget and want the purest piano experience just buy this, that's it.
6.

Nord Piano 4

So, the Nord Piano 4 is the fourth version of the Nord Piano range which has been hugely successful with working musicians.

The Nord sound engine has incredible detail in the most subtle nuances of every voice. The flagship piano is a beautiful example of how articulate a digital piano should be in all ranges.

The weight of the keys comes from Nord's Virtual Hammer Action technology rather than a mechanical hammer action. Nord says this makes for more fluid playing while still providing a realistic feel.

The biggest upgrade from the previous model is the seamless transitions and Advanced layer/split features. Changing from one voice to another mid-song is a common struggle for keyboard players. The new seamless transitions feature lets you switch the program without any noticeable change. The new layer/split features make for much smoother transitions between split sections too.
Image credit: Nord

Check Price on Amazon

Stunning piano sound, articulate from low to high range.
Seamless transitions when changing voices.
Advanced layer/split feature.

Virtual Hammer Action isn't convincing enough.
Nord keyboards are known to be pretty expensive but so many great players use them so perhaps they are reassuringly expensive. The have an incredible sound engine and it would be hard for anyone to find genuine fault in that area.
My one issue with the Nord Piano is the Virtual Hammer Action keys, when you are in used to it you can be amazingly expressive but it doesn't feel as natural as it should at the start. The keys feel slightly too heavy with a dull action but it's personal preference.
We have to stress here that our comments on the weight of the keys is purely personal preference, many musicians swear this is the best full-size keyboard piano and that's why it's on our list. Great keyboard if you have the budget.
7.

Nord Stage 3 88

The Nord Stage 3 picks up where the second version of this iconic keyboard left off. The layout is much the same and of course, it's still housed in the familiar, vibrant red casing.

Nord uses what they call Virtual Hammer action keys and it's been vastly improved since the previous model. This technology is exclusive to Nord and now has both bottom and top triggering so the release of notes can be as important as striking them.

It seems to be about improving what they already had rather than offering a great deal more and that makes sense, considering how successful the range is. So, this time the Stage 3 claims to have the best sound quality to date thanks to a much deeper sampling process.

There are still three sound engines – piano, synth, and organ. Of the three sound engines, there isn't one that stands out as the weakest link. Another impressive thing is how easily you can manipulate your sound, for example, using the OLED display to change parameters in the synth section quickly.

The reason this is impressive is that when you look at a Nord Stage 3, it can look like quite a busy interface with too much going on. In reality, it's very quick to navigate once you have a few plays.

There are a few very good keyboards that have real drawbars for organ voices but not many that emulate a vintage rotary speaker as well as the Stage 3. Nord is very good when it comes to emulating iconic sounds or effects and this extends to some beautiful delays, reverbs, and compressors.
Image credit: Nord

Check Price on Amazon

Very high-quality sounds.
Has a dedicated section for each voice group.
Drawbars for organ tone control.
Authentic digital effects.

Keyboard action isn't as good as it should be.
The first thing I would say about the Nord Stage 3 is that I still don't think it has the best authentic piano feel, I never have with Nord keyboards. However, it has been improved and so many musicians love it so I have to acknowledge they can't all be wrong, it's just a personal preference.
That aside, the Stage 3 is a powerhouse. There is no denying that it sounds fantastic and the amount of customization available is a dream on stage or in the studio. If you are considering a Nord Stage 3 I doubt you would be disappointed but check out others on our list because it doesn't come cheap.
8.

Korg SV-1 88

The Korg SV-1 is probably the best looking keyboard on the list, if you didn't know better you'd swear it came from the 1970s.

The onboard voices include acoustic pianos, electric pianos, organs, strings, and synths. The voices are typical of Korg's EDS (Enhanced Definition Synthesis) keyboards, they are fantastic, especially the pianos, electric pianos, and organs. However, what I think makes them sound even better is the weight of the keys.

The SV-1 features the RH3 Real Hammer Action system that makes it feel a real vintage instrument. If a keyboard feels good to play that's when you'll get the best out of the sounds and Korg got it just right here.

The front panel on the SV-1 is very retro and looks great but it's built to be very user-friendly so it's relatively simple to use from the start. Korg includes some editing software with the keyboard that lets you edit parameters that can't be accessed on the keyboard itself too.
Image credit: Korg

Check Price on Sweetwater

Vintage styling.
EDS sound engine.
Real hammer action keys.
Easy to use controls.

More suited to a select kind of musician.
I think people buy this as much for its looks as its sound which sounds wrong but it's not. If you primarily play music of an era that matches the styling of the SV-1 I'd tell you to go buy it. How you feel when you play is the most important thing and this keyboard certainly brings the funk out in players.
Overall it's not the best all-around keyboard on our list but if you love the vintage vibe you will love the SV-1.
9.

Dexibell Vivo S7 Pro

The Dexibell Vivo S7 Pro has a very powerful sound engine that lets you use up to four sound parts at the same time with two multi-digital effects per part. Each part can be split/layered across the keyboard in any way you require.

Sounds are generated using a combination of extra-long 24-bit 48KHz 3D-recorded samples and computer modeling so there were no shortcuts in the sampling process. The sounds range from grand pianos and electric pianos to strings and synths with the pianos being the standouts.

To add to that, the Vivo S7 Pro has unlimited polyphony, so no matter how many notes you play/sustain, none will ever be cut off. The Vivo S7 Pro has inputs for up to four footswitches so you can trigger the onboard effects or add external ones easily.

The Vivo S7 Pro has beautiful graded hammer action keys with an ivory feel. Utilizing a triple contact sensor, it's capable of capturing every subtle nuance of your performance. The downside is that the keys are a touch lighter than they could be across the board. So, while the graded progression is correct, the starting point from the heaviest bass notes is slightly light.
Image credit: Dexibell

Check Price on Sweetwater

Outstanding graded hammer action feel.
Great piano sounds.

Most sounds aren't as good as the pianos.
Dated appearance.
The Vivo S7 Pro is far less of a household name than most other keyboards on our list and it's not a cheap weighted keyboard but it's here on merit. The overall sound quality won't blow you away but with some great effects and so many footswitch inputs, there's no shortage of ways to tweak your tone.
The feel of the keys is a little lighter than it should be but we are talking small margins here. It still feels very realistic but we are comparing it to the best hammer action keyboards available.
The piano sounds are fantastic and could easily be preferred over the bigger brand keyboards depending on your taste. That's why we put this on our list, if you want an amazing piano sound you should at least try this out.
10.

Yamaha CP40

The Yamaha CP40 is so lightweight you wouldn't expect it to have a graded hammer action keys. Not only does it have them but they feel authentic and are some of the most expressive on our list.

The beautifully weighted keys are complemented by Yamaha's Premium Collection piano sounds. When you play some bass notes you get to hear just how resonant and responsive these instruments are. Yamaha sampled their CFIIIS concert grand for their Premium Collection along with multiple other gorgeous pianos.

For anyone familiar with the iconic Yamaha Motif synth, this might sway your decision. The CP40 comes with a Motif sound collection that includes electric pianos, synths, and basses.

Like some other Yamaha models, the CP40 comes with VCM effects for certain instruments. Virtual Circuit Modeling mimics vintage effects so you can zone in on classic sounds with amazing precision.

The layout is fairly simple as you'd expect for a lightweight keyboard but that's a good thing. It's easy to use and there are lighted buttons for visual feedback so getting around voices and effects is a breeze.
Image credit: Yamaha

Check Price on Amazon

Premium Collection Pianos.
Yamaha Motif voices.
Lightweight for a keyboard of this kind.
Very realistic feel.
Simple user interface.

Doesn't have the CFX sound engine.
Everything about the CP40 is very good, so much so that our only complaint is that another of Yamaha's sound engines would have been better. For the money, this keyboard is a very good buy, it's just up against the best-rated 88-key weighted keyboards around.
It might not outshine the others on our list but the fact it feels so good when it's so light makes it deserving of our top 10. When you look at the CP40, nothing about it makes you think Motif, so the Motif sound collection is a very welcome surprise. If you want the best portable keyboard piano on our list, here it is.
What are Weighted Keys?
Weighted keys are what gives the keyboard its realistic feel when playing.
There are different types of weighted keys and additional features that can add to the realism. For example, some manufacturers like to use simulated ivory tops on their keys because it grips your fingertips more than plastic does. Some even go as far as using real wood keys rather than plastic to help get the weight just right.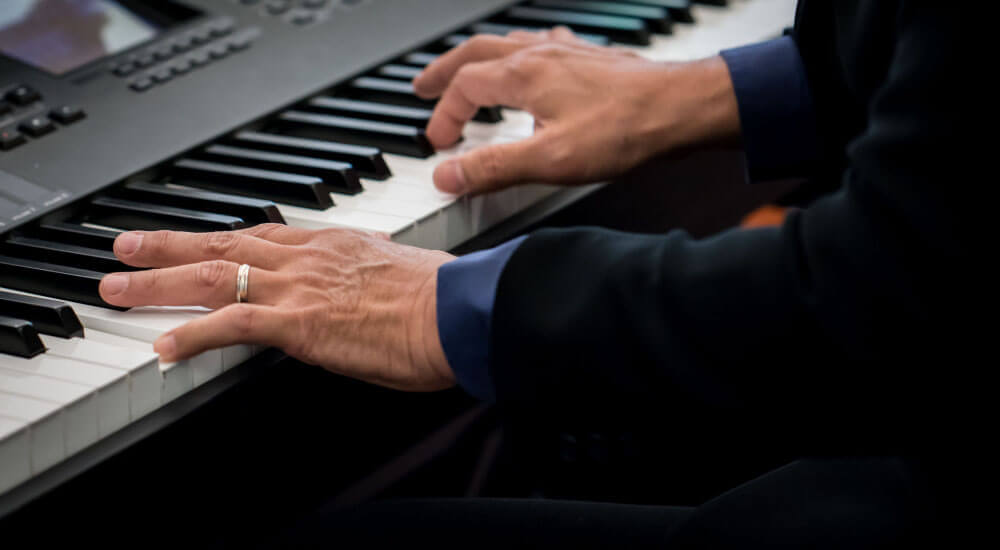 The most important thing about weighted keys is the action, the system that is used to create the weight. It's not just a case of making them heavier, it's about creating the right amount of resistance when playing. The two main types of weighted key actions are hammer action and graded hammer action.
Weighted keys are meant to feel realistic but they should also add to the expressiveness of the keyboard otherwise it's pointless. If you play a note as soft as you can then play it as loud as you can, that's your dynamic range and between those two points is a full spectrum of subtle velocity changes.
Being able to perform with the full spectrum rather than just soft and loud is what brings performance to life and lets the player express themselves fully. That is the purpose of weighted keys.
Weighted keys are combined with different sensor systems that tell the sound engine how hard the key was pressed and with how much attack, etc. This system must be responsive to get the best out of the weighted keys.
Hammer Action Weighted Keys
Hammer action weighted keys use a mechanism that replicates the action of a real acoustic piano.
In a real piano, the sound is generated by a hammer striking a string causing it to vibrate. The hammer is moved via a lever mechanism activated by pressing a key, the harder you press, the harder the hammer strikes.
Keyboards use a lever mechanism to simulate the resistance that comes with the weight of the hammer. With hammer action keys, the weight is set to give the same resistance right across the keyboard.
Graded Hammer Action Weighted Keys
Graded hammer action keys work exactly as hammer action keys but they have variable resistance.
In a real piano, the strings aren't the same from the low end to the high end. The low end has thicker/heavier strings and they get progressively thinner/lighter towards the high end.
Hammers also change in size and weight, larger and heavier at the bottom, getting progressively lighter towards the top. The result is that the keys at the low end feel heavier and get progressively lighter as you move up in pitch.
Graded hammer action keys replicate this by individually setting the resistance for each key. This mimics the weight, thickness, and tension of real piano strings and the weight of the hammers.
Conclusion
The keyboards on this list are all very high-quality 88-key keyboards so when we point out a negative it's purely because the competition is so stiff. Individually, it's fair to say that each one of these instruments does feel realistic, it's only when you compare them to similar quality keyboards you can see subtle differences.
Choosing the best weighted keyboard has a lot to do with what you intend to play on it. You might find that the keyboard that feels the most like a real piano is not the one that feels best for you.
This is common for pianists who like to switch sounds when performing, for example, an organ sound is better played with lighter keys. In that situation you will have to compromise a little and find a keyboard that is comfortable for everything that you need to play.
Having said that, we did state that our list would focus primarily on the weighted keys and how realistic they feel and we have done that. From top to bottom our list has what we consider to be 10 of the very best keyboards with weighted keys. Some just offer more versatility than others.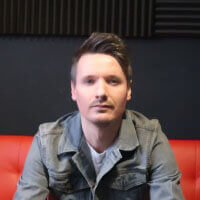 James is a writer and musician with a passion for audio production. He is a lover of all things tech, especially the latest keyboards, synths, DAW's, virtual instruments, and effects plugins. Musical interests include jazz, funk, hip hop, blues, and rock.