M-Audio released the Hammer 88 with the suggestion that it was something truly special. They believe they have created a playing experience closer to a real piano than any other controller keyboard.
What's In a Name?
The Hammer 88 name refers to the 88 fully-weighted, velocity sensitive, hammer action keys. This is what M-Audio believe creates the most realistic feeling controller keyboard to date.

M-Audio is widely known for making top-quality multi-purpose controller keyboards, the Hammer 88 is the first time they have focused purely on feel and expression.
One for the Players
The Hammer 88 is branded as one for the players so who exactly is it aimed at? Whether you are a complete beginner or professional it's important to get used to fully weighted keys.
As a beginner, I believe it's vital that you learn on weighted keys. For many people, having a real piano or even a decent digital piano at home isn't realistic. A good controller keyboard with fully-weighted, hammer action keys is the next best thing.
If you learn/practice on non-weighted keys then transfer to a real piano it will feel like a different instrument. Even if you take lessons on weighted keys then practice on much lighter keys the inconsistency will really delay your development.
As a professional, the arguments for using properly weighted keys are different but just as important. The more you develop your skills, the more attention you place on very subtle detail. It's no longer just about playing the notes, it's about how you play them.
When you get to a certain level you naturally begin to express yourself more through your playing. Without fully-weighted keys it's impossible to accurately capture the full range of expression in any note.
As an example, let's take Herbie Hancock, a jazz piano legend. Herbie Hancock will sound amazing on any keyboard, weighted or otherwise but he will always sound better with properly weighted keys.
The reason for this is that the weighted keys allow far more expression and it's that self-expression that makes him Herbie Hancock and that's what people want to hear.
With the Hammer 88, M-Audio has done everything they can to allow the player to express every little nuance of their personality. This is exactly what they mean when they say it's one for the players.
I have played countless controller keyboards with weighted keys and even the good ones usually lack something. Whether it's being too heavy, keys sticking or not grading low end to high properly, there is usually a clear compromise in not having a real piano.
While a keyboard may never feel exactly like a piano, the Hammer 88 is by a long way the best touch/feel I have seen to date in a controller keyboard.
We looked at this from a beginner and professional viewpoint but the same reasons apply at all levels. As far as being one for the players I think M-Audio has absolutely delivered.
What it Does?
M-Audio has a long history of making controller keyboards with multiple assignable faders and pads that are the centre of many home studios.
The Hammer 88 has none of that, what you get are 88 keys, master volume, octave up/down buttons, a pitch wheel, and a modulation wheel, that's it. In choosing to buy the Hammer 88, you are doing so because of the attention to detail in those few areas.
Like any MIDI controller keyboard, the Hammer 88 allows you to trigger sounds from any compatible hardware/software. This could be external synths, drum machines or virtual instruments. This means you control much of your studio from one controller keyboard.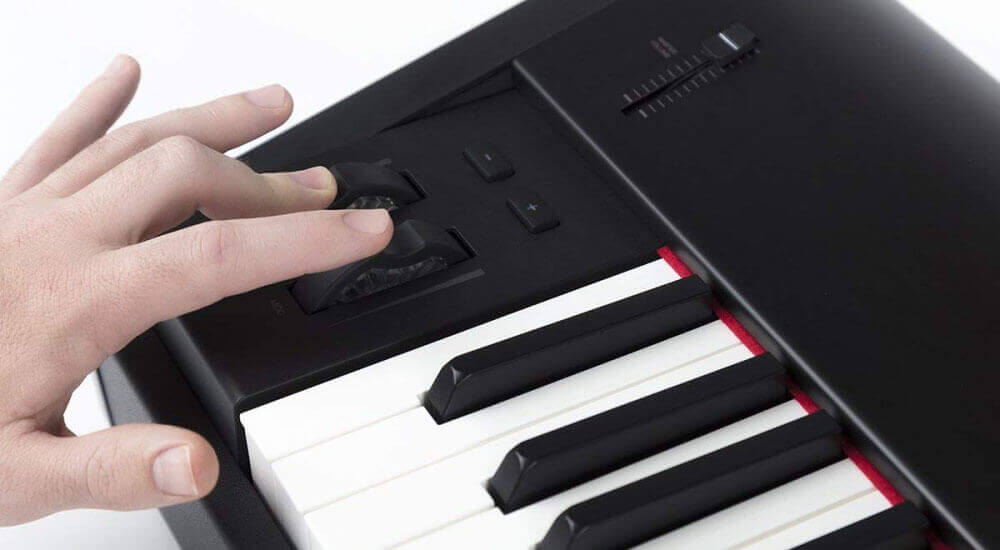 The modulation wheel, master volume, and up/down buttons can be MIDI mapped to any assignable parameter in your DAW/virtual instrument. This allows you to control things like cut off, resonance on synths or switching between presets etc.
Unlike most controller keyboards, the Hammer 88 is built with performance in mind. So, what you lose in faders, knobs, and flashing lights you gain in expression.
More so than any other controller keyboard I have used, the Hammer 88 transitions from studio to stage perfectly. For me, M-Audio has found a great balance between production and performance.
Key Features
The main feature is obviously the fully weighted, hammer action keys. The Hammer 88 has inputs for sustain, expression and soft pedals rather than a single pedal input.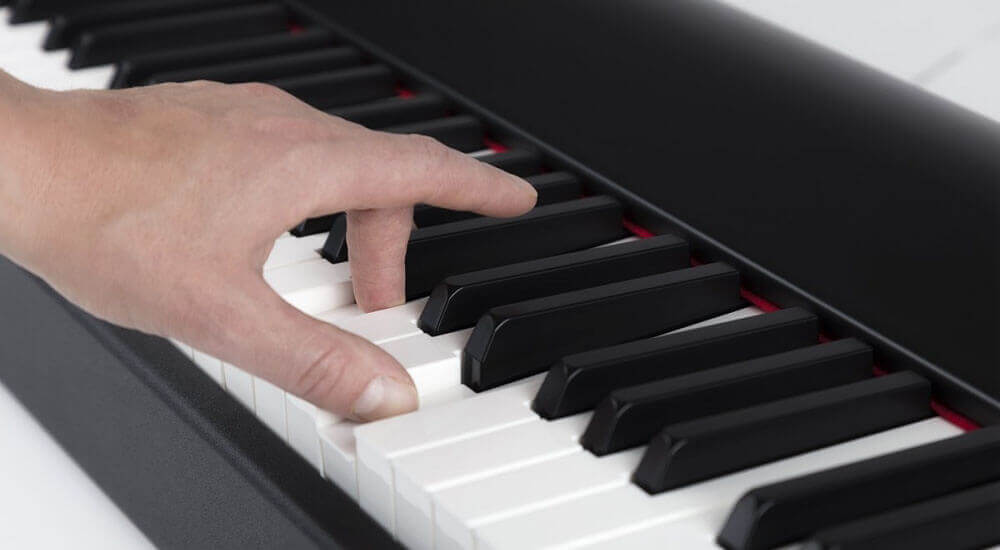 Additions like the extra pedal inputs make it clear how expression focused this controller is the keyboard is layered into multiple zones so you can split sounds or trigger complex chords from one key.
M-Audio provides a downloadable app, the Hammer 88 preset editor to customize your playing experience. From the editor, you can adjust things like keyboard zones and velocity curves as you become more used to weighted keys.
Value for Money
M-Audio offers the Hammer 88 at around $400 which some of you might think sounds expensive when they offer other 88-key models for around $150 – $200. So let's take a look at what you get for your money.
M-Audio include a software bundle to get you started which includes:
Avid Pro Tools First – A version of the renowned Pro Tools DAW.
Ableton Live Lite – A streamlined version of Ableton Live.
Eighty Eight – The flagship virtual piano instrument from Sonivox.
Mini Grand – A beautiful virtual piano from AIR Music Tech.
Velvet – A lush electric piano plugin from AIR Music Tech.
DB 33 – Hammond organ plugin from AIR Music Tech.
Touch Loops – Your M-Audio account comes with 2gb of expertly captured samples ready to download and chop up as you wish.
Clearly, you get more than enough to get started here. Two well established DAW's and some premium sounds and samples. This is great stuff, but for me, the value still remains mostly in the feel of the keyboard itself.
Hammer 88 vs. The Competition
If we take some alternatives in the same price range, for example, the Studiologic SL88 Studio and Studiologic Numa Compact 2.
The SL88 Studio is more of a direct competitor in that its main selling point is its 88 fully-weighted keys. The biggest difference function wise is that the SL88 Studio uses X/Y sticks rather than wheels for pitch and modulation.
Focusing on the main aspect, the keys, in my opinion, it simply doesn't feel as convincing as the Hammer 88.
The Numa Compact 2 is a controller keyboard that also has built-in sounds which means it can be used standalone too. Ready for stage, pianos, electric pianos, organs and more.
From experience, I can tell you that they sound fantastic and for live use, it doesn't require a laptop or external hardware. This is a big plus straight away, no one enjoys carrying extra gear if they don't have to.
The downside is that the keys are semi-weighted, great for organs/synths, not so great for pianos.
I can't stress enough, if you buy the Hammer 88 you are buying it for its feel and expression. If that is your main concern then it's absolutely worth the money. The added software bundle is a bonus.
The Pros and Cons of the Hammer 88
Beautiful hammer action keys that allow limitless expression. If you are a great player this keyboard will help you express that, if you aren't yet, it will help you get there faster.
The Hammer 88 preset editor which allows you to fully customize important aspects of the performance experience.
Additional pedal inputs.
Included software bundle.
The low price for a fully weighted 88-key controller.
Having fully weighted keys comes at the cost of being a heavier unit than most USB controller keyboards.
No built-in sounds.
Fewer features than cheaper semi-weighted controller keyboards.
Conclusion
If you primarily play synths and organs then this isn't the one for you. Fully-weighted keys aren't what you need for playing fast organ/synth runs. If you want a controller that has more faders, pads and does a bit of everything, this isn't the one for you.
But, if you want a keyboard that feels as close to a piano as possible, the Hammer 88 is what you need. The fact that it doesn't come with a million features is what I love about this keyboard. For me it's the best weighted MIDI keyboard currently available.
In truth, very few producers actually use every single feature on their controllers. So, much of what's missing isn't really essential anyway. I much prefer knowing that M-Audio has dedicated everything to the touch and feel of this keyboard.
In the studio, the Hammer 88 adds amazing detail to recordings that you can't get with lesser quality controllers. It doesn't matter how good your virtual instruments are if your controller doesn't allow the level of expression that the Hammer 88 does, you can't get the best out of them.
On stage, yes it's heavier than some other controllers but Nord, Yamaha, Korg keyboards, they are all heavy. So, if you are committed to using a controller keyboard on stage the extra weight should never over-shadow the performance.
Personally, I rank the Hammer 88 amongst my favorite controller keyboards. I would argue that it has the best fully-weighted keys I've felt on a controller. I would stress one more time, this is the main reason to buy the Hammer 88.
With the included DAW's and premium plugins the Hammer 88 is an absolute bargain for the price. M-Audio has done a fantastic job, this really is one for the players.