If you make music, especially electronically, a MIDI keyboard is definitely a piece of gear that you'll want in your music studio. MIDI keyboards can be a bit confusing to use, since they're not like a normal piano keyboard.
This article details reviews of the best beginner MIDI keyboards to buy, and explains how to set up and use your new MIDI keyboard, among other questions you might want answered before purchasing a MIDI keyboard.
Top 10 Best MIDI Keyboards for Beginners
There are so many MIDI keyboards and controllers out there that are suitable for people of any experience level. Here are some reviews of what we think are the best MIDI keyboard controllers for beginners that are in the market for a new way to add functionality and fun to their workflow.
Here are the best MIDI keyboard controllers for beginners 2023:
Akai MPK Mini MkII – Best Mini Keyboard Controller for Beginners
The Akai MPK Mini MkII is one of my favorite MIDI keyboards. It's got 25 keys, 8 drum pads, 8 knobs, buttons to transpose and select octaves, a joystick to control pitch and modulation, and a built in arpeggiator.
It's small which makes it super portable, it's definitely very easy to use, and it's compatible among many different DAWs. The Akai MPK Mini is powered by USB so all you have to do is plug it into your computer.
The keys on this thing are velocity sensitive and synthesizer styled, so they're not weighted, but they do respond to how hard you play them. The drum pads are velocity sensitive as well, and the knobs are all assignable to the drum pads so you can customize the drum pad sounds to your liking.
You can also plug a sustain pedal into this MIDI keyboard if you want to with the sustain input.
Compatible with many DAWs.
Easy to set up.
Portable.

Keys aren't weighted.
Lightweight (potentially easy to break).
This is one of the best MIDI keyboards for beginners. It offers a lot of functionality without being too confusing to use and set up. It's definitely a fantastic choice for a starter MIDI keyboard and I highly recommend it.
Midiplus AKM320 – Best Basic MIDI Keyboard for Starters
If you're looking for a straightforward, no frills type of MIDI keyboard, the AKM320 by Midiplus is a fantastic option. This is the best starter MIDI keyboard because it's so simple to use and set up.
The AKM320 has 32 mini synthesizer style keys that are velocity sensitive. The keyboard also features pitch and modulation wheels, transpose buttons, octave up/down buttons, and a volume slider. There is also an input for a sustain pedal and an input for connecting the keyboard to your computer through USB.
Using the "MIDI learn" feature in your DAW, you can change some of the controls' functions, for example, changing the volume slider to control panning left and right.
Very simple layout.
Lightweight.
Portable.
Easy to use.
This is the ideal keyboard for someone who wants a ton of portability and doesn't rely on drum pads to create drums for their music. If you're in search of a simple entry-level MIDI keyboard, go for this one.
Nektar Impact GX49 – Best Standalone MIDI Keyboard for Beginners
The Nektar Impact GX49 is yet another decent MIDI controller for beginners. The Impact GX49 features a 49-note synthesizer style keyboard, a pitch bend wheel, a modulation wheel, and an input jack for a sustain pedal or other foot switch.
Also featured are octave up and down buttons with LED colors that change to show the status of the keyboard. Transpose buttons are another feature of this keyboard, but they can also be reconfigured in your DAW to change the function of them if you need them for another purpose.
There are 8 buttons for navigating through the main functions of your DAW, like recording and skipping forward and back. The buttons can also be reprogrammed for other use aside from MIDI.
A nice thing about this keyboard is that you don't have to use it in just your DAW; you can use it with standalone instruments and it'll still work fine and you should be able to configure the buttons just fine.
The Impact GX49 is very portable and connects easily to an iPad or smartphone, and only weighs 4 lbs, which is quite light for having 49 keys.
Lightweight.
Reconfigurable.
Doubles as a MIDI controller.

Keys appear to be weighted but aren't.
If you want a nice MIDI keyboard that also can be flexible enough to be used as a starter MIDI controller, this one is a good option.
Native Instruments Komplete Kontrol M32 – Best USB Powered MIDI Controller
Native Instruments is one of the most well-known companies that have been providing producers with high-quality instrument sound banks and also gear, for example, their MIDI keyboard package, Komplete Kontrol.
The Komplete Kontrol MIDI keyboards are an industry standard and favorite among producers, and understandably so. The Komplete Kontrol M32 is the smallest keyboard Native Instruments makes, but it packs a big punch.
The M32 features 32 synthesizer-style keys, 8 touch-sensitive control knobs, a display window for navigating through instruments, presets, and effects, and two touch strips for expressive performance. It works with Logic Pro X, GarageBand, and Ableton Live, among many other DAWs.
The M32 is USB powered so all you have to do is plug it into your computer and you're set.
Very flashy and well built.
Touch strips instead of wheels.

Navigation can be frustrating.
Definitely try to get your hands on one of these, if not to buy, then at least try. The tactile expression controls on this keyboard are amazing and make it so much fun to use.
Alesis VI49 – Premium MIDI Keyboard for Starters
The Alesis VI49 is one of the more expensive MIDI keyboards on this list, but for good reason. It boasts 49 semi weighted keys and 16 velocity sensitive RGB drum pads that respond to your touch.
The VI49 also features pitch and modulation wheels, 12 assignable knobs and 36 assignable buttons for manipulating plugin effects and instruments, tweaking parameters, modulating filters, and changing volumes.
The VI49 is a plug-and-play USB MIDI keyboard so you can easily connect it to your favorite DAW.
A feature that we haven't seen yet on the MIDI keyboards on this list is aftertouch. Oftentimes aftertouch is an effect usually only on synthesizers and electronic keyboards with weighted keys or semi weighted keys.
If you're not familiar with aftertouch, it's a feature that allows keyboard players to change the tone or sound of a note on the keyboard after playing it by pressing down harder on the keys.
Not super portable.
Heavy.
Buttons can get overwhelming.
This is a really well built keyboard and it has some nice features to it, but if you're not looking to use all the buttons you might find it a bit overwhelming since there are so many.
CME Xkey Air – Best Bluetooth Connected MIDI Keyboard
The CME Xkey Air is a USB powered MIDI keyboard controller that connects to all your devices via Bluetooth. It has 25 real size keys and is ultra sensitive thanks to polyphonic aftertouch and 128 levels of sensitivity for velocity responsive playing.
The CME Xkey Air also has function buttons that change octaves, bend pitch, change modulation, and add or hold sustain. The Xkey Air comes with a free app for your phone called Xkey Plus. Through this app you can configure your Xkey Air exactly how you like it.
Firmware updates for the keyboard are always coming out and you can easily upgrade your Xkey Air online. It's made of aluminum and is super slim, which makes it super portable yet sturdy.
The keyboard's battery will last over 10 hours while connected to Bluetooth. If your computer doesn't have Bluetooth connectivity, CME offers a product called WIDI BUD which is a low energy Bluetooth adapter that you plug into your computer to pair it with the Xkey Air.
Extremely lightweight and portable.
Very sensitive aftertouch.

Mainly for Apple products.
Needs an adapter for non-Bluetooth compatible computers.
Like many of the great options on this list, the XKey Air is a solid choice for those who want an easy to use full size keyboard without losing portability.
Isla Instruments KordBot – Best MIDI Keyboard for Chord Progressions
Isla Instruments is a fairly new company but their MIDI controller KordBot is becoming popular at a steady rate. I decided to put KordBot on this list even though it doesn't have fully functional keys like a MIDI keyboard, but it's extremely similar to one and has a similar setup as a MIDI keyboard.
KordBot is a MIDI controller with a keyboard vibe made especially for coming up with chord progressions. It has thousands of chords built in and spans over 50 different musical scales. This makes it great for a beginner because if you're a producer who doesn't know music theory, you'll still be able to easily come up with strong chord progressions.
KordBot has a key area that spans over 2 octaves, 12 memory pads, an SD card slot for saving chord progressions, a chord dictionary that helps you learn new chords and their inversions by lighting up the correct piano-like keys, and it even will suggest what chord to use next in your progression.
KordBot allows you to connect through MIDI, USB, or Bluetooth, so you'll be able to use it with all your devices and DAWs.
Connectability.
Lightweight.
Extremely intuitive.
With so many chords, voicings, and a plethora of functionality, if you struggle to come up with chord progressions, the KordBot is a very smart purchase to make, although you might struggle to navigate through all its functions a bit at first.
Novation Launchkey Mini MkII – Best Ableton Based MIDI Keyboard for Beginners
The Novation Launchkey line is one of the best out there. My main MIDI keyboard is a Launchkey 49. The Launchkey Mini is a smaller version of that. The Launchkey Mini MkII is a MIDI keyboard with 25 synthesizer keys that are velocity sensitive.
There are 16 drum pads that are also velocity sensitive. An added feature of these drum pads is that they have LED lights in them and they light up in correspondence with Ableton Live's performance mode. There are 8 assignable knobs and dedicated navigation and control buttons as well.
If you choose to get a bigger version (Launchkey 49 or 61), another feature available to you are some faders for volume control straight from your MIDI keyboard as well as modulation and pitch wheels.
Tons of functionality.
High quality feel.
Portable.

Bit of a learning curve.
Drum pads aren't as sensitive as others.
The only major downside of this MIDI keyboard is that it's mainly made for use with Ableton Live. That being said, it can be used with other DAWs. I've used it with Logic Pro, but since it's made with Ableton in mind, a few of the features (mainly the drum pads) are disabled when connected to DAWs other than Ableton.
I'm sure there are workarounds to configure all of the features to the DAW of your choice, but if you're an Ableton user, this is the MIDI keyboard for you, without a doubt.
Roli Seaboard Block – Best Wireless Portable Mini MIDI Keyboard
The Seaboard Block by Roli is a really different type of MIDI keyboard that has been astounding musicians and producers for a few years.
The Roli Seaboard Block replaces a traditional MIDI keyboard with a soft, pressure sensitive surface. The surface allows you to glide your fingers along it, strike the keys, press down with your fingers, etc, to shape the sound of your instrument through five dimensional touch.
The Seaboard Block is both wireless and super portable, so you can take it with you wherever you go and connect it to your phone or computer.
The Seaboard Block comes with software (included are Noise, Equator Player, and Blocks Dashboard) and you can purchase different instruments and sounds to play with the Block through your phone or computer, or you can use it as a MIDI keyboard with your DAW and bypass the included sounds.
You can also connect the Seaboard Block to Roli's other blocks to create even more music and add more functionality to your workflow.
New and innovative.
Portable.
Comes with a ton of software.

Has a bit of a learning curve.
Gets dirty very quickly.
If you're in the market for something that incorporates a ton of expressiveness with mobile technology, the Roli Seaboard Block is a great option for you.
If you're a guitar player who wants to learn piano or start making music with a MIDI keyboard, a Seaboard Block seems like it would be the easiest to learn with considering the five dimensional touch provides an experience similar to bending notes and using other expressive techniques on a guitar.
M-Audio Axiom AIR Mini 32 – The Most Versatile Mini MIDI Keyboard
The M-Audio Axiom AIR Mini 32 is all about saving space. It's a compact little thing but is still comfortable to create music with.
For being as small as it is, it has some clever features that make it have a lot more functionality that you would be more likely to see in a bigger MIDI keyboard.
The Axiom AIR Mini 32 has 32 mini synthesizer style keys (velocity sensitive, of course) and 8 drum pads. There are 8 knobs, 3 transport controls, and 5 navigation buttons. The controls are assignable and have front panel programming. There are also pitch bend, modulation, and sustain buttons on this MIDI keyboard.
The defining feature of this keyboard, and what I think makes it worth buying, is the fact that there are multiple banks for the drum pads and 10 memory locations for saving custom settings. To me, this gives it as much functionality as a bigger MIDI keyboard that has way more drum pads, knobs, and buttons.
Memory functions.
Multiple banks.

Buttons for pitch bend/modulation rather than wheels.
This is a fine choice if you want a cheap under $100 MIDI controller but don't want to get something that's lacking in features or isn't well built. M-Audio has a lot of nice products and the Axiom AIR Mini 32 is one of them for sure.
What Exactly Is a MIDI Keyboard?
A MIDI keyboard is a controller with piano keys, drum pads, and buttons, that allows you to write MIDI information into your DAW to use with instrument plugins.
What Does a MIDI Keyboard Do?
A MIDI keyboard inputs MIDI information into your DAW while composing. This can be through the piano keys, where you play it just like a normal piano while using the MIDI information with an instrument plugin. A MIDI keyboard can also input information through the drum pads.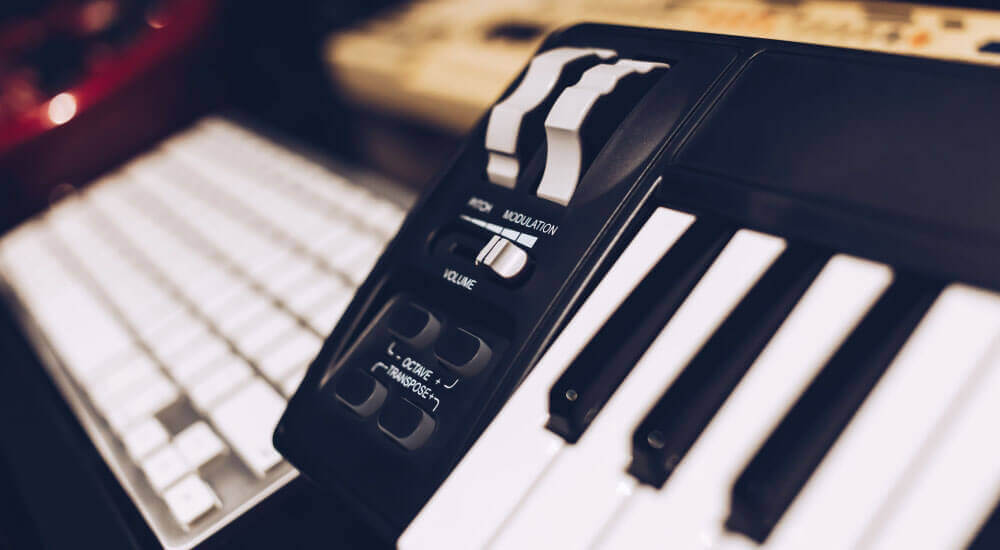 Some MIDI keyboards also allow for you to control other aspects of your DAW, like the play, rewind, skip forward, and record buttons so you don't have to use your computer mouse. Many MIDI keyboards also have knobs and faders, so you can also control the volume, pan, filter, etc, automation of tracks.
Why Do You Need a MIDI Keyboard in Your Studio Setup?
MIDI keyboards add a ton of functionality to your workflow and enable you to compose so much faster than writing in MIDI information note by note.
While it's not necessary to have a MIDI keyboard or controller in your setup, many producers and composers prefer using one instead of entering MIDI notes and editing automation with a mouse because it speeds things up so much.
What Should You Look for When Buying for the First Time?
What you look for really depends on what you'll be using the MIDI keyboard for. Do you want to compose with it, or do you just want to use it to control your DAW?
Features and aspects you'll want to consider before buying include:
Whether or not there are:
Faders.
Knobs.
Buttons.
Drum pads.
Modulation and pitch wheels.
A navigation screen.
Number of keys.
Keyboard action and feel and aftertouch.
Key type (synthesizer style or weighted).
Portability/weight of the keyboard.
Complexity or ease of use.
What type of input it uses to connect to your computer (Bluetooth, USB, MIDI).
How Should You Choose?
Base things on what you'll be doing with the keyboard and whether or not you already have experience playing piano.
If you're wanting to use a MIDI keyboard/controller to mix more than compose, you'll want something with plenty of faders, knobs, and buttons. Having plenty of knobs and buttons will also be helpful if you're someone who wants to perform live using the keyboard.
If you're wanting to use it to compose, you might not care too much about having faders and drum pads and knobs. Mainly what you'll need is a record/play button area and keys of your choice.
This brings me to my next point: MIDI keyboards come with different amounts of keys, and some are synthesizer style (non weighted) and others have weighted keys, like a traditional piano keyboard.
Depending on what you're used to, if you've already been playing piano for many years, you might want to go with a MIDI keyboard that has weighted keys. If you want something you can play at lightning fast speeds, you might want a MIDI keyboard with non-weighted keys. Really this is a preference type thing.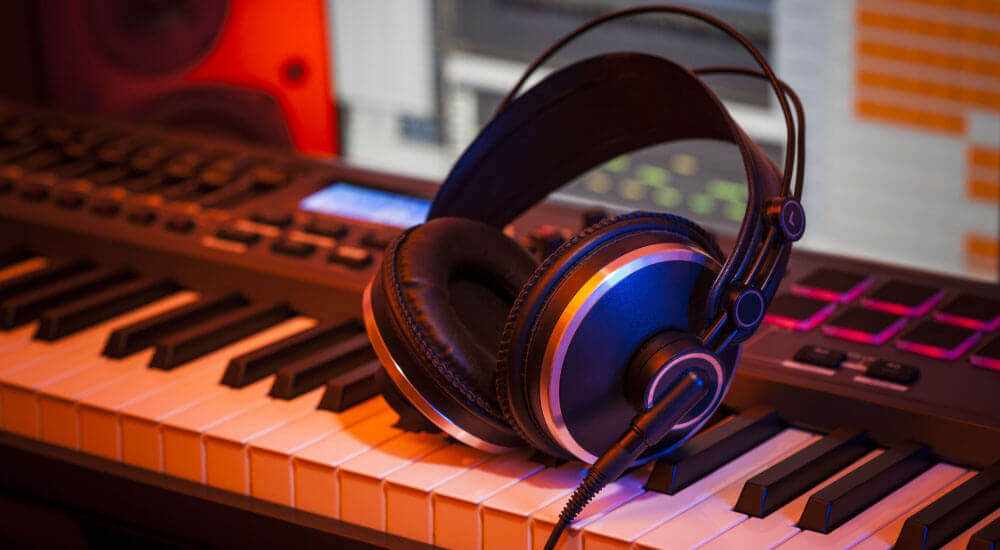 If you're able to buy a MIDI keyboard from a music store and demo the product before you buy it, that would be ideal because then you'd be able to find a better fit for you at a much faster rate.
When I was searching for a MIDI keyboard when I was first getting started making music, I had a fairly decent budget, less than $500. I didn't care too much about portability, and I wanted something that wouldn't require me having to constantly be hitting the octave up and down buttons while performing and producing, so I wanted something with more keys.
My DAW of choice was Ableton Live, so considering all of this, I went with the Novation Launchkey 49. In hindsight, it was a poor decision for me to have made, because although I loved the keyboard and it played really well, I didn't end up using many of the features, mainly the volume faders and knobs.
Come to think of it, I didn't even use the drum pads. I could've easily been satisfied with a much smaller 25 key MIDI keyboard. Take this as a lesson.
Who Makes the Best MIDI Keyboard Controllers?
In my opinion, the following companies make the best MIDI keyboard controllers:
Akai
Akai has some of the most popular MIDI keyboards, especially for beginners or bedroom producers. They've got some really solid products. The keys feel nice and the drum pads are sensitive.
Novation
Novation was the brand I went with when picking my first MIDI keyboard, and I was pleased with their line of instruments. They're well built and easy to use, although they're mainly designed for use with Ableton Live.
I've found that their drum pads aren't as sensitive as Akai's are, but if you're using them more for triggering loops or long samples that don't depend on velocity, rather than drums, they work fine.
Native Instruments
Native Instruments has some really great MIDI keyboards, but they're more common in more professional music studios because they're more expensive due to having some extra software that comes along with them.
Everything Native Instruments comes out with feels like a quality product and there's nothing by them that has disappointed me.
How Much Should You Be Spending, and What Should You Expect in Different Budgets?
Spend as much money as you see fit. However, if there's a very expensive keyboard that has all the features you'd be needing to use, try to find one that's cheaper that covers all those bases.
Many MIDI keyboards are similar and a lot of the cheaper ones work just as well as the expensive ones. Check out our reviews of best budget MIDI keyboards to learn more.
For beginners, most MIDI keyboards will come in the $150 or less range. However, a lot of this depends on the features and what the keyboard was made for, since some are made mainly for performance and others are made for production.
Higher-priced MIDI keyboards will be ones with 49 to 88 keys, ones with LED screens, instrument presets built in, and an extensive amount of knobs, faders, and drum pads. The more features on the keyboard, the higher priced it will be. A good example would be the Native Instruments line of MIDI keyboards.
Should You Purchase a Bigger MIDI Keyboard First?
Really this is up to you. Do you think you'll want something that big to start out with? Are you already a seasoned piano player who is used to playing over 61 keys? Do you like the feel of weighted keys?
I personally would suggest starting out with a 25- or 32-key MIDI keyboard that you can learn on first. You might find that that's all you need and that getting something huge would be unnecessary if you can just use octave up and down keys.
However, if you're more set on composing in a studio, it might be better to get a bigger MIDI keyboard and not worry about having something portable if you don't plan to compose on the go.
How Do You Use a MIDI Keyboard?
To use a MIDI keyboard, once it's plugged in and you've got it set up properly, select an instrument track in your DAW and load an instrument plugin onto the track. Select whichever instrument you want to use, and begin playing the keyboard.
You might have to change the settings in the plugin itself to get it to recognize your MIDI keyboard but this doesn't happen too often.
How Do You Set Up a MIDI Keyboard and Connect It to Your Computer?
Setting up a MIDI keyboard and connecting it to your computer shouldn't be difficult. Most MIDI keyboards use USB, which means you can just plug the included cable into the USB port of your computer to connect it and start playing; most DAWs are intuitive enough to detect new MIDI hardware.
You might also need to change the audio input settings in your DAW to make sure everything is connected properly.
Can You Use Your Electric Piano Keyboard as a MIDI Controller?
Some piano keyboards have MIDI inputs on them. If this is the case, then yes, you'll be able to use your piano keyboard as a MIDI controller. It may have less functionality than an actual MIDI keyboard, but you'll still be able to compose with it. You'll need MIDI to USB cables to do this.
Can You Use Your Computer Keyboard as a MIDI controller?
Some DAWs (Logic Pro X and Ableton Live for example) do allow you to use your computer keyboard as a MIDI keyboard, but usually in these cases, they only function as the keys of the keyboard and octave up and down buttons.
If you only need to do basic work with a MIDI keyboard, using your computer keyboard might suffice for a while, especially if you're on an extremely tight budget.
It's definitely a lot more limiting than using an actual MIDI keyboard, but it can be done and it can work pretty well.
Conclusion
My advice to you is to just find something for what you'll need; don't bother getting something with more functions than what you'll be needing it for. Stick to what you think would be the most suitable for you, and take time to learn about it.
MIDI keyboards and controllers have a lot to offer, and if you really dig deep and learn how to use all the features and get the hang of performing with them, they can be incredibly useful and also very fun.
Whether you're jamming at the park with friends or creating music in a studio, they are a worthwhile piece of gear to invest in and I will never not recommend that someone tries to incorporate them into their workflow.
If MIDI keyboards happen to not be something you're into, try looking into other MIDI controllers. There are so many out there and a lot of them don't even have piano keyboard keys. There are ones that use strings, ones that focus on using buttons, and so much more.
Electronic instruments in general are super fascinating and many of them do incorporate some sort of MIDI input or export function into their workflow, so many synthesizers or pocket instruments, for example, can be used as MIDI controllers if you prefer to go that route.
The resources are there, all you have to do is be ready to explore and find what fits you and your workflow the best.