This Cremona SV 800 review is going to help you to decide if this is the right violin for you. The Cremona line comes to you from Saga.
Saga Musical Company got their start in the nineteen seventies in San Francisco. They are still located in San Francisco till this day.
This musical instrument company specializes in stringed and fretted instruments. They distribute their products globally through retailers and other outlets.
Saga had one goal in mind when they started their business and that was to create superior instruments that could still be affordable. They have done a fine job in meeting their goals.
Some of their products include:
Violins, guitars, mandolins, folks, and banjos; guitar, dobro, mandolin, banjo, and violin accessories; rosin, strings, and accessories; parts and kits; and cases and bags.
The Saga Musical Company are the manufacturers behind a litany of well-known brands like:
Blueridge
Mahalo
Cremona
Kentucky
Gold Star
Valencia
And other well-known brands
Many of their brands are critically acclaimed by industry insiders including the Cremona line. The Cremona violins are considered some of the top of the line student violins. They are affordable violins that are well crafted so they are very popular with the people that buy them.
This violin is the premier artist's series so it is great for advanced students and the professional performer.
We looked at all the things that this violin has to offer and we looked at what we think they can do to improve the model and we put it all together to create this review so that you would a have a better idea of whether this model was the right model for you.
This violin is affordable but is meant for advance users and the professional player. Of course any beginner or intermediate player would likely love to have this model as well because it is a really nice instrument.
The Craftsmanship
The Cremona SV-800 offers the finest wood construction that is hand carved. The spruce top and maple back are graduated.
The wood is solid and well figured. All the wood has been aged five or more years to ensure that the wood never warps.
The scroll and neck are crafted of well-figured maple. The fingerboard is made of high grade ebony.


Click Here for Pricing, Pictures and Reviews on Amazon
The trimmings are Hill-style and are made of high grade boxwood. The purfling is inlaid neatly and has clean lines.
The entire body is finished in an antique like varnish in a lovely tone of reddish-brown. The varnish is hand rubbed.
It is a lovely instrument that is clearly well-crafted. A great deal of time is put into each violin in this range and it really shows.
There is something about the old time hand rubbed varnish that gives this violin a truly classic look and a look of a much more expensive violin.
The Strings
Saga really went all out on this outfit and used the genuine Thomastik Dominant Perlon strings.
The Thomastik Dominant Perlon strings are considered top of the line and really set the standard for synthetic core strings. They are excellent for stability.
They can hold a tune like no other and they offer a clear sound. They are a really nice addition to this violin and enhance sound.
These strings are used on the most expensive violins worldwide and it is a really nice thing to find on this violin.
This may be Saga's top of the line violin but it is still relatively affordable and to find top of the line strings on a violin that you would expect to cost much more is a nice touch.
Of course as a side benefit you rarely have to worry about breaking these strings.
The Bow
The bow included in the outfit is Pernambuco wood bow that has unbleached genuine white horse hair and an ebony frog. It is fully lined with a nickel/silver mount. This bow is well known for being well balanced and comfortable to use.
The quality of this bow is also another nice touch that really gives this outfit a nice feeling of being a really quality outfit.
The Case
The outfit comes complete with an oblong case that is fully lined. The case has two bow holsters and offers ample space for bows and accessories.
This type of case is not usually included with an outfit, typically a case of this caliber has to be purchased separately at an additional expense.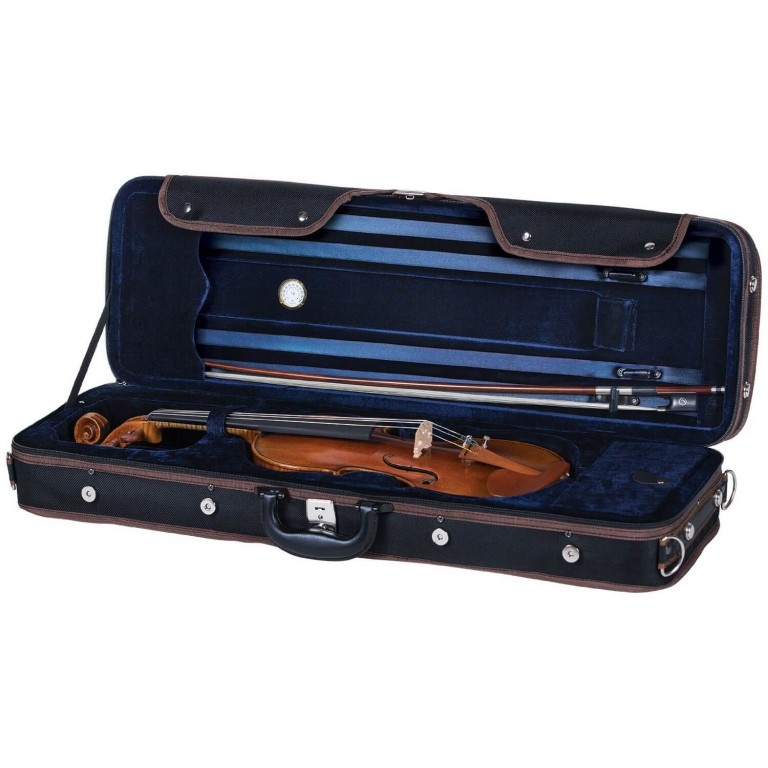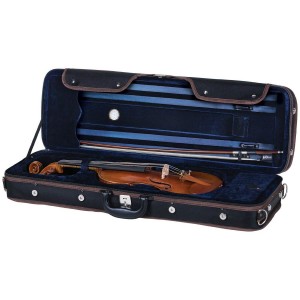 Saga provides a top notch case for this top of the line violin when it reality the violin itself is so well-made that they could have easily have gotten away with including a case that was only a fraction of the quality of this one and most people would have been happy to have it.
The Fittings
The Cremona SV-800 offers a Stradivari style chin rest made of ebony. The pegs are also crafted of the finest ebony as is the fingerboard. The fine tuners are nickel plated and very durable. The tailpiece is crafted of ebony as well.
The fittings are giving a great amount of attention to detail as you would expect with any finely crafted violin. All the fittings are made to strict specifications.
Saga did not spare any expense in creating this violin but yet has managed to keep the cost to the consumer down.
What Makes the Cremona SV-800 a Great Choice?
There are a lot of things about the Cremona SV 800 that make it a great choice. Saga has years of experience when it comes to creating great playable instruments. This is their higher end student model that has all the upgrades that really make a difference.
Saga is well-known for being the company that pays attention to detail. The Cremona line is crafted in Italian tradition by luthiers that have the expertise to create a violin that produces the sonorous sound that is not soon forgotten.
The Cremona SV-800 like all the Cremona's is an excellent example of Italian traditional instrument design. We took a close look at this violin to determine what it is that makes this a favored choice of advanced students and professional performers.
The goal with purchasing any violin is to have an instrument that is reliable that can easily hold a tune and if it is beautiful as well, then all the better. The SV-800 fits the bill nicely. It is a high quality instrument that is reliable and also happens to be very beautiful.
This is a good choice because of all the high end materials that are used and the fact that it is hand carved. There is one other point that makes it a great option, the cost. This is a budget friendly high end violin.
It may sound like an oxymoron to say that this is a budget, high end violin but it comes from the fact that the quality and craftsmanship is sterling yet the cost remains low!
What is NOT so Great About the Cremona SV-800?
There must be some room for improvement! Honestly there is nothing different that Saga can be doing to improve this awesome violin.
Luckily there is a 1-year warranty against parts and manufacturer defects so the peg should be covered. There is just nothing bad to say about this violin.
Violinist have commented on the excellent sound it produces and how it lacks a tiny sound even at the higher notes. It is just overall a great instrument that everyone has been pleased with.
One reviewer mentioned that a music teacher with over 45 years of experience said they thought the violin cost at least 3 times more than the student paid.
This violin is chosen by professional players for its excellent construct and its low cost but it still comes as a surprise to most buyers when they see and play the violin. They do not expect to get the high quality that they do for the price that they pay.
Overall
What could we say? We looked to find something wrong with this violin and could not. Everything that comes with the outfit is high end so you do not have to replace strings or the bow like you do with so many outfits.
The maple adjustable bridge is ideal for the unit so you do not even have to change that out. The violin is adjusted to MENC standards before it ever leaves the shop which means you can start using your violin the day it arrives.
There are so many features to this model that make it an ideal option for the advanced student and the professional performer that it seems impossible that it can be offered at such an affordable price. It is overall a great option!