There's nothing like the feeling of going to pick out your first drum set.
Whether you're making the upgrade from a single snare drum or practice pad, or you are just taking the leap of faith and starting with a whole drum set it's a special time you will never forget.
So you make a trip to your favorite local music store and are faced with a daunting decision: Should I go with an acoustic drum set or an electric?
Acoustic or Electric Drum Set: 6 Things to Consider
While both have awesome features and benefits, there are a few things to consider before making your purchase.
1. Volume
While some of us have the freedom to play as loud and as often as we want and not disturb our neighbors there are a lot of us that live in situations where excessive noise can be a big problem.
A lot of us live in apartments and or urban areas, and both are notorious for not being friendly to practicing drummers.
When that is the case electronic drums are the way to go.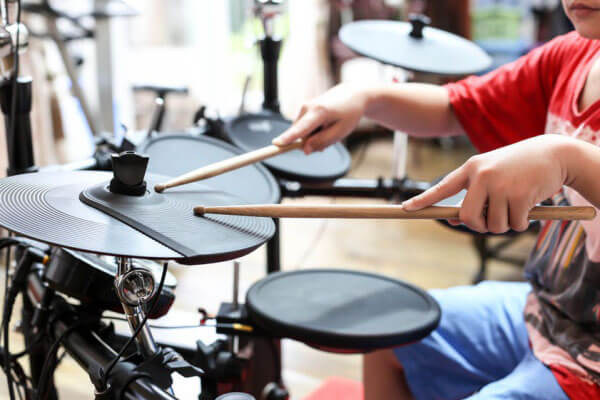 They make for a great solution to this problem as 90 percent of the electronic kits on the market can't be heard in the next room no matter how loud you are playing them.
There's nothing like being able to practice anytime day or night and not disturb your friends, family, or neighbors.
If you are on a second floor I recommend putting the set on a real thick rug or tape down a heavy blanket or comforter so the bass drum pedal/pad noise won't disturb anyone downstairs.
2. Technology
When you get an acoustic drum set there are many brands, sizes and colors to choose from.
From a small jazz kit, to a massive double bass kit the possibilities are almost endless.
One thing you won't find built in though, no matter how expensive the drum set is a metronome.
This device ensures that your timing is accurate while you are practicing.
This is vital as our main job as drummers is to keep the time steady so the band can lock in and really groove with you.
Though you can always buy this device separately, or even download to your phone as a app it is quite handy to have right at your fingertips while practicing.
Also most top electronic drum kits come with at least ten different drum sets, which allows you to experiment with different sounds.
Some of them even have a way for you to hook up your MP3 player, or you can jam along with the pre-recorded songs included in the electronic kit.
On your mid to upper level electronic kits you can record yourself right on the drum module, or you can hook the whole drum set up via USB to your computer, though that will require additional software.
This makes recording your drums a breeze, which is one of the hardest things drummers will ever have to deal with. Pretty cool huh?
I know what you're thinking. It sounds like the electronic kit is a no-brainer, right? There are a couple of categories where an acoustic kit wins every time. And that's….
3. Technique
One of the most important parts of becoming a good drummer is developing great technique.
While electronic kits do have a lot of great features, the drum heads are normally made of rubber or mesh.
This creates a playing surface that is completely different from hitting a normal drum.
It will take some to get used to and can lead to bad technique as it creates a unnatural bounce off of the head.
Furthermore when you play an electronic drum you're sending a signal to the drum brain which sometimes can produce inaccurate notes causing cross talk between the different drums and you'll hear drums you didn't hit sounding off….not good!
Now this can be fixed in most cases inside of the drum brain by adjusting your settings and parameters but this can be quite tedious if you're not familiar with it.
Get used to consulting your manual or the Internet for answers.
4. Feel
As many drummers will tell you the feel of playing an acoustic drum set is powerful.
You can literally feel the drums vibrate through your body while you play.
It's an amazing feeling to be able to control the volume of such a dynamic instrument.
Though electronic drum sets have come a long way in their ability to recreate an acoustic kit there are certain nuances that a electronic kit won't deliver as well as a acoustic kit, like ghost notes and cymbal swells.
These tools can be very important depending on the style of music you are playing.
This is why it's extremely rare to see a drummer playing an electronic drum kit on a jazz gig, or any major touring gig for that matter.
They just don't translate some forms of music as well as the acoustic drum set does.
5. Sound
As I said earlier electronic drums have come a long way since beginning mass production in the late 70s.
From starting with octagon shaped pads that felt like you were playing on a tabletop to now being shaped like acoustic sets actually having "real" drum heads they have really done a great job of sampling some of the best acoustic drum kits, cymbals and other percussion instruments on the market.
In my opinion no matter what you are sampling it will never sound as good as the real thing.
There is a reason that most of your favorite bands and still use acoustic drums on their tours and recordings.
They just create a sound that can't be matched by anything currently on the electronic market.
6. Price
Electronic drum sets have a lot of bells and whistles that can be fun to experiment with, especially in the beginning stages.
To get an electronic set that has the real feel of your standard acoustic set you should prepared to spends at least one thousand dollars. There are also cheaper entry level electronic drum sets (around $500), but that's not the point right now.
Also keep mind that you'll need someway to be able to hear their drum set, whether that's with a speaker or with a real good pair of sound isolating headphones.
While they do have sets that are cheaper, what they make up for in price they lack in playability, sound and in being realistic.
You can get a good beginners acoustic drum set with cymbals for under six hundred dollars brand new; and if you don't mind going used you might even be able to find a pro-level set at a bargain basement price!
Acoustic vs Electronic Drum Kit: What's Right For You?
As you can see both drum sets have their positives and negatives. So it comes down to which one is going to lead to you practicing the most.
Ya know….INSPIRATION!
I know players who swear by electronic drum sets and I also know players who wouldn't play an electronic set if you gave them a top of the line one for free.
I personally have both as tend to think of them as two separate instruments that serve me different purposes.
As Buddy Rich said, "You only get better by playing." If you can do that with an acoustic I would say go for it!
But if that leads to you barely practicing because of volume the electronic kit is the way to go.
Besides, you can always work on your technique on your practice pad or pillows.
Either way you're taking a step in the right direction by getting tools to improve your playing….and that's what it's all about.
Keep grooving and don't forget to have fun!