I remember the first time I actually saw and held an electric guitar.
My friend got one for his birthday and invited me over to try it out. As he plugged it into the amp, I was disappointed with the sound. It just lacked something.
I tried to explain it to him, and he finally understood me.
He turned on the distortion.
As probably the most commonly used pedal across various genres, the distortion pedal has many different and interesting applications.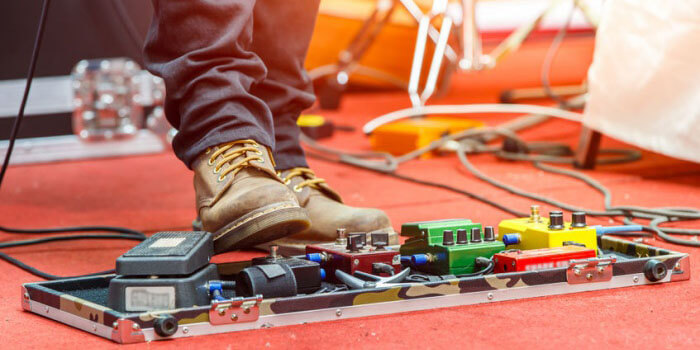 But choosing the best distortion pedal for your exact needs can be pretty hard.
Fret not, as you've come to the right place! In this article, we will go over the most important specs and features, as well as the best distortion pedal reviews.
So, let's dive right in!
Our Top 3 Recommended Distortion Pedals for 2023
Before we talk about the actual details you need to take in consideration when buying a distortion pedal, check out these 3 models that you should definitely consider buying for yourself.
Now let's take a look at how pedals, in general, are used.
Routing
In order for your rig to work properly, you need to hook it up in a proper way.
Although it is pretty obvious for most people, it's important to go into detail for the absolute beginners out there!
So, before you actually start connecting your rig, you need to make sure that everything is powered off.
By doing so, you avoid the risk of damaging your amp, and even your pedals!
Now, take one cable, and plug it into your amp. The other end of that cable goes into the OUT output of the pedal.
Take a second cable, plug it into your guitar, and connect the other end to the IN input on the pedal.
You're good to go!
Pedal Order
If you're using only one pedal at a time, things are pretty simple.
However, if you are planning on using a setup which consists of multiple pedals, you need to set them up in a certain order.
Many musicians argue that there isn't a right and wrong way in which you can set up your pedals.
But, understanding some basic principles surrounding effects pedals is most easily achieved by following this simple rule, or better put, this order of pedals.
Guitar > Tuner > Compressor/Filter > Distortion > Modulation
Setting your pedals in this order allows the signal to be changed one step at a time, from the more discreet changes to the more prominent ones.
Battery vs. Power Adapter
Most pedals you can get offer two ways in which they receive power.
Using a 9V battery is definitely more practical, especially on stage.
This means that you won't have to go through numerous cables, both the patch cables that connect one pedal to the other and the ones needed for power.
However, you never know when the battery is going to run out of juice!
That's why using a power adapter is a more reliable solution.
It also saves you money in the long run, that is if you take good care of your adapters!
Just make sure you keep things organized or get a pedalboard with integrated power supply, which requires only one wall outlet!
Distortion Pedal Features & Specs
Now that you know how to set up one or multiple pedals the right way, it's time for us to take a look at some of the most crucial specs and features, how they affect the sound, and what to look for.
The Differences Between Analog and Digital Pedals
Since the appearance of digital circuitry and the low manufacturing cost of PCBs, guitar pedals have evolved into digital devices.
But what are the differences? When should you go for an analog pedal, and when for a digital model?
Well, it depends on what you're looking for, and what sound and experience you prefer.
Analog Pedals
Analog pedals use, well, analog, old school electronics.
The main advantage of analog pedals is that they sound more natural, and simply don't stick out that much when used.
Digital Pedals
Digital pedals, on the other hand, offer a much wider spectrum of possibilities, whether it's across different types of effects or variations of the one effect.
However, depending on the quality, and consequently, the price, they can sound pretty artificial.
As the signal that's coming from your guitar, and into the amp, is analog, it's definitely logical that going with an analog pedal will yield the most natural sound.
So, the bottom line is this: If you're looking for a pedal that will alter the sound your guitar is making, but keep the flavor and traits of the actual guitar you're playing, go for an analog pedal.
If, however, you're planning on experimenting with various crazy presets, and the wide range of parameters, definitely go for a digital one.
Having a decent budget definitely helps, as there are great sounding digital pedals as well, but at a noticeably higher price point!
Overdrive, Distortion, and Fuzz
Distortion as an effect can mean a lot of different things.
In order to get the right pedal for your specific needs, you first need to understand the differences between these three types of effects.
Overdrive
Overdrive was the first "distortion" effect that appeared. Guitarists achieved it by cranking up the gain on tube amps until the sound became, well, distorted.
By knowing this, it's pretty obvious how it sounds. Overdrive manages to affect the sound, change it, while still maintaining the natural sound of the guitar as well as the amp.
Think of overdrive as a  mild version of regular old distortion. Perfect for genres that are not that heavy, and need just a bit of signal alteration to do the job.
Fuzz
Fuzz is on the opposite side of the spectrum. Unlike overdrive, it completely saturates the signal, adding an effect that is, well, fuzzy.
The sound is full of buzzing and crackling, while the dry signal is hardly noticeable.
This effect is mostly used by doom, stoner, and psychedelic rock bands, but can be found amongst jazz and funk musicians as well.
If you are looking for a distortion pedal that will completely change your signal, and give it that heavy, greasy sound, a fuzz pedal is the way to go.
Distortion
(Regular) Distortion falls somewhere in the middle. It combines a somewhat saturated sound with the natural sound of the guitar and amp.
It allows you to blend the amount of effect in a more balanced way than the other two we've mentioned.
Perfect for many different genres, but mostly used in metal and rock, distortion is your safest bet if you're not exactly sure what you're looking for.
The level of controls and various parameters
Depending on your skill level, you can choose from different pedals which offer different levels of the actual control over the effect.
It's pretty obvious that the price of the pedal will dictate not only the quality of the effect but the number of different parameters you can play around with as well.
If you are a beginner, you won't really need much more than EQ controls and the level of drive.
However, if you consider yourself a more advanced guitarist, and feel like you understand more complex parameters and how they individually affect the sound, going for pedals with more knobs you can tinker with is a good idea.
Top 10 Distortion Pedal Reviews
In order to give you a clear picture of some of the top rated distortion pedals out there, we decided to cover different price ranges.
So, the time has come for you to see our pick of the top 10 distortion pedals!
</p> <h3>Boss DS-1 Distortion Pedal</h3> <p>
Boss is a company that has been well known for their budget-friendly guitar pedals for some time now.
The DS-1 is often considered as the best distortion pedal under $50, and here's why.
Versatility is an important trait, that often gets neglected. The fact that the DS-1 caters to the needs of beginner guitarists, as well as the more advanced ones, truly distinguishes this model from the vast majority of other, competitor ones.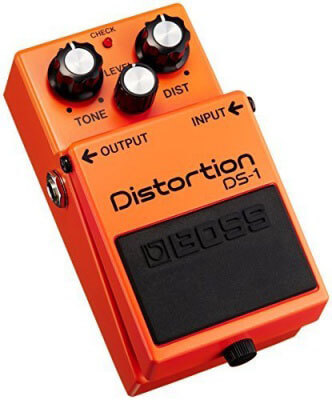 Starting from the build and design, it's clear why this model is one of Boss' best sellers.
The orange color may make it look like a toy, but trust me, it's very durable and sturdy.
A simple and straightforward design and control layout make using this pedal a piece of cake.
By using the 3 knobs, you can easily shape the sound to your exact needs.
Tone, Level, and Distortion pots are precise enough for setting up various different sounds you can experiment with.
The output quality of this bad boy is simply amazing.
Featuring anything from an overdrive to that powerful, old-school distortion, the sound remains rich and natural.
You can even use it with a bass guitar, or even a keyboard.
Pros
Lightweight and durable
Easy to use
Amazing sound
Best Boss distortion pedal at this price range
Cons
Background noise can be annoying
A bit generic-sounding at times
The DS-1 by Boss is a great entry-level distortion pedal which allows you to learn a lot about this effect, and have loads of fun while doing so.
The under $50 price tag, versatility, and minimalistic design definitely make for the best cheap distortion pedal on the market.
</p> <h3>TC Electronic Dark Matter</h3> <p>
At number 2, we have yet another great distortion pedal for under $50, but this time, coming from TC Electronic.
This brand, much like Boss, offers a wide range of great distortion pedals, from the affordable ones to the more expensive models.
Dark Matter may look like it doesn't offer much, with its compact form factor and simple controls, but boy, can it shake your amp!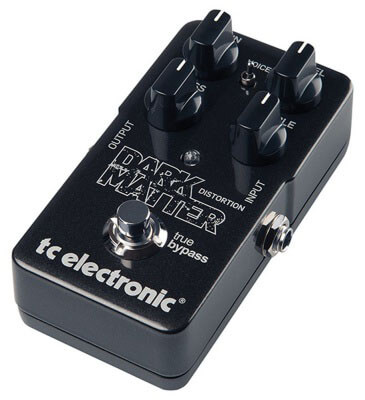 TC Electronic didn't cut any corners construction-wise. The body is made of metal, with no cheap or flimsy parts anywhere.
You can immediately tell it's a sturdy pedal just by holding it, as it has a nice weight to it as well.
In terms of controls, Dark Matter offers slightly more in this department.
Apart from the gain and level knobs which are pretty self-explanatory, you can adjust the bass and treble as well.
All of the mentioned knobs feel pretty precise, and are big enough and labeled clearly for easy use even on a poorly lit stage.
A handy little switch in the middle of the pedal allows you to adjust the bass response, for an additional level of control.
So, how does it sound? Played through a tube amp, the overdrive preset you can set up feels and sound great.
With this kind of performance, it's one of the best classic rock distortion pedal options on the market.
Given the fact that it offers more of a warm, old-school vibe, I wouldn't really recommend it for metal.
It's a great choice for rock and even jazz and blues if you're into using distortion for these genres. Just don't crank up the gain too much!
Pros
Very small and practical
Sturdy metal build
Offers true bypass
Warm yet powerful distortion
Cons
It could offer a bit more gain
All things considered, the TC Electronic Dark Matter is an inexpensive, good-sounding distortion pedal that's mainly focused on fans of that retro classic rock sound.
It's probably the best distortion pedal for tube amp use as this price range as well.
</p> <h3>Electro-Harmonix Soul Food</h3> <p>
Delivering amazing sounding pedals for more than 40 years, Electro-Harmonix is a brand name that easily finds its place in most, if not all pedal reviews.
Coming straight out of New York, EH proudly presents Soul Food, as one of their best distortion pedals.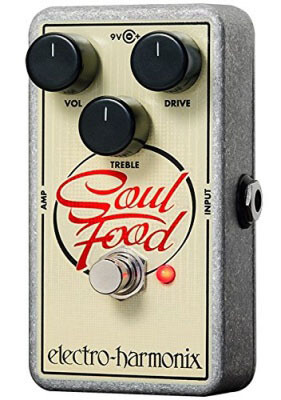 Featuring a very small yet sturdy metal shell, this pedal has a small footprint but can bring various interesting sounds to your pedalboard.
Electro-Harmonix went with a pretty simple approach, with only 3 knobs and a footswitch on the top of the pedal.
Volume and treble are pretty self-explanatory, while the drive control allows you to blend the perfect amount of overdrive or classic distortion.
If, however, you turn it all the way up, you can enjoy the fuzz, that sounds very similar to the Big Muff Pi!
Keeping that old-school vibe, but bringing new technologies to the table, Soul Food is amazingly versatile.
Depending on your needs, simple adjustments of the mentioned controls yield all sorts of different tones.
You can even choose from either true bypass, or the buffered one if you prefer that kind of a sound.
This is a feature that you can't easily find on other, competitor models.
Pros
Compact and durable build
True/buffered bypass options
A wide range of distortion modes
Cons
It can modify the EQ more than wanted/expected
Too much color for some guitarists
Soul Food by Electro-Harmonix is probably one of the most popular distortion pedals in terms of versatility.
A simple yet effective interface makes using this model very easy, with a wide range of different tones and colors to choose from.
</p> <h3>MXR M75 Super Badass Distortion</h3> <p>
You can hardly find a list of the top distortion pedals without at least one model from MXR.
Their M75 Super Badass Distortion, as the name might suggest, is known as the best distortion pedal for metal by many musicians out there. Let's see exactly what it can do.
Rocking a solid grey body, the M75 doesn't really care about flashy looks and bells and whistles.
All it has to offer is in terms of a full metal build and heavy sound.
Providing higher levels of control over the effect is always a good idea, so MXR included more knobs than the majority of other distortion pedals out there.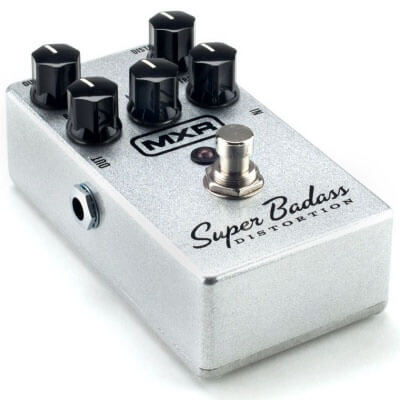 The distortion knob allows you to select the exact level of gain in the signal, while the output pot adjusts the balance between the dry and wet signal.
Besides these, there are also controls regarding the 3 band EQ.
No wonder the M75 is considered as the best metal distortion pedal, as for this genre, you really need to fine-tune your sound for the best possible performance.
If, however, you want a less aggressive sound, just dial down the gain via the distortion knob, and you can easily play rock or even much softer genres.
The versatility that this model offers is amazing.
Pros
Solid build
Extended controls over the sound
True bypass
Best MXR distortion pedal at this price range
Cons
It can be much louder than other pedals in the chain
As probably the best distortion pedal under $100, the M75 Super Badass is an excellent choice for anyone looking for some more grit in their sound.
The overall performance and EQ controls definitely make this model a great investment.
</p> <h3>Electro-Harmonix Nano Big Muff</h3> <p>
At number 5, we have one of the top metal distortion pedals for quite some time.
Electro-Harmonix made the Nano Big Muff, as a smaller, more compact version of their famous Big Muff Pi, but retained all of its tonal characteristics.
This one is my personal favorite, as I've had the pleasure of using it for around 8 years now (the original Big Muff Pi at least).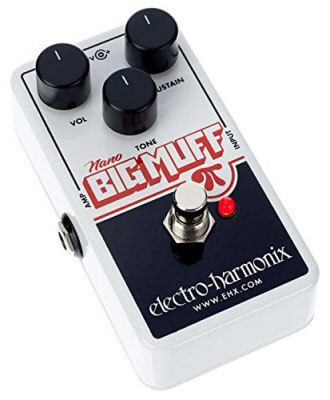 The controls have stayed the same as well, with only the volume, tone, and sustain knobs on the top.
Though there are many pedals in this price range that offer a higher level of parameter control, EH proved already that you don't need to overcomplicate things for a good sound.
I love dialing the sustain all the way to the top, for a crackling tone, with almost infinite sustain.
With the tone knob at around 12 o clock, the Nano Big Muff is tamed enough for it to sound like a regular distortion pedal.
But the fun starts when you max out the tone for maximum sharpness, or tone it down and see the concrete starting to crack beneath you.
Pros
Well known performance in a small package
Wide tonal range, either rich in bass or crackling with treble
Best bass distortion pedal in my opinion
Cons
A lot of background noise at certain presets
If you're looking for a distortion/fuzz pedal that has that old-school vibe but is pretty versatile as well, the Nano Big Muff is an excellent choice.
</p> <h3>Xotic Effects SL Drive Distortion</h3> <p>
Xotic has been around for quite some time now, and let me tell you, they sure know their way around pedals.
Their SL Drive model has picked up a lot of positive feedback through many guitar distortion pedal reviews.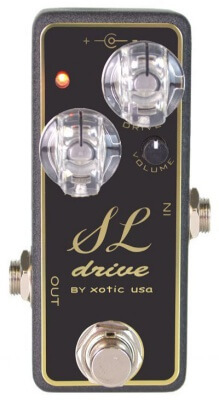 Rocking probably the smallest possible body, at least when compared to the models in this review, the SL Drive redefines the meaning of the word compact.
The 3 knobs on the top of the pedal offer precise control over the most important parameters.
Tone and drive are easily adjusted, while the volume knob is noticeably smaller, as to not get in the way.
However, the real deal is the fact that this bad boy features internal 4 switches, so you can experiment with the sound boost preset or the original one from 1959.
So, instead of having just the simple controls on the outside, you can double the presets by tinkering with the inside switch.
By doing that, you can push this pedal from a soft, grainy, almost clean tone, to a much more heavy one, with anything you can find in between!
What makes SL Drive one of the best analog distortion pedal options on the market is the fact that it truly manages to retain the natural sound of both the guitar and amp, while still providing excellent sounding distortion.
Pros
Crazy compact and lightweight
Easy to use
Provides that old school vibe
Best distortion pedal for Stratocaster at this price range
Cons
Though it offers a wide tonal range, there are cheaper pedals that offer more
All things considered, the SL Drive by Xotic is a great distortion pedal if you're looking for that hard rock, AC/DC kind of sound.
Though it can push out a more aggressive tone, I wouldn't recommend it for heavier genres than the one mentioned.
</p> <h3>Maxon 9-Series Sonic Distortion</h3> <p>
If you are a beginner guitarist, chances are that you've never heard of Maxon before.
However, guitar pedal enthusiasts and older musicians know why this company is known for their good distortion pedals.
Let's just say that Maxon is behind the legendary Tubescreamers!
Though at first glance this pedal may look like a cheap imitation of some other model, it packs quite a punch.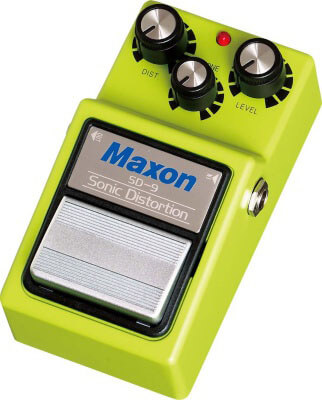 It seems that the focus was primarily on the performance, and not the looks!
With your standard 3-knob distortion, tone and level controls, this again seems like an ordinary distortion pedal.
But, it's the electronics that Maxon went with that make the whole difference in sound.
The 9-Series Sonic distortion manages to combine the best out of two worlds, them being the transistor and op-amp circuits.
What really sets it apart is that it provides noticeably more low-end than most other pedals.
Featuring up to 55 dB of additional gain, this is the perfect choice for anyone looking for a gain boost as well as a great sounding distortion pedal.
The sustain is pretty amazing as well, as you can almost compare it to the Big Muff, with the knob maxed out.
Pros
Very versatile and responsive
Unique sound, great lead distortion
True bypass
Cons
A tad too pricey
The highs can be overpowering
So, if you don't mind the bland design, and are looking for solid performance, the Maxon 9-Series Sonic distortion may just be the perfect pedal for you.
</p> <h3>EarthQuaker Devices Hoof</h3> <p>
From a small shop to a well-recognized brand in just over a decade, EarthQuaker Devices has shown that they are more than capable of delivering some of the best-sounding distortion pedals on the market.
The Hoof, although marketed as a fuzz pedal, can offer a lot in terms of both fidelity and versatility.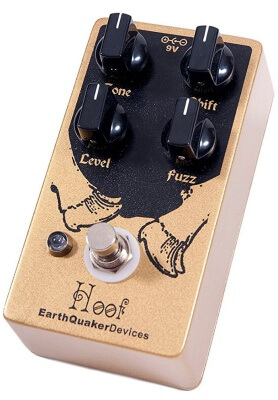 If you are old enough, you might remember the original hoof pedal. Well, this model is a remodeled and reworked version of that old-school classic.
However, the hoof didn't just get polished! The actual range of both the controls and the tone has been noticeably increased while maintaining the original feel.
With 4 knobs, tone, level, shift, and fuzz, operating the hoof is pretty straightforward.
You can easily use it for anything from a subtle yet crisp distortion to a, for some, over the top downright fuzz madness.
As it provides excellent low end, it can be used for bass as well, with the proper tone settings.
What really sets this model apart from other good distortion pedals is the shift control.
It allows you to tune in the right frequency response on the treble while keeping the lows nice and balanced.
Pros
Versatile tonal characteristics
Great for both guitar and bass
A must-have for stoner/doom metal
Cons
Coupling it with other pedals can be a bit tricky due to the gain it provides
So, if you're looking for the most versatile distortion pedal that, at the end of the day, is capable of delivering a great sounding low end, the Hoof from EarthQuaker Devices is, without a doubt, an excellent choice.
</p> <h3>ProCo Sound FATRAT</h3> <p>
At number 9, we have the FATRAT from ProCo Sound. Considering the around $200 price tag, it's clear that this one is meant for the professionals and pedal enthusiasts.
RAT pedals are, much like the previously mentioned Hoof, somewhat of a classic.
ProCo Sound put out many variations of the original pedal, but the FATRAT definitely offers features special enough for us to include it in our review.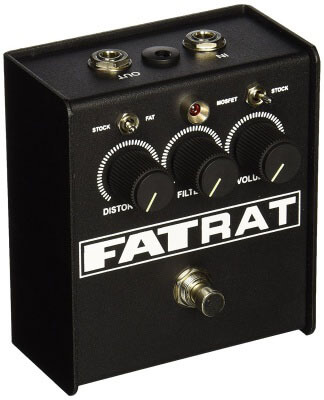 Without getting too much into detail, this pedal offers a choice between original or MOSFET clipping circuits.
The first one makes for a more classic RAT sound, with a relatively wide range of different tones you can set up.
However, it's the MOSFET circuits that really amp up on the versatility, giving this model a unique sound.
The transition between the mids and highs is much smoother, while the vibe remains the same.
It's more like you have an additional amp you can tinker with.
With a noticeably more prominent low end, the FATRAT can easily be used as a bass distortion pedal as well, with many bassists opting for only this model as a part of their rig.
Pros
Guitar and bass friendly
Unmatched tonal versatility with the interchangeable circuitry
Fat low end, smooth upper mids
Cons
Lower build quality than the original RAT
A bit genre-specific
Offering what most musicians describe as a very dirty and gritty tone, the FATRAT by ProCo Sound may just be the best heavy metal distortion pedal.
</p> <h3>Wampler Plexi-Drive Deluxe</h3> <p>
And finally, at number 10, the most expensive of them all! The Plexi-Drive Deluxe by Wampler is a great example of the top line of distortion pedals.
However, is the just under $250 price tag justified?
As the name suggests, this model offers an imitation of the vintage plexis we all know and love.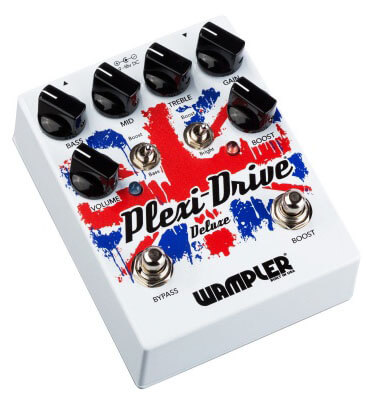 Luckily, as technology has advanced, we are able to utilize this old school sound in a much more convenient form factor.
The controls are once again pretty simple. Besides the regular old 3-Band EQ with bass, mid, and treble parameters, there are only 3 more knobs to play around with – volume and boost.
But hey, what do the two small toggle switches do?
Well, the bass boost switch is there to simulate the sound and the bass kick of your standard 4×12" cabinet.
On the other hand, you can utilize the second switch, the bright toggle, for more accent regarding the highs.
This is especially handy if you're using humbuckers on your guitar.
If the Brittish flag print on the actual pedal wasn't enough, we'll go ahead and say it.
If you have an idea about how vintage plexis sound, there's no need to listen to a demo of this pedal. It's pretty much on point.
Pros
Very versatile
Goes great with dark-toned guitars
Vintage vibe
Cons
The gain boost can be a bit hard to control
Whether it's hard rock or heavy metal, the Plexi-Drive Deluxe is probably the best Wampler distortion pedal you can get.
Just make sure you've saved up enough money for it!
Wrapping things up!
So, you've seen the most important specs, features and factors you should consider when buying a distortion pedal.
After reading our reviews, you may still be wondering: What is the best distortion pedal I can get?
Well, if you're still not sure, take a look at our recap:
Well, that's pretty much it!
Before actually buying any of these, we highly suggest that you listen to the demos online, whether they're on the official brand website, or on YouTube.
We hope that you had fun reading this article and that it helped you.
Thank you very much for reading, and we'll see you in the next one!