Shopping for an electronic drum set can be daunting. There are many brands, many models and lots of variation in price. In this article, we will discuss some of the best electronic drum sets under $1000. We will go into detail as to what makes them such good value, what are the pros and cons, and hopefully shed some light on any questions you may have.
Here are the best electronic drum sets under $1000:
1. Alesis Surge
The Alesis Surge electronic drum set is a great little kit and packs in some whopping great value. For around $500 you can purchase a 5-piece mesh drum kit with 3 cymbals. Unlike a lot of kits in this price range, this kit features tensionable mesh heads on the snare, toms and the bass drum.
Anyone that is familiar with drum kit playing will know the benefits of a mesh drum head. Mesh head closely resemble the Mylar heads which are typically used on real acoustic drums. Having a mesh bass drum is the icing on the cake of the Alesis Surge drum kit.
All heads are replaceable and tensionable for a custom feel. The cymbals are chokable which means you can mute the sound once played, like you would do with a real acoustic cymbal. You can also play the rims of the snare and toms. This is a huge benefit as it doubles the amount of sounds you have at your disposal.
There are 385 sounds on the drum module and with playable rims, you can easily add auxiliary percussion instruments like cowbells and woodblocks to your arsenal of sounds.
There are play-along songs included in the module too. These songs are great for working on your timing, musicality and technique. You have full control over the tracks and can adjust the tempo as well as remove the drum parts. This is recommended if you want to jam over these tracks for fun.
The Alesis Surge can be used as a MIDI controller kit with your DAW too. Just plug it in using a USB cable and you can assign the drum kit on your computer. This opens up a whole new world of possibilities as you can use the Surge kit with any drum VSTs for potentially endless kit configurations.
At around $500 the Surge Mesh drum set from Alesis represents extremely good value. The sounds are not the selling point of this kit. The selling point is the mesh heads and the connectivity. Also some of the on-board coaching tools are a lot of fun to play around with. All in all, great value.
2. Roland TD-1DMK
The Roland TD-1DMK is a good beginner electronic drum kit. This kit is aimed at people, kids or adults, who are looking to start playing drums as a hobby. This kit has almost everything you will need to get started, except for a few pieces of hardware which we will discuss later.
The setup is a familiar 5-piece, five drum kits with 3 cymbals. The cymbals are hihat, ride and crash. Like the Alesis Surge, this drum set has mesh heads for the snare, two rack toms and the floor tom.
There is a rubber pad mounted to the bass drum tower which can handle single and double pedals. The hi-hat is mounted to the drum rack and below lies a free-floating hi-hat pedal.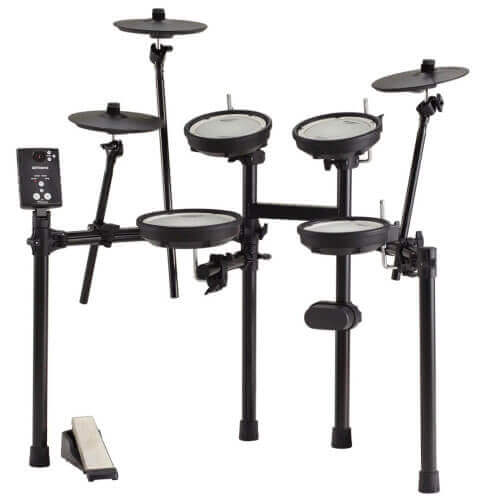 Image credit: Roland
Check Price on Sweetwater
The drum pads themselves have 5 lugs which can be used for tensioning the drum heads. You can remove these entirely if you need to replace the heads.
There is a little plastic rim around the edge of the playing surface which is not on better models of Roland electronic drums. This plastic rim effectively reduces the playing area. The bass drum pad is small but can just about handle a double pedal with standard beaters.
Just like the drum pads, the cymbal pads on the Roland TD-1DMK can be assigned to any of the on-board samples. They are quite small but give a decent stick bounce when played on.
There is 256 notes of polyphony on the drum module which really means that up to 256 samples can be triggered at any one time. This is more than enough, even when you take into account the samples which are used in some of the backing track songs.
There are 15 play-along songs as well as coaching tools and a metronome. For silent practicing you can plug a pair of headphones in and play away without bothering anyone. Take your pick of any of the 15 built-in drum kit presets. You can play around with different voices and effects such as reverb which make the drums sound like they are in different rooms or on stage.
If you like to work with computers and digital audio workstations then you'll be pleased to hear that the Roland TD-1DMK works with MIDI USB. You can plug this electronic drum set into your computer and use it to control your favorite VST instruments.
This is extremely useful when composing songs and way quicker and more convenient than building a MIDI track manually with a mouse.
All in all the TD-1DMK retails for around $700 which is not a bad price considering the fact that Roland kits generally don't devalue quickly over the years.
3. Alesis Command Mesh
The third kit on our list of the best 1000-dollar electronic drum sets is the Alesis Command Mesh. This drum set is, as the name suggests, full mesh. It has 5 mesh drums and 3 cymbal pads. The pads all have rubber rims and tunable lugs. You can adjust each head to just the right tension for your playing style.
The snare is 10 inches in diameter, which makes it the biggest drum on the Command Mesh kit. The two rack toms and the floor tom are 8 inches in diameter. The drum feel good to play on any they stay comfortably in place thanks to the Alesis mounts on the rack system.
The drum module can be positioned just alongside the hi-hat cymbal pad. Pedal-wise, there is no hi-hat stand in this setup, so it comes with a free-floating hi-hat pedal. The bass drum pad is large enough for any size double or single pedal. The tower is quite stable and the room noise generated while playing is minimal.
There are 70 drum kits, 50 preset and 20 user, and a total of 629 sample sounds on the Command drum module. These sounds can be customized further by altering the pitch or adding effects. There's an Aux-in on the module too so you can play songs through the unit for play-along purposes.
There are two main outs which you can use for sending a stereo mix to a P.A. system at gigs or rehearsals. If you like to play with a monitor there is also a headphone out which can be used with a pair of headphones or any powered speaker system.
The Command module can also be connected to your PC or Mac to be used as a controller drum kit. There is a USB MIDI connection so you can easily integrate the Command Mesh kit into your virtual instrument drum collection.
The only downside to the Command Mesh kit is really the free-floating hi-hat setup which is not as playable as using an actual hi-hat stand. That said, this drum set offers great value for money at just around $700 online and in most stores. It's no surprise that the Alesis Command Mesh drum set has become one of the most popular electronic drum kits to purchase.
4. Yamaha DTX402K
The DTX402K is one of Yamaha's inexpensive entry-level electronic drum sets. It's a typical 5-piece drum kit setup in that it has a snare, a bass drum and 3 toms. There are also 3 cymbals with the DTX402K.
Unfortunately, or fortunately, depending on what you are looking for, the DTX402K comes with two free-floating pedals which function as controllers. This essentially means that the kit does not ship with either a hi-hat stand or a bass drum tower.
If you're a fan of the lightweight and portable convenience of free-floating pedals, then this will be a bonus. If, on the other hand, you prefer the feel of playing on real drum hardware, then this might be a deal breaker.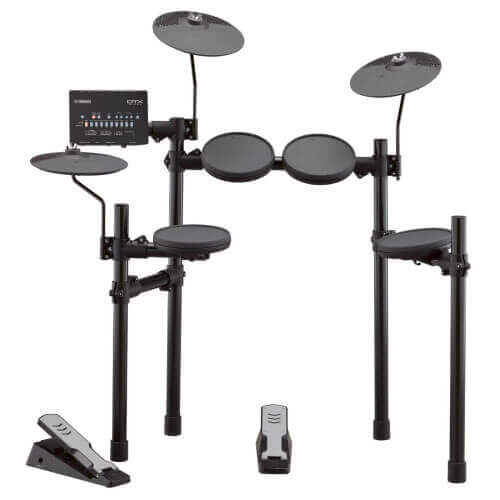 Image credit: Yamaha
Check Price on Sweetwater
The four drum pads, snare and 3 toms, have a bouncy rubber-type surface. This surface is closer in response to most practice pads than any mesh equivalents. The bass drum is a similar material and fits single and double pedals.
The cymbals are all 10 inches in diameter while the snare and tom pads are all 8 inches. Each cymbal is chokable, which means you can silence the sound trigger simply by grabbing the edge of the cymbal.
The real selling point of the Yamaha DTX402K is the drum module. This impressive module comes with 10 drum kits and over 280 drum sample sounds. There is also a host of effects that you can apply to each drum kit as you like. The module has some coaching tools which work to improve your timing, speed and accuracy.
The DTX402K would suit someone who needs a cheap electronic drum set but has limited space. The kit itself is quite small and can be neatly packed up for transportation. The rack poles which hold the hi-hat and the floor tom can be folded in so that the whole kit takes up less than a few square feet.
On the downside, this kit has no mesh drum heads and that can mean that the playing surface is a little noisier than usual. Rubber pads are fine when it comes to stick response but they are known for being louder than mesh heads. This may be an issue if you plan on playing the DTX402K in an adjoining bedroom or upstairs in a residence with little sound insulation.
Also when it comes to the bass drum and hi-hat the DTX402K has lightweight pedals. Free-floating pedals are not as noisy to play on as regular stands and pedals. They do lack the realism but if that's not an issue then this kit may be for you.
5. Alesis Nitro Mesh
Next up is the Alesis Nitro Mesh kit. This electronic drum set is an excellent starter kit. It usually retails just under the $400 price mark online and in stores. For the money you get five drum pads and three cymbals. There is also a drum rack on which to position the pads and also a drum module which stores all the sounds and connectivity.
Four of the drum pads are mesh heads. They're tough and tensionable with drum key so you can customize the stick response to your liking. There is mesh on the snare, the two rack toms and the floor tom too. The mesh drum pads are all 8 inches in diameter.
On the bass drum there is a rubber pad, which is common with entry-level electronic drum kits. This pad can accommodate either a single or a double pedal to play with. The response is quite dead with a little rebound, which is close enough to most bass drum batter head responses.
There are 3 cymbal pads with the Nitro Mesh kit. They are all 10 inches in diameter. The hihat cymbal pad is rack mounted so there is no hihat stand required or supplied here. This is perhaps one of the main disappointments of the Alesis Nitro Mesh Kit. The other two cymbals can be used as a crash and a ride. All pads connect to the Nitro drum module by way of a connector cable.
On the module itself are 385 built-in sounds to choose from, including a host of different drum kit types and styles. There are acoustic studio kits and digital FX kits as well as some percussion thrown in for good measure.
If you're a fan of playing along with tracks you'll love the fact that Alesis have included 60 play-along tracks too. These range in tempo and style from fast rock to slow blues and more.
If you like to tinker about with sounds and create custom kits, Alesis have you covered also. You can modify any of the existing drum and percussion sounds and even add effects to them. There are 15 empty sound banks in which to store your custom kits.
6. Roland TD-17KL
The TD-17KL comes in at just one cent under our title budget. It's a good mid-level electronic drum set with some sounds which have been inherited from the superior TD-50 module.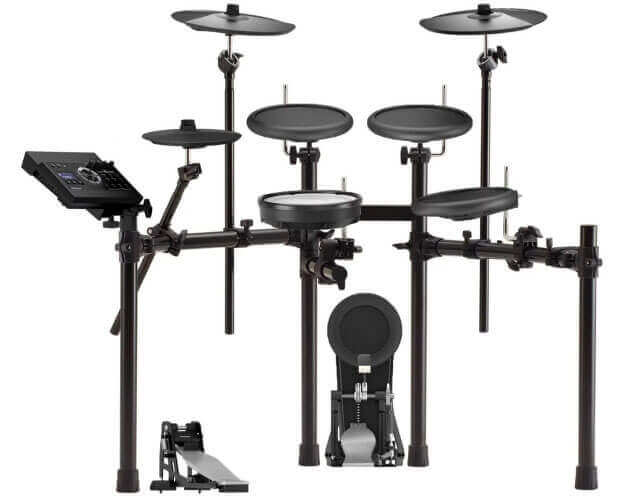 Image credit: Roland
Check Price on Sweetwater
Looking at the drums first and we see that Roland have shipped the V-Compact Series with a mesh snare drum. Unfortunately the tom pads are of the rubber-type. This kit has 5 drums and 3 cymbals. There is a bass drum tower and a free-floating hi-hat pedal included.
For an extra 200 dollars you can get the upgraded TD-17KV which is the same kit and module but with mesh heads on the toms and a larger snare drum. There is also the option to pay an extra $700 and get the fully mesh kit but with a hi-hat stand setup too.
Roland are known for producing some of the best-selling electronic drum sets. This kit has some decent sounds on-board and some nice little coaching functions also. It works as a controller kit with USB MIDI too so that will please the home recording enthusiasts too.
7. Alesis Turbo Mesh
Last on our list of the most popular and best electronic drum sets for under $1000 is the Alesis Turbo Mesh Kit. As the name suggests, you get mesh with this kit, namely on the toms and snare.
The pads are 8 inches in diameter and tunable/replaceable. Both the hi-hat and bass drum pedals are free-floating so that's where Alesis have cut corners (in case you were wondering why this kit is only around $320). Sounds on the module are not astonishingly good, but in all fairness, that is to be expected at this price range.
This kit is cheap and cheerful and would suit someone who is looking to get into drumming without forking out a lot of cash. It works well as a beginner starter kit and has the usual practice features such as headphone ports for silent practice.
Conclusion
We hope that you have enjoyed reading about some of the best e-drums under 1000 dollars. Our list has been painstakingly researched to provide you with the best advice around purchasing an electronic drum set.
Whether you're looking to purchase your first kit, or you're an established drummer looking for a digital drum kit solution, there's something in there for everyone.