The 7 best kid's violins reviews will help you choose the best violin for your child. There are a lot of choices out there when it comes to choosing a child's violin.
Your child does not have to be a prodigy to enjoy playing the violin. Studies have shown that children that learn to play an instrument early on actually do better with other subjects in school.
There is evidence when a child can play an instrument they excel in the hard science subjects like math.
Buying your child's first violin is serious business since it will affect not only their love of music but also how much they gain from having the violin.
There are a few things you should keep in mind when you are searching for the perfect violin for your child:
Size matters
Even a prodigy has to start somewhere
Hang on to your money and don't go overboard
Invest in a complete outfit it will save you money
The size of the violin and the size of your child matter when you are choosing a violin.
For instance, if you have a 7-year-old that is big for their age then you may want to consider a size that is more appropriated for a 10-year-old than for a 7-year-old.
If your 10-year-old is a small 10-year-old than you want to look at a size that is more appropriate.
Typically, 10-12 year olds and above play full size adult instruments, while children under 10 or of small stature will play the smaller sizes.
Size matters when it comes to the child's ability to handle the violin comfortably.
When we considered the 7 best kid's violins reviews we looked at different size groups to give everyone a good sampling of what is out there.
The right sized violin at the right price is a great find so we tried to offer you a full range of sizing and prices.
No matter how good you think your kid is going to be at playing the violin you want to keep in mind that every child prodigy had to start with an instrument that was certainly not a Stradivari.
Don't go overboard in your selection of the violin, it can be very tempting to go out and buy the best of the best because you believe that your child is meant to play the violin. Don't do it!
Every parent believes that their child is special and your child is special but they may not be specially inclined to play the violin.
Hang on to your money and choose one of the 7 best kids violins that we reviewed that are fairly priced.
It is always best to invest in a complete outfit. You get everything you need all in one kit and you do not have to buy it all in pieces.
We also suggest that you buy an outfit so that you know that the bow size matches and you do not have to try to find one that does.
We reviewed tons of violins to find the best violins for kids to keep you from having to do all the work on your own.
Here are the 7 best violins for kids and why we choose them!
Please note that the violins are not listed in order of precedence, they are all great choices!
1/8 Violin Starter Kit
This is a great starter kit for young children 4-5 years old. It is very low priced. The back, front and sides are made from composite wood while the fittings are made from durable plastic.
The outfit comes complete with cake rosin, horsehair bow with ebony frog and a nice case that is lightweight.
This is the perfect size for little hands and is a great starter set.
ADM 1/4 Solid Wood Student Violin Starter Kit
This is one of our favorites because it has all the bells and whistles. It is really a beautiful instrument that is lovely in its traditional look.
It has a solid maple back and sides, a spruce top and a rosewood fingerboard. It is hand rubbed with a red/brown lacquer to give it a really rich look. The outfit comes complete and then some.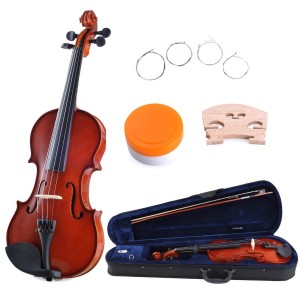 You get 2 maple bridges, extra strings a really high quality hard case and brazil wood bow with horsehair and a rosewood frog.
The best part is you get it all for a great price! The bridge may have to be adjusted a bit but overall a good choice.
Mendini 1/2 MV Solid Wood Violin
This model comes from Cecilio who is famous for creating really great student violins that are affordable. It offers a solid spruce hand carved top with solid maple back and sides.
It is a really well-made violin that looks great, feels great and plays great. It comes in several different colors with a matching bow. The outfit is complete and very affordable.
As an added bonus you get a violin from Cecilio that comes with a 1-year warranty against manufactured defect.
It is a solid option. Most people that have purchased it have recommended it to others.
ADM 4/4 Student Violin Starter Kit
This is another model by ADM but it is a full size model.
This models are a great option because it is made of select woods like maple for the back and spruce for the top and it comes with every single thing you need to get started.

It offers a shoulder rest, 2 bows, extra strings and other added value items. If you buy this outfit you do not have to buy anything else to get started.
It comes highly recommended by people that have purchased it.
D Z Strad Violin Model 100
This is the student model you buy when you know that your student is on the path to something permanent.
This is an expensive model-when compared to the others – but it is one of the most recommended violin models by teachers.
It uses rich tone woods for a beautiful finish and a great sound. It is really a well-built model that holds its tune.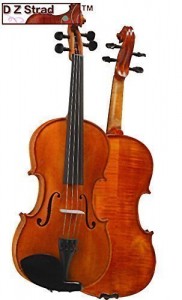 This is a full size student model but frankly it would make an excellent intermediate option as well. It comes complete with rosin, bow and case.
SKY Brand New Children's Violin
This is for the little kids. This is the perfect size for small children. It is a nice outfit that comes complete case, bow and rosin.
We like this model because although it is a child's size violin it is not made of plastic like some models are.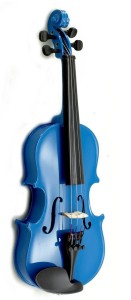 It is all made of hardwoods and painted with a hard lacquer finish. This is a quality instrument that is worth paying a little more for.
SKY 1/10 Solid Maple Wood Violin
We love this model because the outfit is complete and the violin is the ideal weight for little hands to practice with. It comes with a shoulder rest, a case, a bow and a rosin.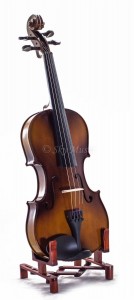 It is beautifully flamed on the back and is constructed of beautiful tone woods. The back is solid maple, the front is solid spruce and even the fittings are all hardwood (which you normally do not find in a child sized violin).
The pegs are all made of maple as is the chin rest, neck and fingerboard. This is an excellent well-made violin.
Overall
Choosing a violin does not have to be stressful although without a little bit of help it can be.
There are so many choices out there and sometimes you just do not know what you are going to get.
You want your child to be encouraged and to enjoy their instrument but you want to also make sure that it does not drain your bank account at the same time. It is a tight rope.
We tried to take some of the stress out for you and hope that it helps you find the best violin for your wallet and your child!
Learning to play an instrument is an exciting time! Choosing the right instrument for your child will help them to enjoy the process.
We hope that these 7 reviews will help you to decide which violin will be best for your child.
Stay within your budget (there are plenty of really good options) so you do not stress over the investment and push for practice time too much and let your child enjoy their violin.