Yamaha has long been respected as a leader in piano technology. The Yamaha Arius line offers a variety of home digital pianos for every price point and player level. Read on for our Yamaha YDP-181 review.
Overview
All Yamaha Arius digital pianos are designed to be what's considered a "home digital" piano, not a portable keyboard.
If you're looking for a portable digital keyboard, you'll want something else, as these models all include beautiful cabinetry and require setup upon delivery.
The home digital takes the place of an acoustic upright or grand piano in your home and is meant to stay in one location.
Each Arius piano is designed with features to allow the piano to grow with the player, no matter where they're starting.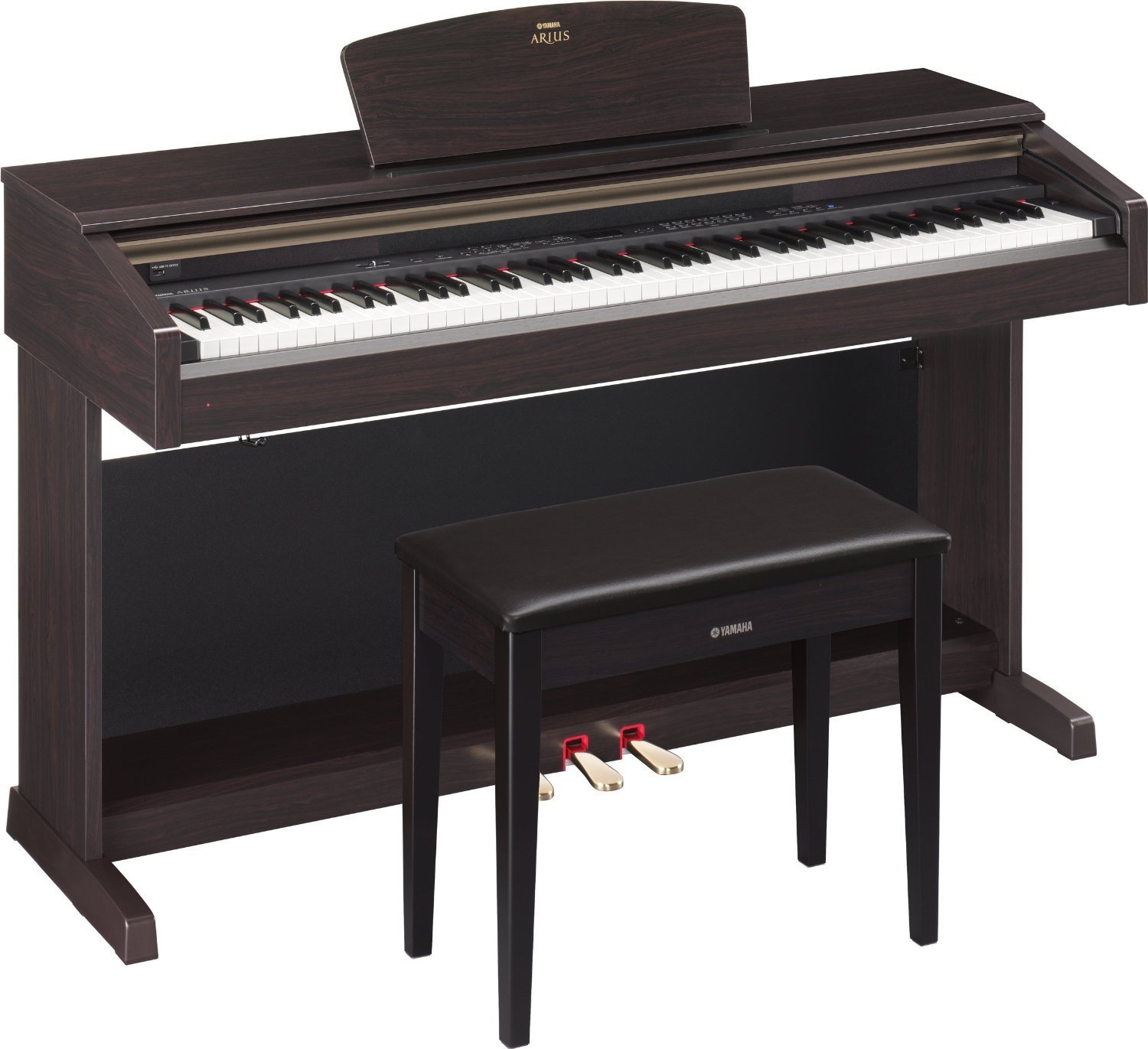 All Arius pianos include all three pedals (damper, sostenuto, and soft) along with a full 88-key keyboard.
They YDP-181 includes the ability to "half-pedal" – so the amount of sustain will increase with how firmly the pedal is pressed.
Each Arius model also allows you to blend two voices at once for a fuller sound and you can even record your own performances directly into the piano.
The Yamaha YDP-181 features a Graded Hammer (GH) keyboard action with plastic keytops.
This means there's more resistance in the bass and less in the treble – just like on an acoustic piano – and there's an additional sensor so the keys respond just like an acoustic piano would.
Digital Features
The digital features of the Yamaha YDP-181 really shine in a home digital for this price point.
Fourteen voices are included, but again, if you're looking for a home digital, you're seeking an acoustic piano replacement, not the large sound banks often found in portable keyboards.
Our YDP-181 review also noted a 128-note polyphony – so many of the most intricate and complicated musical selections will be heard clearly.
Ten demo songs and 50 play-along songs are programmed into the YDP-181 – and the 50 play-along songs are also featured in an included songbook to help you learn to play.
Of course, a built-in metronome will help your rhythm while you learn.
The YDP-181 also features a 7-segment LED screen that allows you to see which features you're using – a step up from entry-level models.
Along with the built-in features, the YDP-181 can be connected to your computer or iPad and used in conjunction with a variety of music-learning apps straight from Yamaha.
Once plugged in, you can read the music on your computer screen, select from a large range of learning and playing options, and start playing.
The apps allow the piano to acccompany you and help you learn in a fun, engaging way – no matter your preferred style or current level of playing! Your computer or device can also act as a visual controller for any other features you may wish to use.
Two headphone jacks are built-in which allow you to play (and practice!) silently – and also allow for a teacher to listen with you without the whole house hearing you.
This may be one of my favorite features as it allows me to work on new music – including all the wrong notes! – without anybody else hearing how much work I've had to put in!
Pros
Graded Hammer action– the keys feel just like playing an acoustic piano
Simple, elegant cabinetry – this home digital piano looks like an acoustic piano in your home
LED screen
Digital pianos never need to be tuned – you don't need to worry about maintenance or where you place the piano
Auto power off – if you forget to turn the piano off, it will automatically turn off after a set length of time
Plug directly into your wall socket – no need for an adapter
Advanced Wave Memory (AWM) Dynamic Stereo Sampling – the voices were all created from recorded audio samples from the respective instruments for a true, expressive sound
Step up from entry-level home digital pianos
Cons
Not actual hammer action – this would be more of a con for a very discerning player as the action is very good, but does not have built-in hammers
128-note polyphony versus 192-note polyphony available in some other models
Not a portable digital keyboard
May be out of budget for beginning players
Conclusion
The Yamaha YDP-181 is an attractive option for a home digital piano for players of all levels.
As you can see, there are far more pros than cons in the above list!
The graded action feels great under the hands, the authenticity and expressiveness of the included voices ensures a realistic performance, and the built-in digital features really take your musical experience to a new level.
Who is the Yamaha YDP-181 for?
This home digital piano is an excellent option for a serious beginner, a student looking to step up from a portable keyboard, a family with multiple musicians at all levels, or the musician who wants a maintenance-free, apartment-friendly instrument.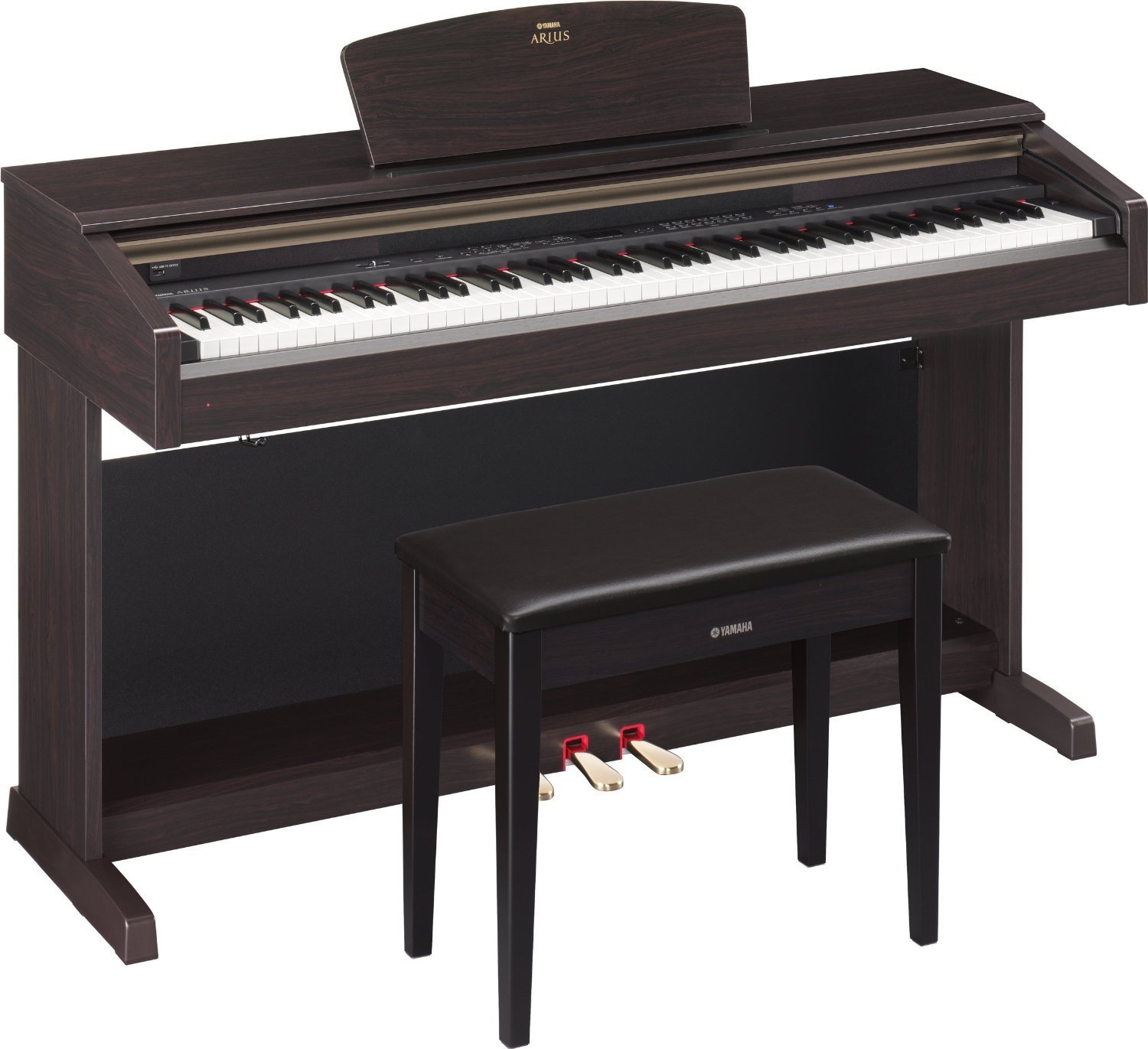 The YDP-181 allows you to learn and grow while remaining one of the more affordable home digitals on the market.
The ability to play and practice with headphones makes it a fantastic option for those in apartments, and no need for tuning means you simply need to plug and play and your notes will always be in tune.
Who may wish to look for other options?
The YDP-181 is not a portable digital piano. If you're looking for a digital keyboard you can take with you, this isn't the piano for you.
It also may not be the right instrument if you're looking for a true acoustic piano. Nothing is exactly like a real hammer action and if you're a very advanced player with an extremely discerning touch, you may prefer an acoustic piano.
Bottom line: in our Yamaha YDP-181 review, we found this to be a wonderful home digital piano for both beginning and advanced musicians alike.
It's priced below comparable models, making it a great mid-level home digital, and its features will allow you to grow in technique and ability for years to come without needing to upgrade.
Happy playing!