In this article we will talk about the best electronic drum sets available on the market in 2019. We'll also do electronic drum set reviews at different price points and see which electronic drum kit would be best for different situations.
If you are looking to find an electronic drum set that fits you and your lifestyle, you should answer these questions that will be solved in this review guide:
Top 10 Best Electronic Drum Sets for 2019: Reviews
Here are the 10 best electronic drum sets 2019:
Best Overall:

Yamaha DTX562K

As one of the best electronic drums sets under $2000, the Yamaha DTX562K is a premier kit. If you can imagine it, there are almost 700 sounds for you to enjoy. There are even 128 keyboard sounds, too.

The hi-hat system allows for an authentic feel every time you strike it. This top rated Yamaha electronic drum set comes with 3 toms, 2 cymbals, a hi-hat, and a bass drum.

This model is less than 35 pounds, allowing it to be moved around with ease. In terms of connections, there is an output jack, AUX-in, USB, and a headphone jack.

If you are a fan of different kits, you have 50 to choose from, so good luck finding the right one for you.
Very responsive module.
Top-notch sounds.
Easy pad positioning options.

Kick pedal is not included.
No extra inputs to add more drums.
The DTX562K is really one the best electronic drum kits money can buy. The sounds are professional, and you can even add reverb to heighten the sounds to the next level. With muting, choking, and swelling abilities for your cymbals, you might start to believe these drums are not electric after all.
Best Value:

Alesis Nitro Mesh

The Alesis Nitro Mesh is a high-quality electric set that can really change your world. As a top electronic kit, the set includes 3 toms and 1 snare that are made from mesh.

With a bass tower, a high-hat pedal, and 3 cymbals, you can expect greatness from this professional set. The snare and tom pads are all 8 inches, while the crash cymbal measures out at 10 inches.

You can choose from 40 different kits to play in any setting. 385 sounds dot this kit with a plethora of sounds and styles to fit all environments. You can even play with over 60 preset songs already in this best electronic drum kit. There are connections for an MP3 input, USB, MIDI, Stereo, and a headphone jack.
Quick kit editing.
Pads feel like a real set.

Sounds are a little hollow.
As a best value electronic drum kit, you can expect this to be one of the best electronic drum set for practice. It probably would not be great in a live environment, but for practicing around in your home or apartment, this electronic option is for you.
Best Budget:

Yamaha DTX402K

The Yamaha DTX402K is the best digital drum kit on a budget. With amazing connection features that use USB, auxiliary, and a headphone output, you can add the music and sounds you want to play with.

Electronic drum reviews love this digital trap because of the 4 pads that make up 3 toms and 1 snare. There are 3 cymbals with 1 being used for the hi-hat. A hi-hat pedal and a bass drum tower make up the work you can do with your feet.

Digitally, you can work through 10 different kits sounds to mesh with your drum-playing mood. Another 287 sounds can vary your playing style even more.
Some of the best sounds around.
Cymbals have a great feel.
App for drum training.
Ideal for beginners.

Toms can't be repositioned.
This top-rated set is aimed to help people starting out on drums for the first time. Also, if you have limited funding, this Yamaha set will not put you into debt. The DTX402K is for sure one of the best cheap electronic drum sets for beginners.
The kit is quite quiet and feels as natural as a traditional drum set. Along with the great sounds, there are keyboard sounds, kits that are customizable, and reverb actions to add to your set sound. The more you are challenged on this set, the better you will be.
Best Portable:

Roland TD-1K

The Roland TD-1K is another best electronic drum set under $1500. As an entry-level set, Roland has created an option to get your feet wet.

The set includes 4 rubber toms, 3 cymbals, a drum pedal, and a hi-hat pedal. There are up to 15 kits on this device that can be manipulated the way you want them.

Additionally, there is a metronome to play along with as well as "Roland's Rhythm Coach." This feature allows for a digital coach to help you improve without paying for a costly teacher.

Furthermore, there are up to 15 songs that you can play along with built into the system. In terms of connections, there are 3 choices: AUX input, headphone output, and USB.
Soundless bass pedal.
Strong and durable build.
Rack designed to save space.

Difficult set-up.
Not able to record.
For a start-up, this is a good electronic drum set. After you get better, it may be time to find something a little more advanced. However, this set could definitely suit you for a few years, to say the least. At less than 30 pounds, this electronic drum set is very portable, so you can take it almost anywhere you want.
Best for Beginners:

Tourtech TT-22M

You may have not heard much about Tourtech as a high-end option, but you should put it on your possible shopping list. This selection is one of the best electronic drum sets for the money.

Beginners love this trap because they get to pound away with the sounds that are available. With this model being one of the best digital drum set options, you can expect it to be made out of strong mesh material.

The set includes 3 toms, 1 snare, 1 bass tower, a hi-hat pedal, and 3 total cymbals. This Tourtech model has 26 astounding kits that makeup over 450 sounds. You can even connect more sounds and music through an AUX input, USB, MIDI, and headphone jacks.
Very affordable.
The box has everything you will ever need.
Hardware is built to last and last.

Very few models to purchase.
Sounds get old quickly.
Tourtech makes an exquisite product here. Superior Drummer is even involved in the process by making additional software if you want to upgrade your set through Tourtech. With this update, there truly is nothing you can't do with this amazing model. You have definitely found the best electronic drum set here.
Most Versatile:

Alesis Strike Pro

The Alesis Strike Pro is another versatile option you should take a close look at. It is the best electronic drum set under $3000. With 8 or 11 kit options, there is a lot you can get out of this Alesis.

The digital performance module uses an LCD screen that is in full color. There are new sounds that are great for sampling or for live performances. A software editing system really allows you to create the sounds you want for each drum pad or cymbal.

One stellar feature with this expensive option is that there is a wood shell that protects every mesh pad. This is perfect if you accidentally knock part of your kit over. In turn, it will not break because it is structurally sound.
Great for intermediate drummers.
Amazing feeling with these drums.

Top Roland drums sound better than this Alesis.
Not for a professional drummer.
As a top electronic set, the Alesis Strike Pro may be one of the most expensive on this list, but it can do more than any other drum on this list, too. If you like customization, there is none better than this Alesis model.
Best for Practice:

Roland TD-1DMK

A best electronic drum set is in the form of the Roland TD-1DMK alternative. This set includes 4 mesh-made toms and snare, a bass drum pad, and 3 totally cymbals.

You will have plenty to play through with 15 kit options. This allows for over 250 sounds to work through. Also, you can play with music you like by connecting it through the mini-jack, USB, and the AUX-in.

This electronic set is perfect for drumming that feels like a traditional trap. Beginning students will love to practice with this option, and there are free lessons that come standard with this electronic set.

As you continue to progress and grow as a drummer, you can add a double-kick pedal to fill up the sound even more.
Set is top quality.
Small and compact.
Amazing mesh make-up.
Pads can be choked.

Limited model options.
Very heavy construction.
Since Roland is the top dog overall in the electronic drumming world, this trap is great for playing any kind of style from jazz to rock. The assembly can be frustrating. However, after you have it all put together, you will have a ball with your new toy.
Best Appearance:

ATV aDrums Artist Standard

You may not be familiar with aDrums as a brand, but get yourself familiar. This is truly one of the best electronic drum set to buy. It is perfect for practicing, as well as playing live on the stage, too. Additionally, it a best electronic drum set for recording option, too. There is really nothing this set can't do.

The first thing you will notice about this electronic set is it looks like the real thing. You might even be fooled yourself that it is electric at all.

Next, as you start to play it, you will notice these drums have a great feel to them. With most hi-hats, on an electronic set, struggling to be accurately responsive, you will not have that problem with the ATV aDrums.

Each set includes electronic drums made of birch for the bass drum, snare, and tom. Moreover, there are 3 cymbals for you to use as well.

5 kits allow you to play through a grouping of sounds, and there are 6 connection options to play along with the music you love while adding new sounds to your trap.
Traditional drum look.
Sounds are alert across the board.
If you are looking for a drum set that is responsive enough for practice, live play, and recording, you have come to the right kit. The sounds are like the real thing, so you will not feel you are playing on hollow equipment.
Best for Recording:

Roland TD-50KVX

When looking for a recordable electronic drum kit, check out this Roland model. A multi-track recording can connect straight to a computer, so you will be good to roll.

As a top quality choice, this Roland is the real deal. Its make-up is powerful, bursting with potential. Each kit includes 2-floor toms at 12" each, 1 10" rack tom, a snare pad, a hi-hat, a ride, a crash, a dual crash/ride, and a bass drum.

This model as the most kit sounds on this review at 100. 50 of these kits are pre-installed, but you can add more over time. Roland's technology makes this set fell and play like a real, traditional trap.
Programmable pads for what you want.
SD card slot allows for new possibilities.
Updated pad tech.
The Roland TD-50KVX uses a new sound engine called "Prismatic Sound Modeling." This revolutionary technology has opened up a ton of possibilities in the electronic drum world that has never been seen before. If you have the money to fork out, this model will wow you in new and exciting ways that you never thought were possible.
Best Under $2000:

Yamaha DTX720K

The Yamaha DTX720K might not be the best compact electronic drum kit, but it is definitely one of the best Yamaha electronic drum kits for you to consider.

Every DTX720K set includes 2 rack toms, 1-floor tom, a bass drum, 2 cymbals, a snare drum, and a ride cymbal. With 100 kits, you will have a lot of options to play through to find what you like.

Think of all the sounds you could get with these kits. The number actually totals around 1,400 unbelievable sounds. There are a plethora of connectivity options like USB, output jacks, headphones, MIDI, and AUX-in.
Pads use Textured Cellular Silicone Technology.
Sturdy Rack Construction.
Laying Sound Opportunities.

Does not include a travel case.
If you are a creature of creativity, this layering Yamaha model may be the one for you. This high end set has a natural feel and can stack sounds on one another to create sounds that are unique to your and your drum kit.
When customization is a big priority, trust that this Yamaha will do the trick. Recording studio and live performances are all a possibility with this Yamaha trap to use at your disposal.
Best Electronic Drum Set Brands
When it comes to drum brands, there are probably a few you are familiar with, like Roland and Yamaha. However, there are also other notable manufacturers you should check out.
Here are the best electronic drum brands:
ATV
ATV is one of the best electronic drum set brands because of three concepts they live by art-ware, authentic, and acoustic. With these three things in mind, ATV works to connect the size and feel of drums into an easy-to-install trap that will work well for you.
The hope is that ATV can help to eliminate the unneeded functions to make top-rated sets for you to enjoy. The best electric drum kits use top-notch expertise, like ATV tech, to help harness the perfect drums sounds.
You will like the way these drums are made making them some of the best electronic drum sets for an apartment or where you like to play.
Alesis
In 1980, Alesis created chip tech that helped in professions recording studios. With 16 bit effects, that were all under $1,000, drum machines were implemented in the recording studios across the United States of America.
Over a decade later, Alesis invented a multi-track recorder that was all digitally based. Originally, the cost was over $50,000, but it went down to about $4,000 over a couple of years.
Another 10 years passed, and Alesis came up with mixers for performance pads involving electronic pads.
Alesis understands the electronic drum world and is a top brand for you to consider when making an educated decision.
Roland
The company, Roland, may have gotten their start in the synthesizer world, but you can trust this corporation's longevity. In 1972, Roland got its start in Osaka and Tokyo. They started with rhythm machines, which was a perfect way to get into the music world.
By 1985, Roland had created their very first electronic drums called "a-DRUM." Twelve years later, the TD-10K electronic drums were introduced as one of the best portable electronic drum kits.
Roland is truly the name that most musicians gravity to because of their longevity and long-standing connections in the realm of music. They will probably be some of the more pricy drums, but their high-quality products are second to none.
Tourtech
This British-based company continues to look to make its mark across the world. By making a quality product, that will not cost you an arm and a leg, this might be the digital brand for you.
Most electronic drum kit reviews might not have Tourtech on their radar, but they definitely should. They have a lot of accessories and cabling options to help you when working with their best value electronic drum set.
With four best electronic drum sets for practice, Tourtech is a great option for beginners who want to give drumming a real try. Even if you are not based in Europe, they can ship their drums across "The Pond" for you.
Yamaha
As the oldest music corporation on this list, Yamaha has been working hard to create melodic sounds since 1887. Yamaha uses the DTX series to create MIDI-based kits that are customizable and modifiable.
With over 15 models to try out, it will be hard to settle on what Yamaha drum kit is best for you. Most electronic drum set reviews have Yamaha as a top company because of their quality products and customer service that actually cares about their customers.
The world would be a very empty place because music is defined by the way Yamaha does it.
How to Choose / How to Buy Electronic Drums
When looking to buy the best electric drum kit, it is important to understand how to choose and buy the correct option for you.
First off, electronic drums bring versatility to every venue, no matter if it is life or for recording. Secondly, there are a lot of additives you need to consider before buying the one that is best.
Rubber Pads vs. Mesh Heads
With the best electronic drum kits, the material comes down to either rubber or mesh material. If the rubber is your material of choice, you need to know a few things.
First, rubber is an economical selection. Kits with rubber are usually less than $500 of an added expense to you. There are even rubber options that use dual-trigger tech, and these are even cheaper at about $100 extra on top of your drum set.
Rubber pads are also very, very compact. The material is some of the smallest around, and fits in tiny spaces, making it a great options for the best portable electronic drum set.
If you are looking for consistency, rubber is your friend, too. You will get the same rebound and response every time you hit your electronic drum pads. Also, if you like adding sounds to your electronic kit, pads are best for triggering responses.
Lastly, the rubber has really improved over the last few years. With this improvement, rebounding feels like you are playing on a real acoustic drums set because they have more give than ever before.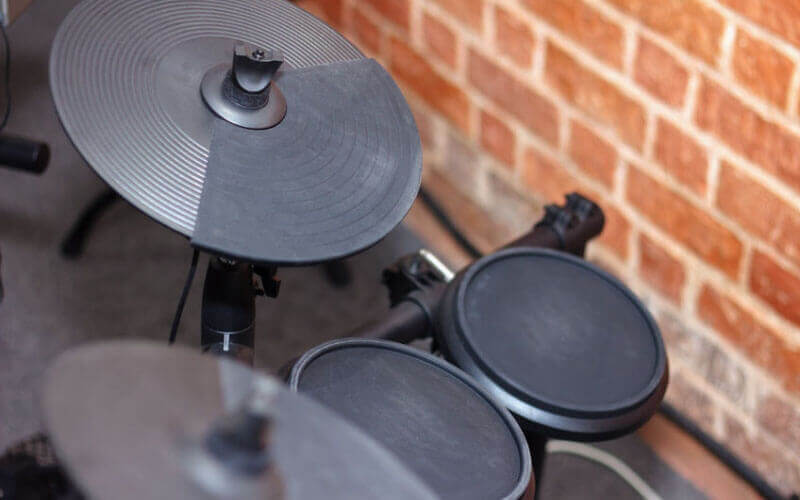 On the other hand, you may like mesh heads instead. Here are some of the reasons mesh heads are also a great, alternative option.
First off, mesh heads are realistic as they come. They are the closest thing to acoustic drumheads. They have perfect give and rebounding capabilities.
Next, mesh heads are very sensitive. The controllers have a diverse amount of sounds that are based on responses from the strike of drumsticks.
With mesh heads, the sounds can even create different responses by the way the head is struck. Even brushes get a sensitive reaction with mesh heads, which is truly unbelievable.
The last amazing quality with mesh heads, for this electronic drum set review, is the ability to tune your drums. You can adjust tension for the feel you are looking for. The rebound you want can also be fine-tuned to your heart's content. When adjusting, you can tighten the drums to help create a bouncy snare drum to boot.
Are you a fan of how drums sounded in the 1980s? Well, you can mimic that same feel and sound. No matter the time period, these drums can make it happen for you.
Depending on your budget, you can even mix and match if that is what you are looking for. Make your dreams come true in whatever way you want when it comes to rubber pads and mesh heads. You will not be disappointed with the positive outcome.
The Benefits of an Electronic Drum Set
There are endless benefits of owning an electronic drum set, but let's give you a few. Adaptability is one of the main reasons that people purchase an electronic drum set. With countless drum kits to sort through, technology has continued to make drums an amazing instrument of choice.
Depending on what kind of music you need to drum to, you can make your set sound like the original thing. If you are playing with a 1960s cover band, you can work your trap to sound just like the album. No need to haul those types of drums around; you have them digitally, ready to go.
Next, you will love electronic drums when playing live gigs. No matter if you are playing in a church, small club, or an outdoor venue, electronic drums fit the environment.
If you need to play in a big venue, they can turn you up on the system, while you play louder. Or if you are background music, the sound technician can turn you down and you can play softer in turn.
Do you like to record? Electronic drums give you the flexibility to record through MIDI technology. You can make each strike of the drum sound exactly as you want it.
Perfectionists really are in love with what electronic drums can do for them. Create the right groove you want and maintain balance the way you want it, too.
They say practice makes perfect, and nothing could be closer to the truth when you play on electronic drums. You will not have to worry about what your neighbors will say because you can turn down your drums or put on headphones while your practice.
By setting the pad volume, as you want it, you can practice to the songs you want, when using auxiliary inputs to liven up the rehearsal session.
The last benefit we will talk about today is portability. If you have owned an acoustic drum set in the past, you understand the challenge it can be to haul every piece around.
This is not the case for electronic drum sets. They are connected and easy to move, without damaging your set. Easiness is a huge factor when people move towards the electronic drum set.
How Much is an Electronic Drum Set?
When breaking down electric drum set categories, understand that the less you pay, the fewer options you will have. These sets are perfect for people who are playing for the first time. People like this can expect to pay $500 or less for an electronic drum set.
Maybe you have more money to spend, and you have been playing drums for a few years. There are a ton of electronic drums options under $1,000 that you should consider. These selections are great for a live setting, but not for recording. You will receive more sound options, but the amount is not endless.
The last category is for people who are willing to spend over $1,000, and these people have been playing drums for years, even decades. These drums are great for practice, live events, and recording sessions that you want, making this a well-rounded set. There are usually more drums and cymbals to play, too. The limitless possibilities are probably an understatement here.
Conclusion
At the end of the day, remember that you have to make the best decision for you and your drumming career. Electronic drums can really be an amazing piece in a band, but you have to find how to fit into the equation.
Understand what you want and how much money you have to spend. This way, you will not go into the buying experience frustrated that things are not going your way.
You deserve to find what is best for you, but preparing is a big part of finding a stellar electronic set. Happy electronic drum shopping!